Star-Studded
Some familiar brands flocked to the NBA All-Star Game in New Orleans last weekend, hosting lavish parties for the celebrities, athletes, and execs in town.
February 20, 2008
Dubbed by "a mini Super Bowl" by more than one planner, the NBA All-Star Game and its surrounding festivities descended upon New Orleans last weekend, bringing along an entourage of piggybacking events. Catering to the bevy of athletes in town (who weren't nearly as stressed as, say, the Giants or the Patriots were in Arizona), planners from entities such as
Playboy
,
ESPN the Magazine
, and Wrigley's enticed with big-name performances, high-profile guests, and intimate late-night parties.
Turner Sports vice president of event marketing Janet Abbazia bucked the Super Bowl's trend of booking rappers, instead booking Barenaked Ladies to perform at the annual NBA on TNT Celebration Party, held at House of Blues on Saturday. "We always look at our audience, and while the NBA demographic may be different, the people attending our event are businesspeople covering a wide range of ages, so we tried to find a band that appealed to everyone," she said, adding that the event grew this year, hosting some 1,600 guests (compared with last year's 1,200)."The best bands are the ones people can sing along and dance to, and Barenaked Ladies definitely fit that bill," Abbazia said. "They performed for 90 minutes and no one moved from the stage the entire time." She chose House of Blues because it could accommodate a performance but also had other rooms where people who weren't interested in the music could escape and have a conversation. Because the venue is so ornate, Abbazia scaled back on the level of production typical for a Turner event, opting to rely on gobos and "NBA on TNT"-logoed beaded necklaces (which guests didn't have to lift their tops for).
On Friday night,
ESPN the Magazine
hosted a two-part event following the NBA Celebrity All-Star Game that aired on ESPN. The first, called After Dark, was home to some 1,200 people from 10:30 p.m. to 2 a.m. at the Metropolitan Club, one of the largest nightclubs in New Orleans. The space took on a Mardi Gras theme, complete with float props, jesters, Rebirth (a local brass band), and Casa Samba (a local Carnival-style dance troupe). Sponsor-wise, the ubiquitous Wrigley's Doublemint was visible, with models handing out the gum; Old Spice products were in the men's room; and Miller and Gatorade's G2 were at the bar.
According to ESPN senior manager of special events marketing Timi Jordan, the event's build-out was lengthy, mostly due to rapper Common's performance. "The advantage of the venue was that it was closed on Thursday, allowing us to load in sound elements for a full day and a half. Common is performing with a full band, so the audio production has been extensive."
Next up for Jordan was the mag's third annual late-night waffle party (this time with a New Orleans-inspired twist: beignets) that ran from 2 a.m. to 6 a.m. The event was expected to draw 200 V.I.P.s but garnered some 750 guests, with artist Musiq Soulchild performing at chef Todd English's Riche restaurant at Harrah's. DJ Nice also performed and was shut down by hotel management at 5:45 a.m. Despite rumors that the weekend was light on big-name ballplayers, heavy hitters such as Allen Iverson and Dwyane Wade hit up the event.
Also on Friday was Jordan Brand's House of XX3, a regal-looking party for 750 that celebrated the launch of the Air Jordan XX3 (which became available nationally at midnight that night). A division of Nike Inc., Jordan Brand coproduced the event at Board of Trade with
Bragman Nyman Cafarelli
, creating a red-hued lounge with lots of lighting, velvet curtains, white couches, and uplit framed portraits of "Team Jordan" athletes like Carmelo Anthony and Chris Paul. Michael Jordan attended, and DJ
Beverly Bond
performed inside, with a brass band taking over the outdoor area (which was still wet from the day's rain).
The next night,
Playboy
returned for its second year in a partnership with Crown Royal dubbed Barbershop. Low on production, the concept merges the two brands at sporting events such as the Kentucky Derby and the Major League Baseball All-Star Game, outfitting the bunnies in custom-designed Crown Royal-themed costumes and blending the two brands' signage.
Playboy
division vice president of creative services Donna Tavoso worked with
US Concepts
to create a barbershop vignette at the Foundry, where a barber tightened up guests' hairdos. "Last year people were getting bunny heads and crowns shaved in their hair," Tavoso said, adding that this is one of
Playboy
's smaller events (unlike the mag's
annual Super Bowl party
), with only 500 guests attending.
In terms of celebrity wattage, Wrigley's Two Kings dinner and after-party honoring Jay-Z and LeBron James on Saturday won out. Held at Generation Hall and produced by
Strategic Group
, the event drew Beyoncé, Ludacris, Jason Kidd, and Spike Lee. "There aren't any performances because the night is centered around being able to put together the Beyoncés of the world with corporate types so that networking can happen," said Strategic event producer April McDaniels, who added that American Express C.E.O. Ken Chenault and BET Networks chairman and C.E.O. Debra Lee were in the room.
Some 200 guests attended the Two Kings dinner, which spilled into the adjacent after-party for 750. The green-hued dining space featured round tables with floral centerpieces that incorporated packs of Doublemint gum. One challenge McDaniels faced was the simultaneous NBA events that took place that evening, among them the slam dunk and three-point contests. Event host LeBron James didn't show up till around 10 p.m., as he was supporting his teammates who were participating.
Photo: Steve Kashishian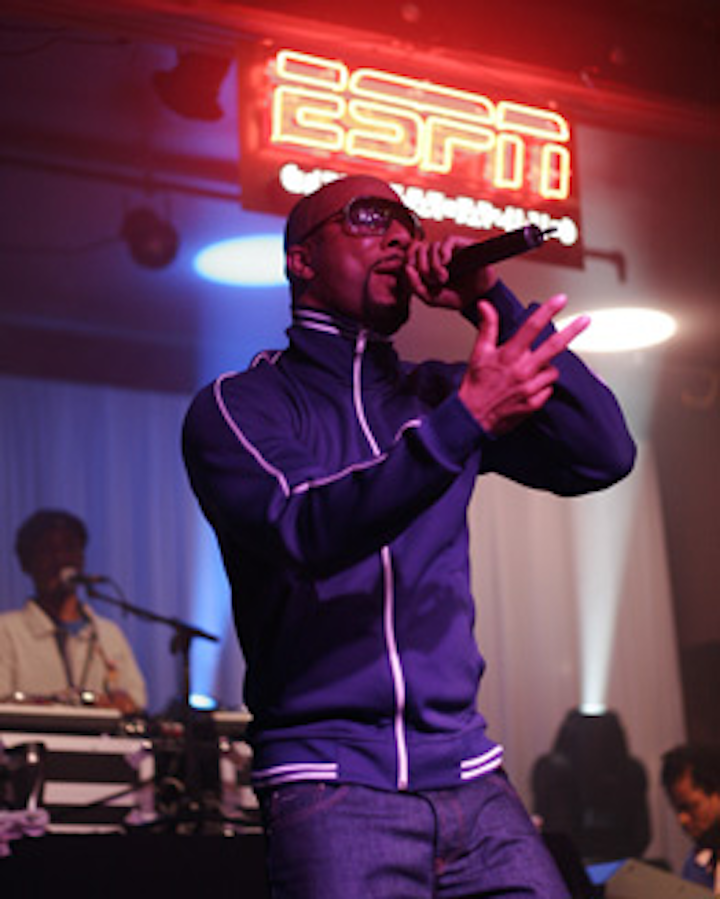 Photo: Steve Kashishian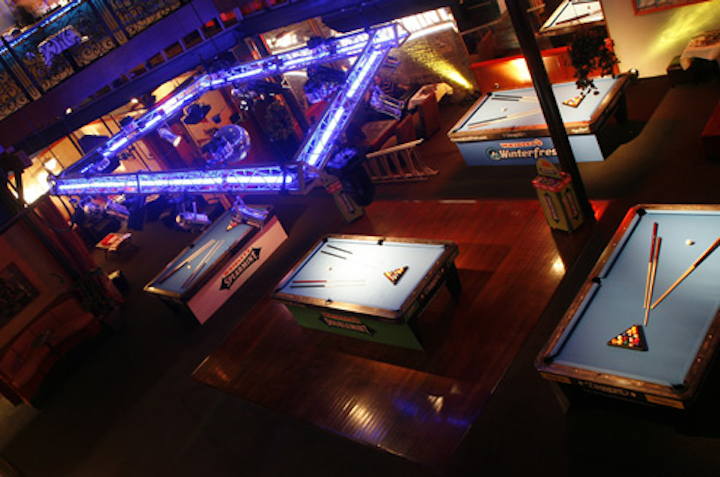 Photo: Steve Kashishian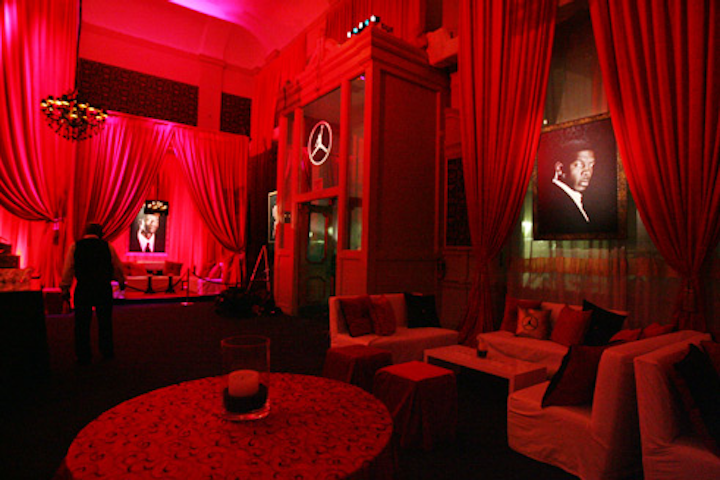 Photo: Kelly Kline/WireImage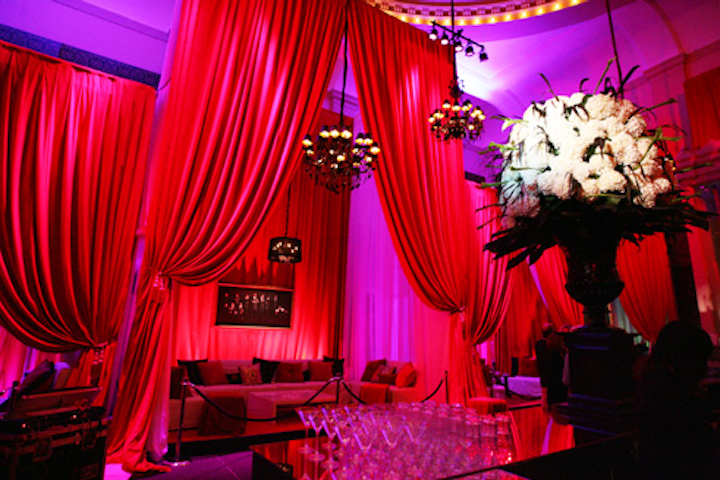 Photo: Kelly Kline/WireImage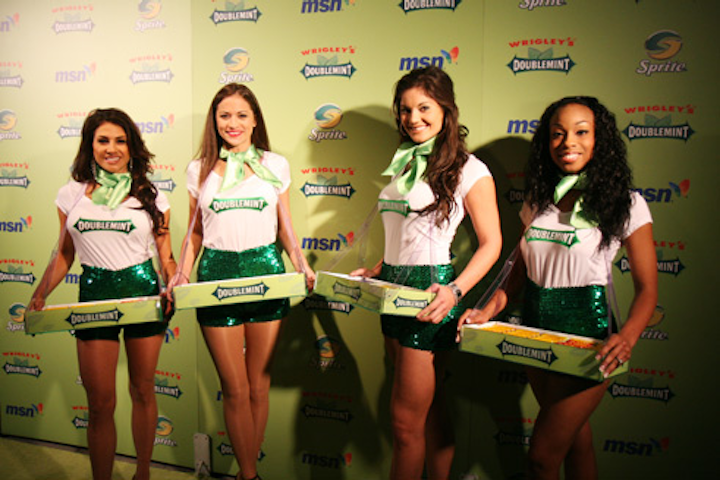 Photo: Johnny Nunez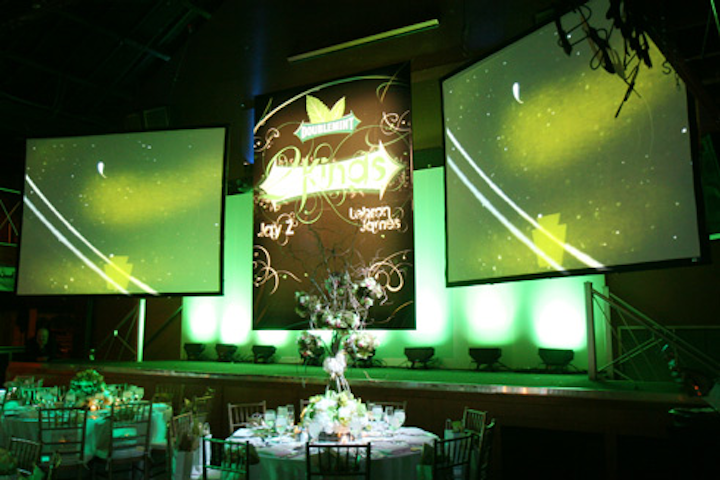 Photo: Johnny Nunez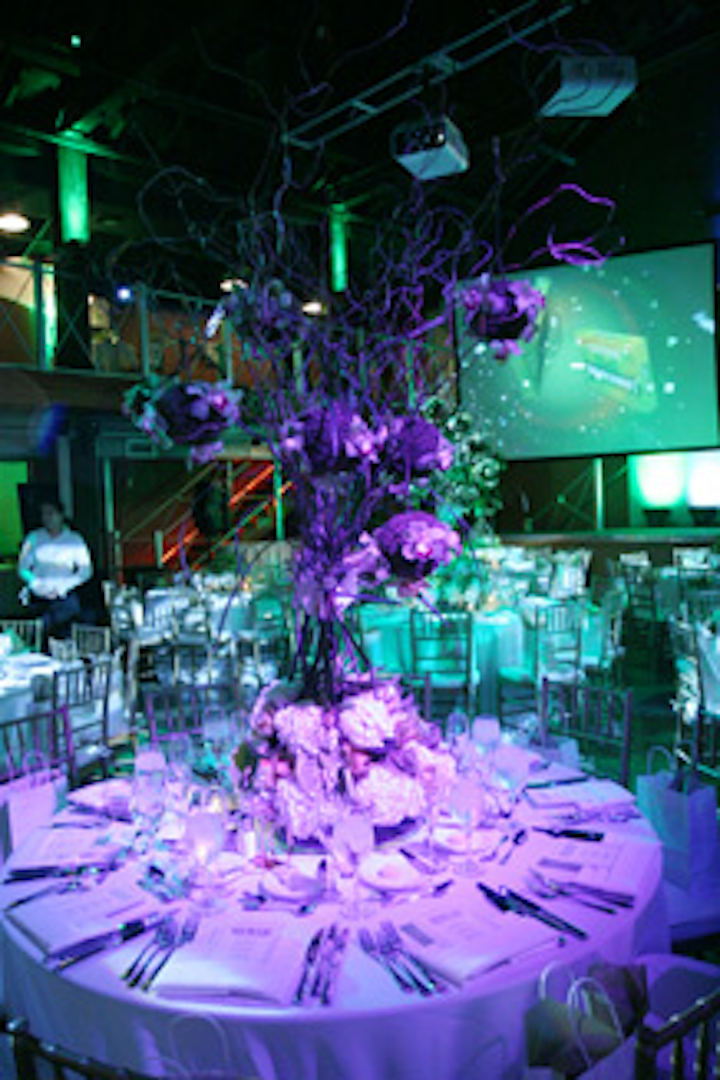 Photo: Johnny Nunez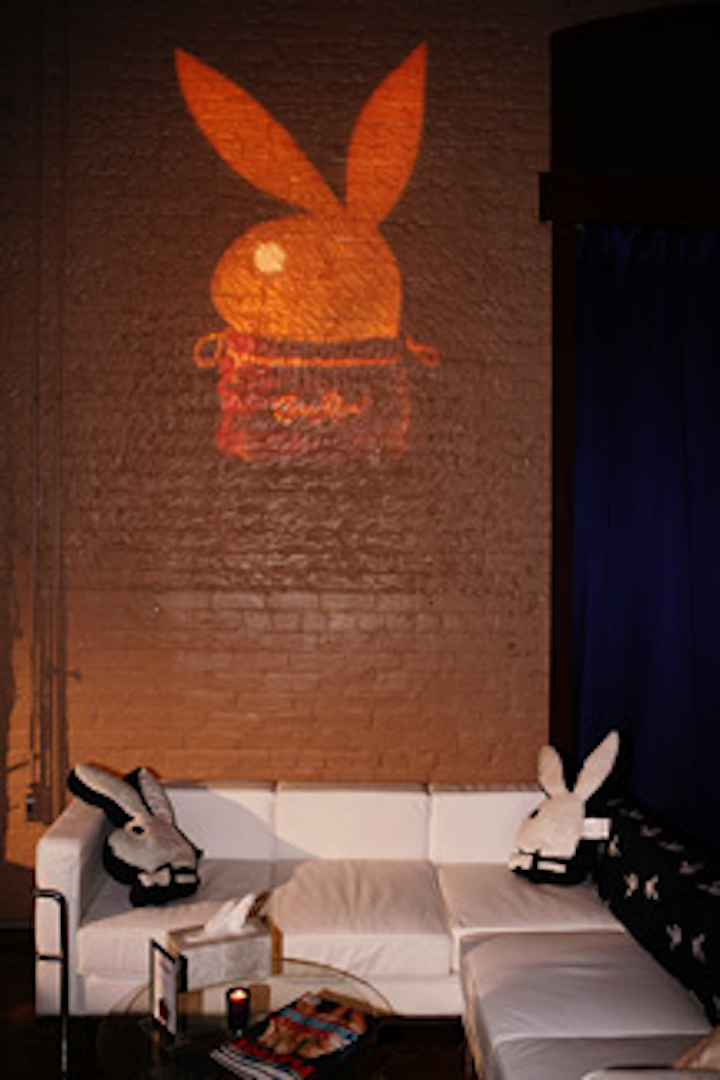 Photo: James Trevenen/Playboy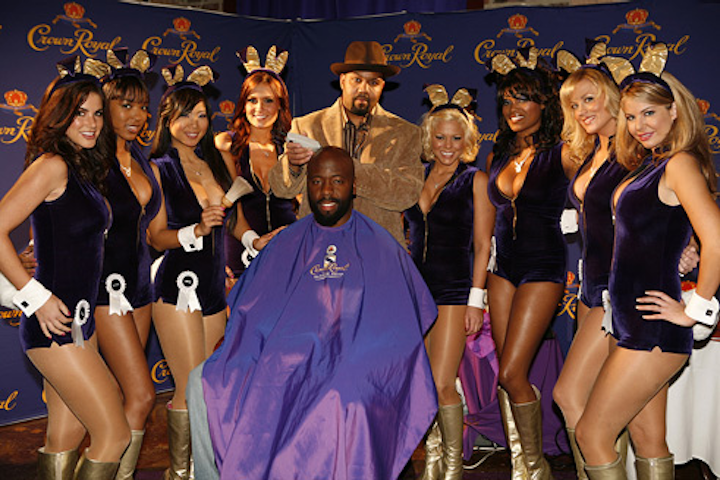 Photo: James Trevenen/Playboy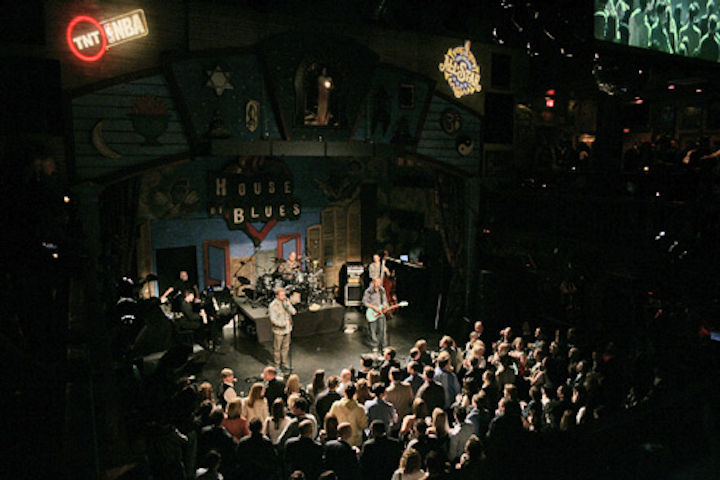 Photo: Ted Pio-Roda/Turner Broadcasting
Featured Venues/Suppliers: