BAM Conjures Overgrown New Orleans for Streetcar Homage
December 8, 2009
The Brooklyn Academy of Music kicked off its brief run of the Sydney Theatre Company's production of A Streetcar Named Desire on Thursday with a gala dinner for 450 and a dessert reception on the stage of its own Howard Gilman Opera House.

Dubbed "the Belle Rêve" (French for "beautiful dream"), the night took its name from the fictional plantation lost by the play's fallen Southern belle, Blanch DuBois. And like talk of actress Cate Blanchett, who plays the role through December 20, nods to Blanche could be found most everywhere at the celebration.
BAM's event team—including special events manager Jennifer Rajotte and director of special events Glenn Stiskal—turned to longtime design partner Bella Meyer of Fleurs Bella to execute the decor. After seeing the play, Meyer settled on one particular line as her inspiration: "I don't want realism. I want magic."

So although the drama is anchored in realism, Meyer designed the dinner around a fantasy. She brought in potted plants, ivy, and moss to recreate the lush New Orleans gardens imagined outside the windows of the bare apartment set and covered tables with satin cloths, pink flowers, and mirrored trays. She briefly considered breaking the mirrors for dramatic effect but decided not to tempt fate.

The meal itself, from in-house caterers Great Performances, drew equal inspiration from the play's locale, begining with a warm cassoulet of butter beans and shrimp, followed by a main course of smothered chicken with jalapeno grit cake, butter-braised cabbage, and blackberry gastrique.

Buzz around the sold-out production and the addition of A-list attendees like Anne Hathaway and Blanchett herself had the BAM team ready to accommodate a larger than usual crowd for the 11 p.m. dessert reception. The 600 guests—who had just seen the play at neighboring Harvey Theater—filed down the aisle of Howard Gilman and onto the stage, where the dining tables had been cleared for intimate seating areas of white rattan furniture. 

Southern confections such as bourbon bread pudding, miniature sweet potato pie, and peanut butter sandies filled two large serving tables, and the bar served up a choice of wines or the night's signature Sazerac cocktail. Bartenders gave each glass a customary rinse with an anise-flavored liqueur before filling them with rye whiskey, which guests used to toast Blanchett and director Liv Ullmann when they spoke to the crowd shortly after midnight.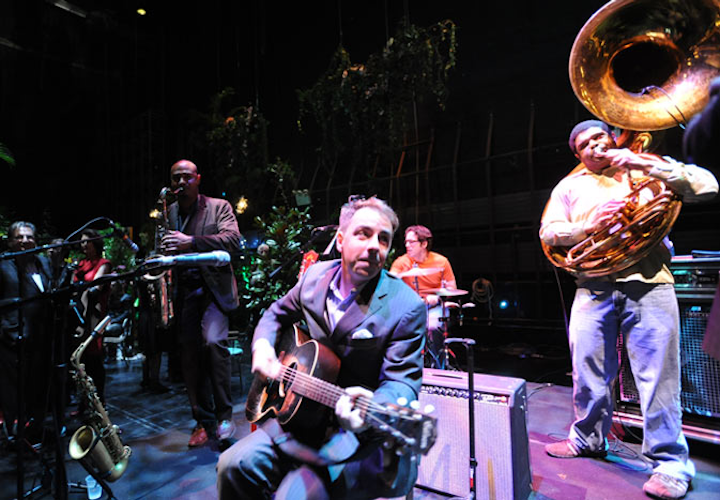 Photo: Elena Olivo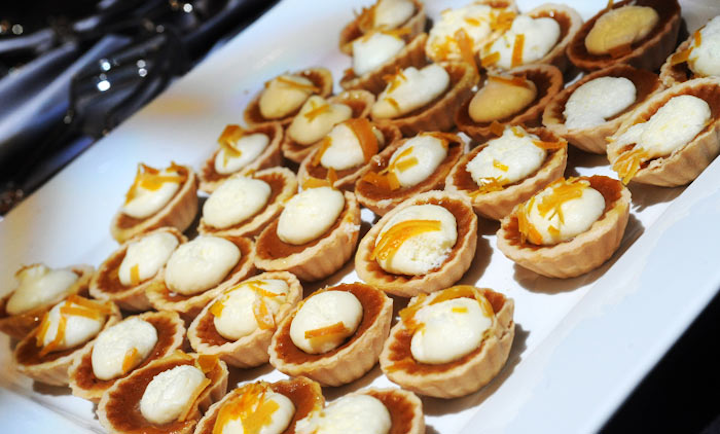 Photo: Elena Olivo
Featured Venues/Suppliers: