Livestream Unveils New Device for Affordable Multi-Camera Productions
The tiny Movi camera links with an iOS app for real-time recording, editing, and streaming from events.
January 21, 2016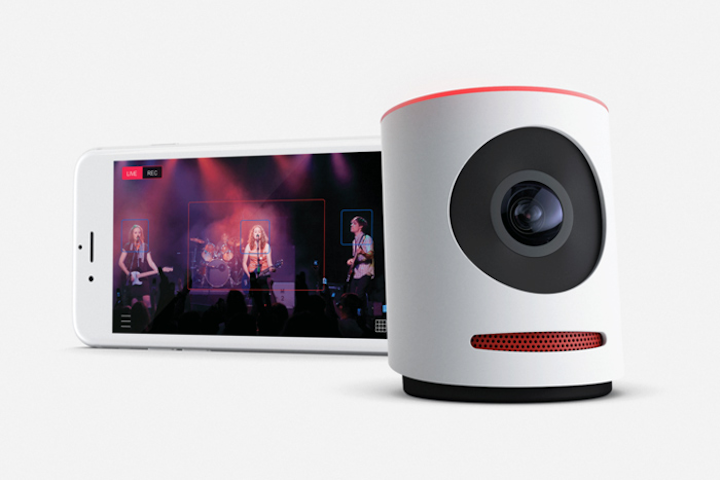 Photo: Courtesy of Livestream
Planners interested in creating multi-camera video productions at their events will soon have a new, inexpensive option. Livestream, the company behind live online events for brands such as Tesla, Salesforce.com, the N.B.A., and more, has created a 2.5-inch device that lets users record and edit in real time between nine virtual high-definition cameras. Movi is available for preorder for delivery in April, currently at a price of $299. 
"What we saw with our business customers is that everybody wants to capture their events with multiple cameras. They want their conference to look like TED, they want their keynote to look like Apple," says Jesse Hertzberg, C.E.O. of Livestream. "The Spotifys of the world and the IMGs of the world and the N.B.A.s of the world are willing to invest capital and manpower, but not every business has those resources, and as a result we can't help everyone that calls us. We're taking everything we've learned as hardware makers, as software makers, and as production experts and boiled it down into this package. Movi was built for the conference and event world."
Inside the Movi is a 150-degree all-glass lens that can capture, for example, the entire width of a stage at a conference. There's also a microphone array to capture sound. The camera is meant to be mounted on a microphone stand and left in a fixed position, ideally about six to 10 feet from the action and about four feet high. The person controlling it with the app needs to be on the same Wi-Fi network as the camera. In addition to a wide shot, the camera can capture up to eight additional virtual camera shots. Simply touching the app allows the user to toggle between cameras and to zoom.
The device has face, speech, and motion detection that enables it to operate in auto mode. "If there are four people at the table, it will automatically recognize that there are four people and it will automatically put a virtual camera on each person. If one person is rocking back and forth in their chair or walking back and forth, in most cases the camera will follow them," Hertzberg says. "And if you don't touch the app for 10 seconds it will do its best to edit for you. If someone's talking it will cut to that person. If someone laughs in response, it will cut to that person."
Videos can be saved to the camera's built-in SD card, shared on social media, and simultaneously streamed live with an optional Livestream subscription starting about $9 a month.
Correction: This story has been updated to reflect the current preorder price.

Featured Venues/Suppliers: