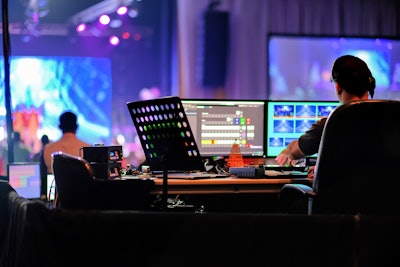 Photo: VisualArtStudio/Shutterstock
It's never too early to start thinking ahead, especially in a period of so much uncertainty. To get a clearer picture of what the future holds, BizBash is planning a series of articles where top professionals from all aspects of the event industry share their predictions and insights for the year ahead.
First up: We're chatting with lighting and audiovisual producers. Here's an in-depth look at what six experts around the country are expecting to see in 2022.
1. Hybrid events are here to stay.
Unsurprisingly, our experts had plenty to say about hybrid events. "You will continue to see the evolution of hybrid events [in 2022]," predicts Scott Frankel, president of Animatic Media, LLC, a full-service video and event production company with offices around the country. "The tricky thing here is that the term hybrid is somewhat ambiguous—if you were to ask 100 planners what hybrid means, you will get 50 different answers and they are all correct."
In terms of audiovisual needs, "I think that session/slide recording of content will make a comeback," Frankel says, noting that Animatic Media's Conference-On-Demand service of on-site slide recording that's posted in a portal post-event has seen an increase of 40% in the past few months. "By doing this, planners can make the content available for attendees who didn't make the trip to the in-person event, or want to see more content they may not have gotten to see on-site due to their schedule. Plus, [hosts] can choose to charge for their content if applicable."
Adam R. Faldetta, president and CEO of Orlando-based production and AV rental company AFPC, is also excited about the possibilities of hybrid. "I have always been an advocate of adding streaming components to live, in-person events, even before the pandemic. Often in the past, this was extremely costly for clients because the only way to truly execute this was with satellite transmission, as previous Internet-based technology wasn't really stable or honed to the level that it is now. COVID-19 caused our entire industry to adapt quickly, and develop hardware and software solutions that made virtual possible and more and more professional and reliable as we went."
Faldetta adds that many venues took advantage of the slower time to upgrade their Internet infrastructure, and audio and video technicians learned to become "networking and streaming gurus," he points out. "All of which make affordably adding a streaming or remote component to an in-person event exponentially more attainable for most shows. … I believe the more our clients embrace hybrid, and the more our clients sit in front of the monitor and watch their shows in real-time, they will see the opportunity to not only 'include' a virtual audience, but dazzle them in the same way that we excite live audiences with sight and sound."
Luke Gulley, account executive at San Diego- and Orlando-based production company Show Imaging, adds that accessibility will also be a key factor in 2022 events. "We are going to see a major increase in how we are making our events more accessible to audiences," he says. "Whether it be creating more hybrid conferences for those who cannot travel or making our offerings more ADA compliant. It's exciting that our industry is really stepping up to make events accessible for all."
2. AV should help engage attendees as they return IRL.
"As virtual audiences come back to in-person events, I think we will see a major decrease in 2D screen experiences (simple stage and screen setups)," adds Gulley. "Moving back to the ballrooms and convention centers, we will be creating more immersive experiences than ever before to re-engage the audience."
3. Outdoor events will continue being popular.
Jon Retsky, owner and lead designer of Got Light, a lighting design and production company based in San Francisco, says he's been seeing triple the amount of outdoor events during COVID-19—and he doesn't expect that trend to slow down in 2022. "Outdoor dining, outdoor structures, large produced concerts with name talent and more—people are really getting used to partying outdoors, and weather isn't stopping them from enjoying it," he points out. "I think we'll see more events move to open-air structures or outdoor venues. People feel safe being maskless, and planners/designers are excited at being able to create their own fully customized venues using a totally blank canvas."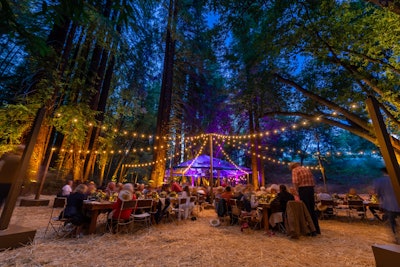 4. XR and augmented reality will be hot topics of conversation in the coming years.
Frankel says Animatic Media is leaning into augmented reality, or what he calls "enhanced content," by releasing a new product that allows event and conference attendees to hold their phones up to various elements around an event to find superimposed, enhanced content. "This content may be on screens in a session room, monitors around the event, printed show graphics and signage as well as exhibit booth material," Frankel explains. "This is a two-step win as there are sponsorship and content-revenue opportunities for show management, as well as more of a 'touchless' environment to limit the amount of printing waste and hygiene touchpoints."
XR, or extended reality, is also something our experts are keeping an eye on. "Now that XR technology has become more accessible and reliable, we will be implementing this more on hybrid events to help create equally immersive experiences for audiences whether you are sitting in front of a stage or a screen," notes Galley.
Adam McCarthy, managing director, BlackOak Technical Productions, the audiovisual arm of Chicago-based Kehoe Designs, is also a fan. "Extended reality has the potential to disrupt the industry and improve the at-home attendee's experience enough to make it a more desirable way to attend an event than in-person," he says—though he's not sure how quickly the tech will become widespread. "Will the metaverse and products like Facebook's Horizon Workrooms and the RayBan-designed smart glasses make a splash in the coming year? I don't think so, but this is a trend to watch over the next decade."
But not everyone is on board with the XR trend. "I think XR is going to be used a lot less going forward," argues Faldetta, noting that this may be an unpopular opinion. "Don't get me wrong, when I saw The Mandalorian, I was amazed with the technology used to create those environments, process backgrounds and motion tracking in real time. XR stages are, hands down, some of the coolest and most advanced technology that I have seen developed in a long time. But I do not think that its use is warranted often outside of shooting major Hollywood movies or scripted television shows."
Faldetta continues, "As we return to IRL and hybrid events, helping to tell our client's stories to large groups of people is not always about special effects. It's most often about the basics: Making sure the audience can hear the message, see the message and add just enough pizzaz to help them remember the message."
5. Products launched right before the pandemic will find their time to shine.
Faldetta adds that there are a lot of new products and technology that launched right before the pandemic that "haven't truly had the opportunity to stretch their legs yet," he says. "I think vMix is here to stay, especially in the hybrid world. … Barco's Gen.2 E2 System, MA Lighting's GrandMA 3 consoles and the Yahama RIVAGE Series of audio consoles are all extremely awesome pieces of technology that everyone was excited to start deploying on events in 2020. When the pandemic hit, we didn't really have the opportunity to get out there and really use these new technologies to their full potential."
6. Lighting designers and event designers will work together in increasingly creative ways.
In the lighting world, Retsky notes that illuminated decor, chandeliers and living chandeliers are "all the rage right now. Florists and lighting designers are uniting to create incredible canopies, structures or ceilings that mix greenery, florals and light in new and fun ways," he says.
Retsky adds that architectural lighting is hot right now, too. "You're seeing a trend where events are being inspired by the style of architectural lighting you'd find in hotel lobbies, resorts and upscale restaurants. We are seeing a lot more of that synergy between architectural lighting and event design come into play."
Other trends to keep your eye on, according to Retsky? "Kinetic light, or motion with light, is a big thing now, too. Everyone wants an illuminated dance floor for the event (probably because nobody has been on a dance floor for 18 months)," he notes. "They are a big wow at weddings and parties right now—indoor and outdoor." He adds that kinetic orbs are also popular, as well as inflatables and metallic or mirror spheres. "It's a super slick way to bring color and reflection into an event."
And last but not least? "The Edison string light or bistro light is the go-to product for outdoor events of all scales," Retsky says. "We have quadrupled our inventory of bistro lights to keep up with demand, and we're going to start seeing more and more creative ways of stringing lights across these open-air venues."
7. Clients will start spending more.
Faldetta notes that while many audiovisual vendors lowered their prices in the thick of the pandemic, he hopes that the industry starts valuing quality over budget again in 2022. "The last year and a half have been brutal for our industry in many ways, but I feel that AV has been discounted and watered down out of desperation to win business," he explains. "While I understand that we all needed to figure out how to 'make it work,' it's time to start respecting ourselves and our industry again."
He continues, "AV is an extremely complex, constantly changing, dangerous and extremely expensive business to be in. We deal with millions of dollars worth of sensitive electronics that we often hang over people's heads, and extremely high-voltage electricity. Companies and technicians invest time and money into developing skills and obtaining certifications to provide our services safely and efficiently. And for those companies who are really good at it, we take all of this investment and make it appear to be pure magic for an audience. … Budget directly affects how safe our events are and how effective our teams can be, and how well we maintain our equipment."
8. COVID-19 will continue to have a major impact, particularly in staffing.
Chuck Bauman, CEO of J&S Audio Visual (JSAV), the in-house technology partner for over 100 hotels and convention centers throughout North America, predicts that COVID will continue to impact the types of events that happen in person. "As major corporations announce a delayed return to office work environments, the larger-scale corporate meetings are likely to lag on their return," he notes. "We feel the smaller regional or local meetings will continue to increase, and the use of hybrid will bridge the gap between the large- and medium-size meetings."
Bauman adds that association businesses are likely to follow the same pattern but return to larger-scale meetings more quickly, and "hotels in specific markets are continuing to see group business return, and the number of events continues to climb as does event technology spend."
Frankel adds, "I think you will see a sensitivity for procedures to protect staff, attendees and speakers from a health 'passport' standpoint. I think you will see more integration of automated temperature testing with automated notifications to show management and touchless registration."
Overall, predicts Retsky, attendees will be much more comfortable attending in-person events in 2022—but the biggest issue is and will continue to be labor shortages. "The incredible artists, technicians, florists and more that drive this industry are much harder to find these days," he says. "Our challenge right now is keeping up with pent-up demand with fewer resources. Everyone's focus right now is on rebuilding the teams that they had before the pandemic hit. It's happening, but it's not happening as quickly as the demand."
9. But the future is looking bright.
Overall, the producers we spoke with are optimistic about the future—and eager for in-person events to return. "We feel face-to-face meetings are important, and while virtual can be a nice alternative to the smaller shorter meetings, the inspiration meeting participants get from human interaction at face to face will override the convenience of virtual and hybrid meetings," notes Bauman.
McCarthy, meanwhile, hopes the lessons of COVID-19 lead to more efficient collaboration. "My biggest hope is that production companies can work together as strategy-level partners with event organizers to digest all the learnings from the last 18 months to plan a flexible, high-quality production that is 'COVID disruption resilient' for each event in 2022 and beyond," he says, adding "I also think we will have to apply these lessons in flexibility to planning around extreme weather patterns from climate change."
And Retsky is excited to see the industry continue to adapt and find new ways to be creative. "Folks are not just putting on events again—they are putting on mega-events with incredibly ambitious designs," he observes. "That's what we love to see and do. We love pushing the envelope, creating new ideas, solving huge problems and fabricating new products to bring to the events market."