3 Key Tactics to Draw Viewers for Your Live Stream
Find out how the American Kennel Club has grown its online audience to nearly six million in just four years.
December 15, 2016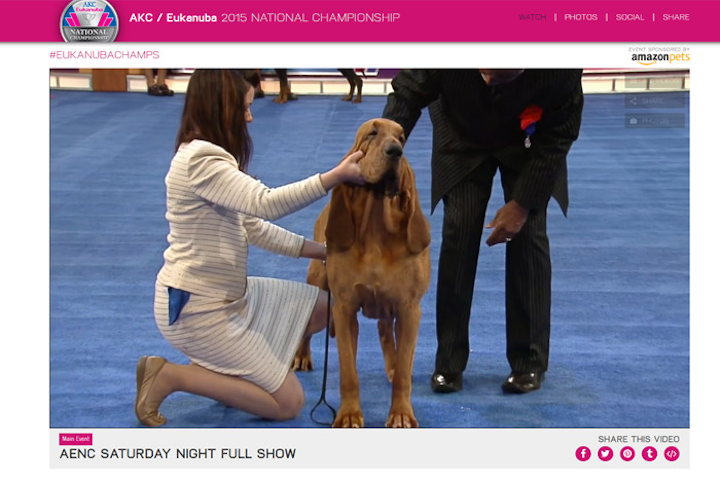 Photo: Courtesy of AKC
When the AKC National Championship presented by Royal Canin takes place Saturday and Sunday at the Orange County Convention Center, organizers expect nearly six million people will watch the dog show online, up from just 1.3 million when streaming debuted in 2012.
Let's acknowledge an obvious fact: It's an event about dogs, about 5,000 of them to be exact, so there is built-in visual appeal. But there have also been some deliberate design decisions by the event's video production company, B Live, that have helped spur that rapid growth.
For this year's event, B Live will have a team of 70 people and seven cameras at the venue. In addition to managing the streaming that begins with preliminary events on Friday and continues through closing on Sunday, B Live also produces the live TV broadcast on FidoTV and taping for a three-hour special that will air on Hallmark Channel in late January. B Live C.E.O. Russell Quy shares with BizBash three strategies that have helped grow the online audience and that can be used by any type of event looking to broaden the reach of its live stream.
Make it easy to find.
"I think the biggest thing is not trying to control the viewing habits of the audience and not trying to tighten the grip by only making it available on one site," Quy says. "Everybody's still tied up in the old thinking of, 'We want them to come to our website,' but the Internet doesn't really work like that. The cool thing about AKC is you can see it everywhere. We have our own live streaming platform. What that allows us to do is have one event code—a little line of code like posting a YouTube video on a Facebook page—that can be sent to anybody or they can grab it from the site themselves in the share tab. So [for example] a Doberman Pinscher club from Michigan can put the stream on its website. It's the same branded content … but we're not forcing anyone to watch it in a location that they may not be aware of. And we can keep track of how many viewers came from each specific location. That's the big difference to me—put it out there and let people find it by leveraging social media as opposed to saying, 'Come here at 7 p.m. and click this link.' I don't think that works in our new world."
Make it easy to share.
"We've created a lot of engagement tools that allow the audience to share images and to share specific parts of the video through social networks. For example, when a group gets judged, like the Toy Group, within minutes just that Toy Group is shareable on Facebook, Twitter, everywhere, and that brings tons of people into the fold. So creating engagement tools that allow people to share the content in an efficient, easy, quick way has made a big difference," he says.
He continues, "Also, what we've learned is that instead of having 5,000 photos be shareable, we've worked on picking more photos that are in sync with the video. So if you are watching the Toy Group we have a photographer that's tethered to our system taking really close up shots of a Toy dog. If the shareable content is related to the linear content, and it's beautiful and well-curated, we see that it's shared more than just having every single dog and thousands and thousands of pictures. Not only do we have our own photos that go up, but the fans that share photos with the official hashtag—if we like it we can put that up too. Then everyone that sees it and likes it is aware of the event through the power of social networking, and that seems to bring in a tremendous amount of audience."
Make it mobile.
"We have to make sure the technology works fluidly on mobile. That's one of the reasons the event has grown so much," he says. "Our video player is what we call completely responsive. It changes size based on the device and the size of the screen of that device automatically. So you don't just get a video experience on your phone, you get the whole social experience as well. Mobile-friendly is critical."
Featured Venues/Suppliers: