See Chobani's Giant Virtual Fruit Tree
To celebrate its 10th anniversary, the yogurt brand staged an interactive "giving tree" that invited passersby to contribute to an animated fruit canopy.
February 21, 2018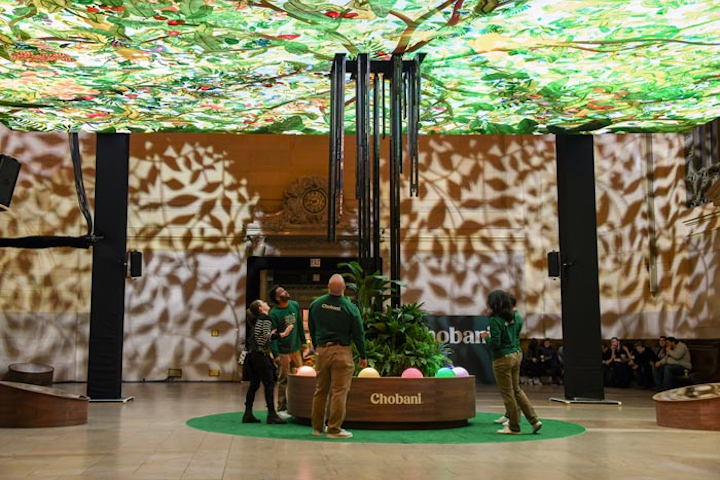 Photo: Courtesy of Chobani
To celebrate its 10th anniversary this year, yogurt brand Chobani recently launched a new campaign called "One For All," with the purpose of thanking consumers and gaining new fans by offering a printable coupon for a free cup of yogurt, accessible on the brand's website.
Chobani, which set a campaign goal of distributing 10 million of cups, also incorporated an experiential element by hosting a public, multi-sensory installation in New York. The brand's "giving tree," which came to Grand Central's Vanderbilt Hall February 12, invited passersby to "plant" virtual seeds to help "grow" a massive, digital fruit canopy. 
The installation, which was produced by Chobani's in-house team along with experiential marketing firm Hush, featured a base with sensory buttons in different colors. When guests pressed any of the buttons, a light evoking a "seed" shot up through the tree's "trunk." When the light hit the canopy overhead, new animated fruit bloomed from the center. Each type of "seed" corresponded to a Chobani flavor, and the addition of fruit to the canopy was meant to mimic the brand's evolution from a five-person company to one of America's most well-known yogurt brands.
To add in a charitable element to the activation, every time a "seed" was planted, a case of yogurt was donated to No Kid Hungry, an organization that aims to end childhood hunger in the U.S.
"When you help a tree grow, it gives thanks by offering its fruit," said Leland Maschmeyer, Chobani's chief creative officer. "We wanted the Grand Central experience to embody that metaphor in a magical way. It's all about dramatizing the idea that small acts of generosity lead to great acts of generosity."
Each participant also received a shareable photo and a campaign coupon for a free cup of yogurt. The online offer is available through March 4. 
Featured Venues/Suppliers: