Projection Mapping: 3 Important Considerations
The Event Leadership Institute shares essential elements when planning the dramatic audiovisual effect.
April 16, 2019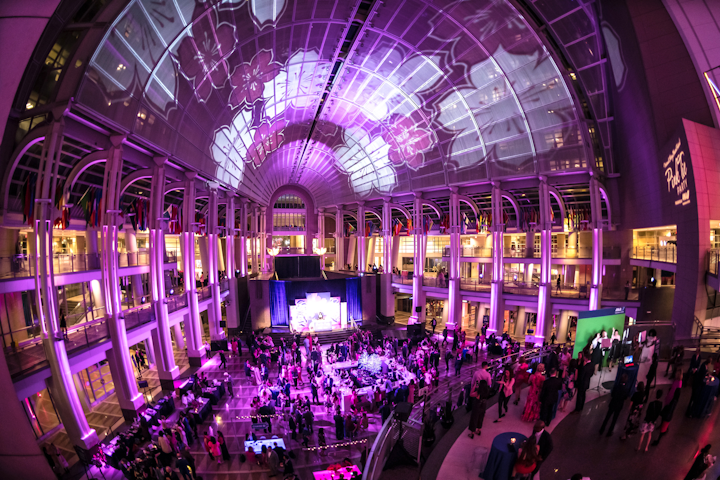 Photo: Courtesy of National Cherry Blossom Festival
Projection mapping is a technology used to turn objects, often irregularly shaped, into a display surface for video projection. Sometimes these objects are small (like a car) or large (like a building).
While the technology can provide a big, exciting, and often dramatic experience for your audience, there are three important things to think about when considering using projection mapping.
Depth  
Not every surface is compatible with mapping. If the object you are trying to project onto has large differences in depth, the projection mapping will be much more complex in order to provide a uniform viewing experience to the audience. Surfaces with minimal differences in surface depth are easier to produce and watch.
Duration
Projection mapping can be a sizable investment, so careful consideration of what the audience is experiencing is very important. Content that is too short or too long can leave your audience feeling underwhelmed. Keeping content duration to between five and 15 minutes tends to be the sweet spot for mapping shows. Of course, the overall environment and quality of content and mapping is also a significant factor. A poor-quality, 10-minute show may feel like an eternity, whereas a high-quality, 10-minute show may leave your audience wanting more.
Direction
How an audience views the mapping is very important. Consider where the audience will be viewing the projection from and whether or not they will need to be constantly turning their heads. Are they able to follow the story easily and does the audio come from the same direction as the images? Similarly, when projecting onto a 360-degree object, you will need to consider the viewing experience on all sides and angles. For example, if you have content on one side, can the audience on the other side see it as well, or does the content on the opposite side make sense to those audience members as well.
Want to learn how projection mapping works? View this video for a short primer or check out the Projection Mapping and Events: What You Need To Know online course at the Event Leadership Institute.
Disclosure: BizBash is an investor in the Event Leadership Institute.