Blueprint Studios—Florals That Go Beyond Your Average Centerpiece
July 18, 2017
Blueprint Studios' in-house Floral Department pushes the boundaries of tabletop decor with its Summer Design Series, featuring innovative and creative concepts. Floral designer Steven Olivieri incorporates florals with unconventional and atypical elements fitting for event designs ranging from traditional and classic to vibrant and exotic. Blending styles from European-influenced interior design and fashion-forward trends, Olivieri also uses seasonal palettes and natural elements to compose each arrangement. As the tendency to gravitate toward bright and bold colors increases in summer decor, this Summer Design Series helps redefine the use of color in floral arrangements.

Inspired by Monet

Inspired by Monet's "Water Lilies," we wanted to incorporate real water elements into this vignette to give authenticity and movement to the centerpiece. A simple sprinkling of exotic vanda orchids floats in cement troughs of water, peonies rise above them and add layers of color, and water features provide a reflective element for the candlelight. Artwork by painter Richard Frankel sets the mood for this Impressionism-inspired piece.

Tropicana

The Tropicana vignette brings the spirit of old Hawaii to a modern foliage display for our Summer Tabletop Design Series. With beautiful ocean hues, hand-painted palm fronds, and tropical monstera leaves, every element is reminiscent of the iconic Royal Hawaiian Hotel on Waikiki, also known as the "Pink Palace." Blueprint Studios pushes the envelope by taking popular trends, like tropicana, and elevating them with new techniques and a wide range of unexpected florals to give a more diverse and unexpected arrangement.


Urban Graffiti

With street style and urban artwork being the new trend on the block, Blueprint Studios Floral wasted no time in creating a luxe and polished design influenced by this intricate and lively art. Elements of earth and metal thrive with spray-painted succulents and florals in copper tubing. The Blueprint Studios Printing Studio printed a custom table wrap of street graffiti, providing a nod to urban artwork with bold hues.

Sweet as Rock Candy

Who doesn't like a tablescape made of actual candy?  Rock candy is a sweet inspiration for this arrangement, and nothing would be better than using real rock candy for both the centerpiece and the decor accents. Picture-perfect gerber daisies sprinkled with crystallized sugar line the candy-filled trough. An abstract table graphic is placed below this setting of multi-colored plates to give design variety and customization for every guest.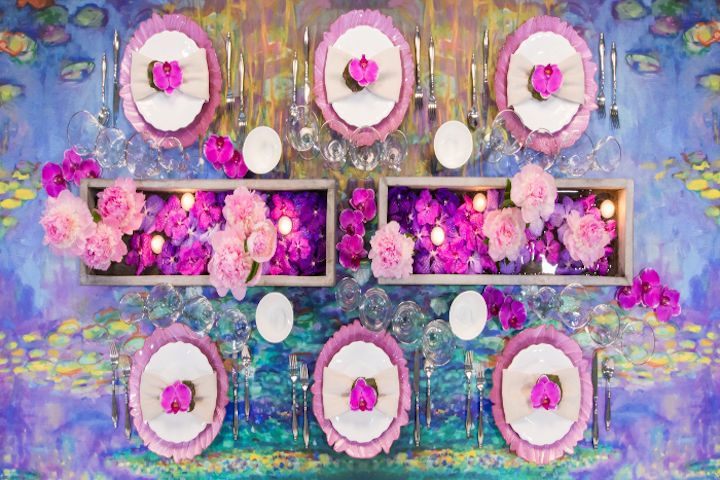 Photo: Courtesy of Show Ready Photo