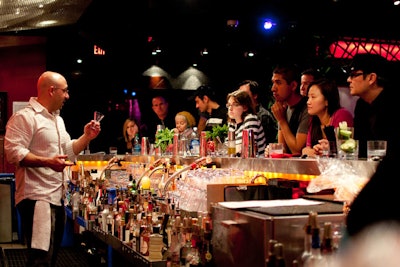 Photo: Michael Specht
Mandatory summertime activities should have a fun, free-spirited vibe. These low-key, booze-focused teambuilding events let groups bond over ...
Tropical Tipples
Wildly Different offers its 90-minute Tropical Libation Container Creation activity at indoor and outdoor venues throughout Orlando. Guests are divided into teams and tasked with creating a tropical cocktail container using real fruit and decorations such as paper umbrellas. After creating the fruity vessels, teams make a poster and come up with a product name, then present their final product. Guests vote on the best presentation, and the winning team receives medals. The activity costs $2,000 plus $25 per guest and works best with 20 to 200 participants.

Serious Cocktails
SF Mixology hosts group cocktail competitions at popular bars and nightclubs throughout the Bay Area. The events, which are available for a minimum of five guests or a maximum of 500, put teams of participants behind the bar to stir up their own concoctions using liqueurs, handmade bitters, and fresh ingredients. The tipples are then served, and at the conclusion of the two- to four-hour event, judges pick a winning team based on teamwork. Pricing is flexible.

Pub Crawls
Boston-based TeamBonding stages teambuilding events throughout the United States and Canada. Its new Pub Crawl Scaventure combines a treasure hunt with a pub crawl, catering to groups of 15 to 100. During the three-hour activity, groups visit a string of bars. At each stop, they tackle puzzles, put on performances, and search for items such as swizzle sticks and bottle caps. At the final stop, each team creates and names its own cocktail, and the crowd votes on the best drink. Pricing starts at about $2,800.

Craft Brew
LA Beer Hop offers private tours of Los Angeles–area craft breweries. The summery Beach Cities Tour stops at South Bay spots including El Segundo Brewing, and a beer-savvy tour guide is included. At each locale, guests get a guided tasting, and the tour buses are stocked with a cooler for purchases made along the way. Tours accommodate six to 15 guests, last around five hours, and are priced by group size.

Suds & Snacks
Parties That Cook offers its two-and-a-half-hour Brews & Bites event in Chicago, San Francisco, Seattle, and Portland. The activity can be held in an office or at an event venue and caters to groups of 10 to 300. After a tasting of local craft beers and a lively cooking demo, groups divide into teams to prepare appetizers such as fish tacos or sweet-and-sour chicken wings. Guests present their plates to a panel of judges, and the winning team scores a prize. Participants leave with recipes and receive photos via email. Pricing starts from $95 per person.

Retro-Style Sips
SideTour has partnered with mixologist Revae Schneider to offer Mad Men–themed cocktail classes in Chicago. Held at Schneider's headquarters for six to 16 guests—or larger groups if held at an office or event space in the area—the activity teaches guests how to create classic cocktails inspired by the show's characters. An Old Fashioned, for example, is called "the Don"; a daiquiri is dubbed "the Peggy." Pricing starts from $60 per person.

Vino
The Lodge at Sonoma in Northern California offers its Authentic Grape Stomp activity. Performed relay-style for groups of any size, the activity takes place on the resort's grounds and has two guests at a time stomp on 25 pounds of grapes in wine barrels. The staff also provides information on the region, the grapes, and the history of wine-making. Pricing varies depending on group size but costs about $50 per person.