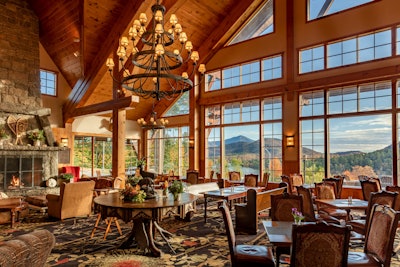 Photo: Courtesy of Crowne Plaza Lake Placid
Here are six things you should know this month...
1. The Wall Street Journal has ranked the best convention centers in the U.S.
Last month, the newspaper released its rankings of 30 large convention centers around the country, weighing the quality of the space along with the vibrancy and affordability of its home city. The top spot went to the Las Vegas Convention Center, which, the WSJ notes, generated 6,490 jobs, $356.1 million in wages, and $1.3 billion in direct economic output from the 56 conventions it hosted in 2022. Rounding out the top five? Chicago's McCormick Place, Las Vegas' Venetian Convention & Expo Center, the San Diego Convention Center, and Orlando's Orange County Convention Center.
2. CVBs are helping build a more diverse tourism industry.
To encourage more Black, Indigenous, and people of color to join the tourism and hospitality industry, Choose Chicago has teamed up with United Airlines and PCMA for the first Events Track apprenticeship, in partnership with Tourism Diversity Matters. "The future of Chicago's tourism and hospitality industry depends on connecting promising young talent to fulfilling careers," said Lynn Osmond, president and CEO of Choose Chicago. "This apprenticeship program is one of the ways that we are working to establish a pipeline of talented young people who want to work in events, hotels, restaurants, or other tourism-adjacent businesses. I encourage all of our partners to invest in workforce development, and lead by example by committing resources to career exploration and internship opportunities."
Another city aiming to increase diversity in the tourism industry is Boston: Meet Boston recently launched a Workforce Development and Supplier Diversity Initiative in partnership with Conan Harris & Associates. The initiative will offer training opportunities for people of all backgrounds and expand Meet Boston's network of suppliers to include businesses owned by women, minorities, veterans, and other historically marginalized groups. Meet Boston will build a platform featuring a database of diverse suppliers, accessible to its industry partners. "These initiatives not only ensure exceptional experiences for visitors but also empower our diverse communities, promoting inclusivity, economic growth, and a brighter future for every corner of our city," said Hilina D. Ajakaiye, executive vice president of Meet Boston.
3. A hotel chain's new campaign reveals the power of travel.
A new campaign from Hotel Indigo, part of IHG's Luxury & Lifestyle portfolio, reveals something hospitality professionals already knew: Travel is a pretty powerful thing. The international campaign, called "The World's Neighborhood Hotel," highlights hidden gems found in local neighborhoods. In a recent global survey from Hotel Indigo, which is spotlighted in the marketing, the brand found that 73% of respondents feel it is important for the hotel they stay in while traveling to be connected to the local neighborhood, as it may inspire more adventurous activities and the desire to try new things and meet new people. It also revealed the impact immersive travel has on our perspective of the world, with 1 in 2 travelers having questioned their life's trajectory after coming home from a trip, and 63% making major life changes due to their experiences on a trip.
4. New booking technology is hitting the market.
Technology continues to improve and simplify the booking experience, and one of the latest innovations comes from HotelPlanner. The travel technology platform and hotel booking engine has announced a new partnership with RushMyPassport, an online travel document expediting service. The HotelPlanner team notes a service like this is especially valuable as the industry faces ongoing passport delays and extended processing times; the U.S. State Department is processing passports in seven to nine weeks on an expedited basis, whereas RushMyPassport says it offers expedited passport processing in as little as one to two weeks.
Another newly launched booking service comes from hospitality and travel expert Steve Turk, founder of Turk Hospitality Ventures and the host of The Hospitality Mentor. Last month, Turk launched his new Luxury Hotel Booking Service in partnership with Fora Travel. This service will give guests exclusive access to booking hotels through The Hospitality Mentor's network of insider access; it will also offer perks and offers like upgraded rooms, complimentary breakfasts, and resort and spa credits. "I'm incredibly excited to offer a service where guests will feel as though they're arranging their stay through a trusted confidant who not only has exclusive access but also ensures their experience is prioritized and tagged as 'VIP' even before their arrival," said Turk.
5. Hotels are offering some truly unique packages this fall.
InterContinental New York Times Square is offering guests a special "Honeycomb Suite Stay" package throughout the end of the year, inspired by the property's rooftop beehives. The two beehives, named Barbie and Buzz Lightyear, are part of the rooftop garden, which is also home to an array of plants such as basil, peppermint, cilantro, dill, chives, tarragon, and daffodils; the honey and herbs are often used at the hotel's restaurant, The Stinger Cocktail Bar & Kitchen, as well as in in-room dining. Guests booking the package will receive two tickets to the new Gilder Center exhibition at the American Museum of Natural History, a welcome seasonal fruit bowl made with the rooftop honey, and a copy of Honey and Venom: Confessions of an Urban Beekeeper, written by the hotel's own beekeeper, Andrew Coté.
Bees not your thing? For a slightly more glamorous experience, luxury boutique hotel Mondrian Los Angeles has a new partnership with Rihanna's lingerie and apparel brand, Savage X Fenty. Through the end of the year, guests booking the package—which starts at $319 per night—will get a stay in a suite at the hotel, a bottle of Champagne, and two Savage X Fenty CLF satin robes or Savage X smoking jackets. "We are excited to partner with Savage X Fenty to offer our guests a unique experience this fall," said Carl Hubbard, the hotel's general manager. "This collaboration brings together the best of luxury hospitality and fashion to create a memorable stay for those seeking a glamorous getaway."
6. Virgin Hotels has launched a new concert series.
Virgin Hotels has launched Hear This!, a concert series created in partnership with Sofar Sounds, a global company connecting artists and audiences through live experiences. The monthly concert series (check out the full schedule here) will showcase a roster of emerging Sofar artists performing in Virgin Hotels spaces; the concerts will be open to the public, with Virgin Hotels' Know members receiving early access to tickets. Virgin Hotels will also offer preferred room rates for all Sofar Sounds artists, with the goal of alleviating the financial effects of the pandemic on touring artists and the increasing economic demands of the live performance industry.
"Opening doors to unique cultural experiences has always been a huge passion point for Virgin Hotels, which is why it's so exciting to launch Hear This!" said Neil Aline, global director of entertainment for Virgin Hotels. "This live concert series shows our commitment to highlighting artists with fresh and eclectic perspectives, and we couldn't have found better partners in Sofar Sounds. ... We hope Hear This! will keep surprising and delighting our guests as they've come to expect from the Virgin brand."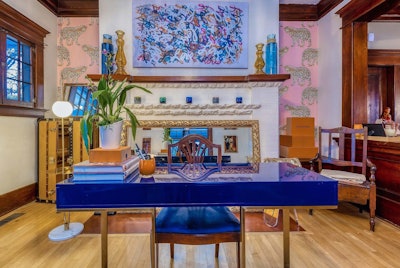 Spotlight On: The GG Inn in Walla Walla, Wash.
BizBash's own regional vice president of sales, Suzi Schnell, recently visited the city and wrote this reflection on her stay in a local resort:
Where can a fabulous, high-energy, always-creating-the-wow-moments event veteran go to get away for the weekend and return to work inspired? I found the answer on a recent visit to Walla Walla, Wash., where I had the chance to be surprised and delighted at every turn. Walla Walla is home to Washington's award-winning wine country, recently named "Standout Wine-and-Dine Region" by Sunset Travel—and, with 130-plus wineries and tasting rooms, multiple James Beard-nominated chefs, five golf courses, a safe and walkable downtown, fabulous hotels and meeting packages, and more than 300 days of sunshine per year, if you haven't visited yet, dare I ask: Wine not?
When approaching The GG Inn, a luxury boutique resort in eastern Washington, I was initially taken aback by this historic home surrounded by 70-foot weeping cherry blossom willows. The GG is located across the street from university dorms in a neighborhood so quiet, I saw more squirrels than humans during my midweek stay! It has wraparound porches and outdoor gathering spaces that are swoon-worthy—but nothing prepared me for what I would see when I walked inside.
Call it eclectic, unique, whimsical, or fantastical, but this place is really special. The home itself is a beautifully restored masterpiece, with five guest suites in the main house, each with a unique theme and photo-worthy furniture and accents. Then there is "The Cabana," a girls' getaway dream come true with jaw-dropping decor. It's no surprise that the founders of The GG, fabulous twin sisters Karrie and Connie, have some magic among them. Coming from a family of collectors and entrepreneurs, these sisters have coupled their talents for restoration, decorating, and collecting and created a once-in-a-lifetime upscale bed-and-breakfast experience.
I could brag about the extensive collection of 19 Louis Vuitton trunks (the oldest dating back to 1870, or the newest being one of only 11 ever made!), or the art, or the Versace china, but I think those are stories best told by Karrie herself, who greets you with a glass of bubbles (and a bubbling personality) when you check in. My goal? To encourage event professionals to go and experience this special place for themselves—and enjoy their own wow moments when they aren't being asked to create them for everyone else! —Suzi Schnell