Podcast: A Master Class on Curating Events for Powerful People (Episode 144)
Consultant Tammy Haddad shares what makes her Washington's uber event strategist.
April 23, 2019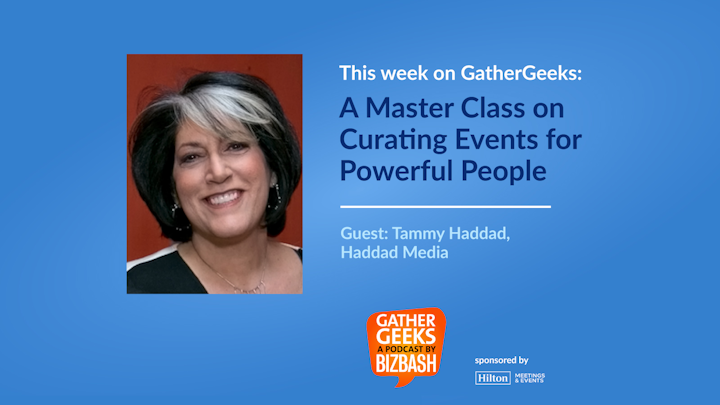 Photo: Courtesy of Haddad Media
Hosts: David Adler, Beth Kormanik, Alex Carter
Guest: Tammy Haddad
In the latest edition of GatherGeeks' "Sparking Change" series of episodes recorded at the Meridian International Center in Washington, BizBash C.E.O. David Adler and Zkipster's Alex Carter chat with Tammy Haddad, president and C.E.O. of consulting firm Haddad Media. She uses fun anecdotes from her long career in Washington to discuss the art of curating a guest list and seating chart, how to promote conversations, and ways to convey the story of your event. She also shares why the most important Washington business happens at events, how to be a good event guest, and much more. 
Sponsored by Hilton Meetings & Events. Running time: 37:32
Show Notes
Roundtable Discussion: the celebrities and politicians who make the best event guests; how to know when to end a conversation at an event; how C.E.O.s can become better event hosts; how President Trump has changed the way business is done in Washington
Further Reading:
Follow Haddad on Twitter: https://twitter.com/haddadmedia
This Episode Is Sponsored By:
Hilton Meetings & Events
Planning an event and wondering how you can give your attendees the best experience possible? Take advantage of customized meetings with Hilton that make it easier than ever to incorporate health, wellness, entertainment, and waste reduction. From Yoga & Yogurt morning starts to Puppies & Ice Cream afternoon breaks, Hilton will help you build an extraordinary meeting that attendees will remember. To book your next meeting or event, go to meetings.hilton.com.