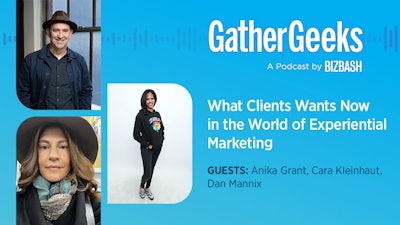 Host: David Adler
Guests: Anika Grant, Cara Kleinhaut, Dan Mannix
In this episode of GatherGeeks, BizBash chairman and founder David Adler has assembled a powerhouse panel of experiential agency leaders to get the pulse of what's happening in the world of experiential marketing—what do clients want now? He's joined by Anika Grant, the founder and CEO of Idlewild Experiential; Cara Kleinhaut, the founder and CEO of AGENC Experiential + Digital Marketing; and Dan Mannix, the co-founder of underdog venture team. Join them as they navigate the intricate laboratory of the experiential marketing world, exploring the aspirations of its key players and understanding how they can harmonize these diverse needs to create exceptional experiences.
Whether you're an industry veteran or a newcomer, this episode promises to be a wealth of insights that will help you stay ahead in this dynamic field. Also, stay tuned for part two next week, where they will discuss the joys and pitfalls of being an agency entrepreneur and fostering a culture of curiosity.
Running time: 24:42