Podcast: Where Incentive Travel Is Headed Next (Episode 163)
Tahira Endean, head of events for SITE, discusses the power of incentive travel, plus other tips for creative effective learning-focused events.
September 10, 2019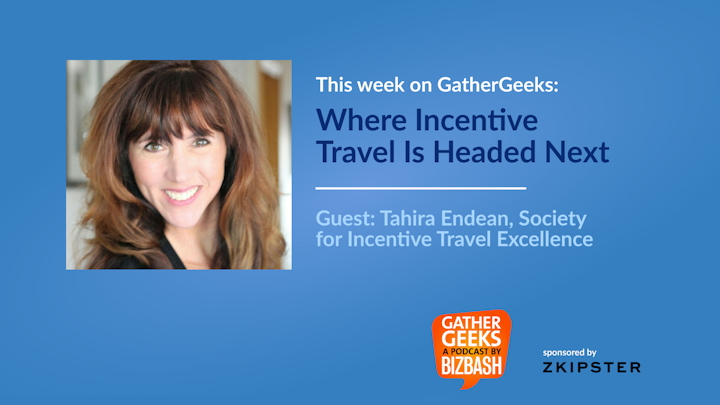 Hosts: David Adler, Beth Kormanik
Guest: Tahira Endean
In this episode of GatherGeeks, BizBash C.E.O. David Adler and editor in chief Beth Kormanik hear from Tahira Endean, the new head of events for the Society of Incentive Travel Excellence (SITE). She shares what incentive travel is and why it's such an effective way to stimulate sales, reward employees, and promote team building. Endean also discusses some of the coolest incentive trips she's seen, how these trips should respect and promote local culture, and ways to create meaningful sponsor partnerships, plus predictions for the future of the event industry.
Sponsored by Zkipster. Running time: 54:04.


Show Notes
Roundtable Discussion: finding the right mix of people for an incentive trip; how to educate yourself on local culture; going beyond the "Instagram moment"; what is empathy mapping?; the impact AI will have on events
Further Reading:
5 Tips to Create Successful Incentive Travel Programs https://bit.ly/2lUb2LM
Report: Top Destinations for Meeting and Incentive Groups https://bit.ly/2k5jG9S
Podcast: Are You an Effective Event Professional? https://bit.ly/2k5jqYs
This Episode Is Sponsored By: Zkipster
Building a memorable experience for your guests means planning every detail right. Zkipster is the guest management platform designed to help you create perfect experiences, from impressive online invitations to seamless check-in at the door. Get started at zkipster.com with a free test event.