Podcast: The Embrace of Events by Traditional Marketing Agencies (Episode 176)
Agency guru Russ Lidstone discusses why marketers are discovering the power of live events, how to build an effective team, ways technology is drastically shifting the industry, and more.
December 10, 2019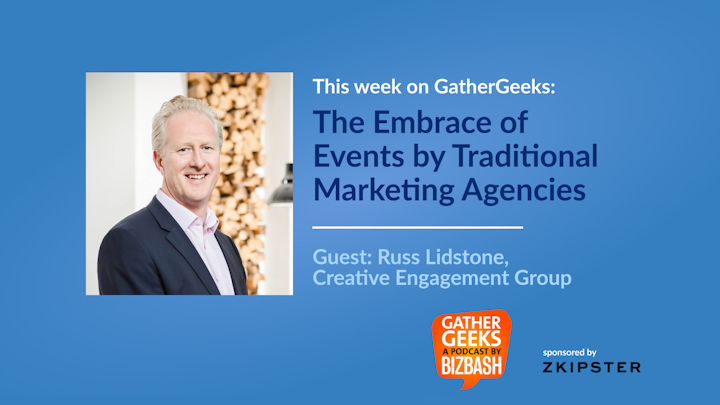 Hosts: David Adler, Beth Kormanik
Guest: Russ Lidstone
In this episode of GatherGeeks, BizBash C.E.O. David Adler and editor in chief Beth Kormanik hear from Russ Lidstone, group C.E.O. for the Creative Engagement Group, a London-based collection of experiential, digital, and employee engagement agencies. Lidstone discusses his unusual company model and whether having different brands with different specialties under one umbrella will become more popular. Lidstone also shares smart tips for recruiting and retaining good employees, why you should challenge your team to take risks, ways new technology and formats can increase—and measure—event effectiveness, the rise of "microcontent," and much more.
Sponsored by Zkipster. Running time: 51:57
Show Notes
Roundtable Discussion: what he looks for when hiring employees; how the ways people receive content is changing; are surveys still effective ways to measure R.O.I.?; why he uses "unusual thinking" to create effective experiences
This Episode Is Sponsored By: Zkipster
Building a memorable experience for your guests means planning every detail right. Zkipster is the guest management platform designed to help you create perfect experiences, from impressive online invitations to seamless check-in at the door. Get started at zkipster.com with a free test event.