Podcast: The Oscars: Still the Leading Event of Award Season? (Episode 181)
BizBash's Los Angeles editor discusses how the Academy Awards—and awards season as a whole—have evolved, then chats with Wolfgang Puck Catering's Stephanie Edens for a sneak peek at the official Governors Ball after-party.
January 28, 2020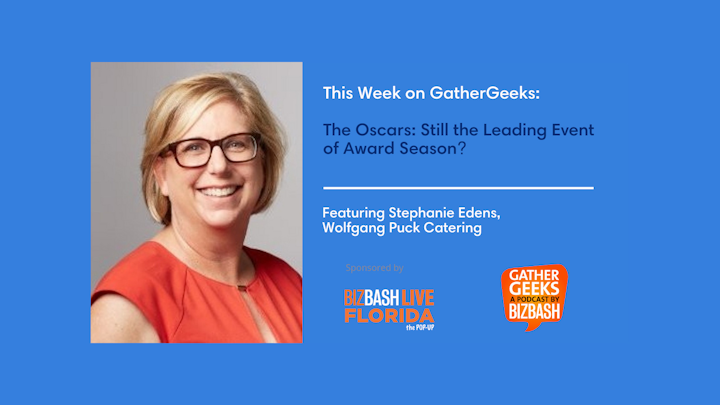 Hosts: David Adler, Claire Hoffman
Guest: Stephanie Edens
In this episode of GatherGeeks, BizBash chairman and founder David Adler and west coast editor Claire Hoffman chat about all-things awards season, from the rise in plant-based catering to the hottest design trends and most anticipated Oscars parties. They also hear from Stephanie Edens, the senior vice president of national sales for Wolfgang Puck Catering, who teases the menu for this year's Oscars Governors Ball—an event that the company has been catering for 26 consecutive years—sharing why the menu will be more playful this year. Edens also discusses the hottest trends she's seeing in the event catering world, how the company deals with dietary restrictions, tips for catering a large-scale event without sacrificing quality, and much more. 
Running time: 35:58.
Show Notes
Roundtable Discussion: the biggest design trends from award season parties; why the host-less show might be a good move; how the Oscars after-party moved from a seated dinner to a reception-style event; how Wolfgang Puck Catering handles the 11,000-attendee Adobe Max closing party; the coolest new trends in zero-proof cocktails
Further Reading:
Oscars 2019: Glamorous Party Highlights From the Week's Biggest Events https://bit.ly/2vjZfeq
Are The Oscars Better Off Without a Host? https://bit.ly/2O2SdRU
Fixing the Oscars: What Event Producers Think of the Future Ceremony Changes https://bit.ly/2Ry8KPX
This Episode Is Sponsored By:
BizBash Live: Florida The Pop-Up
We're popping up in Florida with an all-new BizBash experience. Join us February 19 and 20 at the Gaylord Palms Resort & Convention Center in Kissimmee as we co-locate with Connect. Hear from President Barack Obama, Ambassador Capricia Marshall, former Social Secretary Deesha Dyer, Disney's former head of innovation and creativity Duncan Wardle, and more. Register now at bizbashlive.com/florida.