Live From the Times Center: What Works in Conferences Today (Episode 185)
In this special live episode of GatherGeeks, event producers from TED, Essence, and NationSwell discuss how to develop intriguing content, engage attendees, and more.
February 25, 2020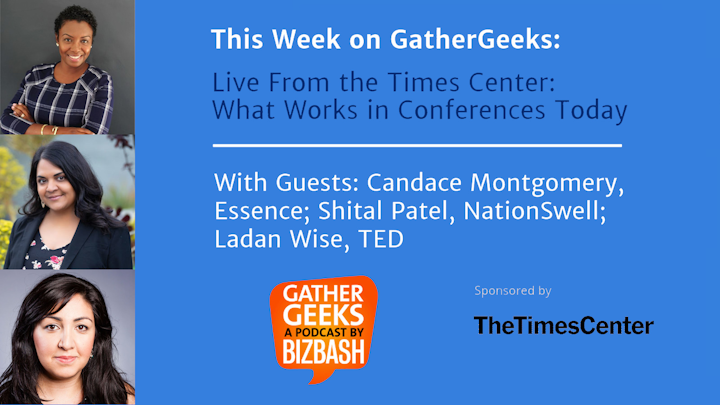 Hosts: David Adler, Beth Kormanik
Guests: Candace Montgomery, Shital Patel, Ladan Wise
In this special live episode of GatherGeeks, BizBash chairman and founder David Adler and editor in chief Beth Kormanik sit down with Ladan Wise of TED, Candace Montgomery of Essence, and Shital Patel of NationSwell for an engaging discussion held earlier this month at the Times Center in New York. The group discusses ways to create memorable conferences, develop intriguing content and programming, get audience feedback, and engage attendees on and off the stage, plus the biggest risks they've each taken—that paid off. Hear behind-the-scenes details on events such as the Essence Festival, TED, and more, and learn about the next great innovations in conference planning.
Sponsored by the Times Center. Running time: 1:01 
Show Notes
Roundtable Discussion: dealing with lines at events; why it's essential to program in downtime; is it crucial to map an event journey?; how they are using beacon technology; how they work with external event production companies; favorite recent events they've attended; tips for staying in budget
This Episode Is Sponsored By:
This episode is brought to you by the Times Center, the midtown Manhattan event venue that makes a statement of authority when chosen to as the home for your next event. Go to thetimescenter.com to schedule a tour of the space.