Podcast: The Art of Orchestrating Change-Making Conversations at Live Events (Episode 143)
Former deputy chief of protocol Natalie Jones discusses her time at the State Department, the importance of researching guest preferences, how events can change perspectives, and more.
April 16, 2019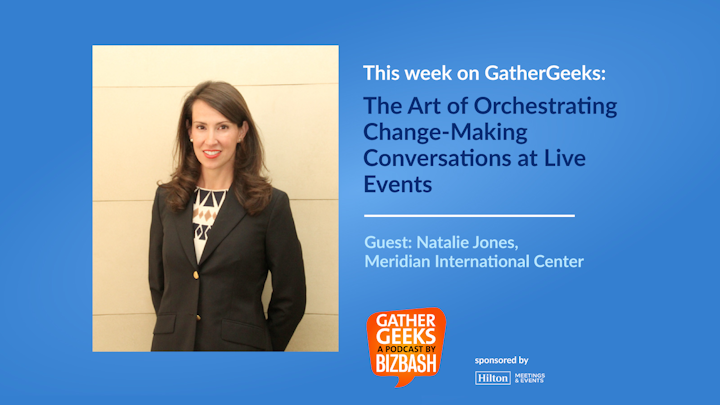 Photo: Courtesy of Meridian International Center
Hosts: David Adler, Beth Kormanik, Alex Carter
Guest: Natalie Jones
In the first edition of GatherGeeks' "Sparking Change" series of episodes recorded at the Meridian International Center in Washington, BizBash C.E.O. David Adler and Zkipster's Alex Carter chat with Natalie Jones, the center's senior vice president for external affairs and the former deputy chief of protocol at the State Department. She shares what it was like planning events and meetings for presidents and foreign governments, discussing why creating a comfortable setting conductive to change-making conversations is crucial. Jones also shares ways to understand each guest's needs and preferences, best practices for gifting and seating charts, and the community-building work she's doing at the Meridian International Center.  
Sponsored by Hilton Meetings & Events. Running time: 48:42
Show Notes
Roundtable Discussion: where former Secretary of State Hillary Clinton liked to hold meetings; the importance of researching guests; why events are so effective for changing perspectives and bringing people together; why she's veering away from panel discussions; how to know when an event worked; what inspires her to create better events
This Episode Is Sponsored By:
Hilton Meetings & Events
Planning an event and wondering how you can give your attendees the best experience possible? Take advantage of customized meetings with Hilton that make it easier than ever to incorporate health, wellness, entertainment, and waste reduction. From Yoga & Yogurt morning starts to Puppies & Ice Cream afternoon breaks, Hilton will help you build an extraordinary meeting that attendees will remember. To book your next meeting or event, go to meetings.hilton.com.