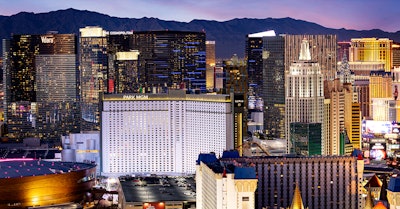 Photo: Courtesy of MGM Resorts
Las Vegas, famously referred to as the "Entertainment Capital of the World," has a reputation for constantly reinventing itself. And at the heart of this ever-evolving landscape lies MGM Resorts—an industry titan that has proved its commitment to driving business by consistently adding new attractions and venues.
MGM Resorts has grown into one of the most prominent hospitality and entertainment companies worldwide. With a portfolio that boasts iconic properties on the Las Vegas Strip such as MGM Grand, Bellagio, and Mandalay Bay, the company has firmly anchored its position as a major player in meetings and events.
Just as the allure of Las Vegas lies in its ability to offer something for everyone, MGM Resorts taps into this sentiment by offering a diverse range of experiences. Over the years, it has incorporated everything from top-tier celebrity chef restaurants to massive entertainment arenas.
This year is no exception. Let's delve into some of the latest offerings and transformations at MGM Resorts in the heart of Las Vegas.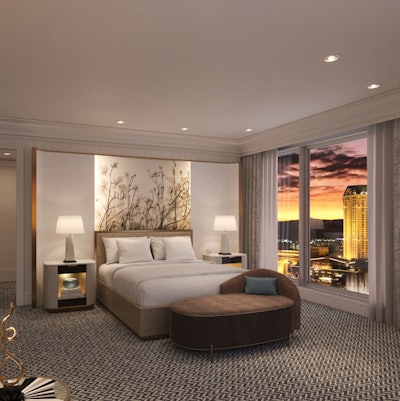 Refurbished Accommodations
In a bid to stay current and appeal to modern attendees, many of the MGM Resorts have undergone significant room and suite refurbishments. Expect contemporary interiors, advanced technological integrations, and decor that speaks to luxury and comfort.
Half a billion dollars in upgrades is being spread around multiple properties. Highlights include:
$110 million in renovations focusing on 819 rooms and 104 suites inside the Bellagio's Spa Tower is coming this fall. Next year, 400 suites in the Bellagio Tower will receive a similar elegant treatment.


The 700 rooms inside MGM Grand's Studio Tower take on a lighter ambiance through the use of fresh pink and chartreuse green colors designed to emulate the desert. This will allow attendees to unwind quickly from a long day of meetings.


New York New York isn't resting on its laurels, launching a $63 million room remodel project of its 1,830 rooms and 155 of its suites.

Mandalay Bay Reimagined
Speaking of renovations, planners will be eager to see the final results from the ongoing $100 million remodel of Mandalay Bay Resort & Casino's 2.1 million-square-foot convention center. Technology upgrades will meet the greater demands planners and attendees have on their devices, new art will breathe new life into the space, and reconfigured spaces will open up new worlds of opportunities to do business.
Mandalay Bay Convention Center remains open and fully operational throughout the remodel, with expected project completion towards the end of 2024.
That's just the start at Mandalay Bay:
The legendary StripSteak, led by James Beard Award-winning chef Michael Mina, reopened earlier this year with a new look and refurbished menu. (The caviar jelly doughnuts are a can't-miss appetizer.) Of note, it now has one of the largest private dining rooms on the Las Vegas Strip, making it ideal for incentive programs, CEO meals, and special occasions.


Mina also plans to open a new restaurant, Orla, this winter at Mandalay Bay. Its seafood-centric menu will draw inspiration from Mediterranean and Middle Eastern cuisine. While more details will be forthcoming, Orla is sure to be a golden ticket for VIP meals and other exclusive gatherings.


Meanwhile, celebrity chefs Michael and Bryan Voltaggio are turning back the clock to childhood favorites with Retro by Voltaggio, a one-year culinary residency at Mandalay Bay. The fun doesn't stop with the twists on canned pasta (VoltaggiO's), pot roast, pepperoni rolls, and cheese and crackers—Retro's cocktails are modeled after after-school favorites like apple juice, limeade, and other citrus favorites. Wine coolers and 40-ounce malt liquor are throwbacks to the college era and will be hits for reunions and millennials at your events.


Flanker Kitchen + Sports Bar includes a takeout window for attendees on the move. Conceived as a fan-focused experience, Flanker is a good option for meetings timed to coincide with upcoming sporting events.


Attendees looking to get into the action will want to hit up Swingers, featuring mini-golf experiences aimed at adults. Sure to be compared to Topgolf, Swingers will include cocktails served by caddies, street food, and a DJ. This 21-and-older venue is destined to be a corporate events mainstay upon its opening in early 2024.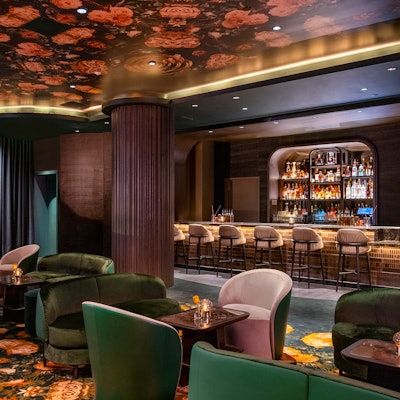 Added to the ARIA Menu
MGM Resorts never disappoints when it comes to food. This year, new options at ARIA will appeal to any meeting group.
The openings of Cathédrale Las Vegas and Proper Eats Food Hall add specialties from around the globe. True to form, the new MGM Resorts additions show the variety ARIA provides.
Cathédrale, an upscale establishment, is an extension of the restaurant's flagship in New York City's East Village. It offers elevated private dining experiences and specializes in exquisite French Mediterranean cuisine.


Proper Eats, meanwhile, promises to deliver an unparalleled event experience with its eclectic and sophisticated food hall. It features versatile and functional spaces, along with unmatched event design, production, and menu creation.
Walk This Way
Bringing together all of these exciting additions is a bridge connection between Vdara, The Cosmopolitan of Las Vegas, and Bellagio. The Vdara-Bellagio connector was completed this summer, and the extension to The Cosmopolitan was finished this fall—making for a seamless experience at MGM Resorts' Luxury Meetings District.
---
In a city where standing still equates to falling behind, MGM Resorts exemplifies the proactive approach needed to remain on top. Its relentless drive to innovate and expand ensures that its properties will be sought-after by returning events and a new generation of gatherings. The future is bright for MGM Resorts as it continues to lead the way in redefining the Las Vegas experience.