7 Experiences to Discover at Go West 2019
October 18, 2018
The largest gathering of event planners in western Canada is set to take place in one of Cvent's Top 10 Meeting Destinations in Canada! Following the enthusiastic response to the inaugural Go West, producers at Timewise Event Management are on the prowl to make 2019 even more memorable and experiential. What can you expect at Go West 2019? Here are seven experiences to engage in at the 2019 edition of Go West this January in Edmonton, Alberta.
V.I.P. Planner Reception
Host hotel The Westin Edmonton is rolling out the red carpet for all planners staying at its property. This includes a V.I.P. invite to an exclusive reception where planners will have the opportunity to meet and mix and mingle with some of the industry's top influencers. The only question remains, will it be champagne and caviar or bourbon and bonbons? This is a not-to-be-missed reception for the who's who of planners.
The Tech Bar
Similar to the Genius Bar, this brand-new element for Go West is where event pros can try out innovative tech products and gadgets. Presenters from the Tech Showcase will be available at the Tech Bar, where attendees can demo some of the latest and greatest technology brought to the show by new and up-and-coming tech companies.
Instagrammable Moments
With the surge of event planners looking to include experiential elements into their meetings and events, you can expect many Instagrammable moments and walls at Go West. Decor and event designers are elated to have a platform to showcase their picture-worthy creations. Meanwhile, sponsors are anxious to activate on experiences in their quest to deliver the most IG moments.
The Main Stage
The Main Stage is back again for 2019. With a strong aversion to breakouts and concurrent sessions, the event designers of Go West created one (albeit elaborate) stage for all presenters. Delivered theatrically with only V.O.G. (voice of god) announcements and no emcee, these sessions are high-energy, back-to-back TED-style talks that keep event pros engaged for hours. Creative seating allows learners to choose what works for them, with options ranging from leather lounge seating to barstool countertops and beanbag chairs. A pop-up espresso and charging station keeps everyone caffeinated and charged.
In-Depth Workshops
For those who crave more learning than the hours of education delivered on The Main Stage, new to Go West in 2019 are pre-event workshops. These sessions will be coveted by planners who are eager to have face time with industry thought-leaders in a more intimate setting.
The Experiential Hall
After the initial sold-out trade show, the producers have doubled the space for 2019. With more than 80 exhibitors, the Hall delivers a huge dose of creativity and excitement to the show by foregoing a traditional grid layout. Not your mama's trade show, attendees can take part in hands-on creative workshops (floral, chocolate, and decor) and learning lounges. An array of activations at the booths allows planners to interact with suppliers in a non-intimidating environment.
Industry Influencers
The producers of Go West have used their own influence to bring some of the industry's top influencers to Edmonton. These are experts that planners have heard on podcasts, viewed on webinars, read their blogs, and now actually get to meet in real life. These influencers will be accessible, so attendees can not only learn, chat, and take a selfie, but very likely begin new friendships.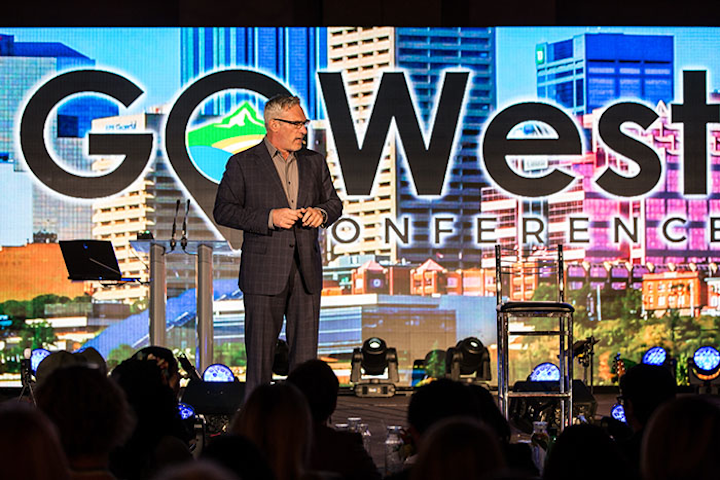 Photo: Nick Hirschmann