5 Chicago Event Professionals Inducted Into BizBash's Hall of Fame
The event industry veterans join a prestigious group of honorees.
June 16, 2016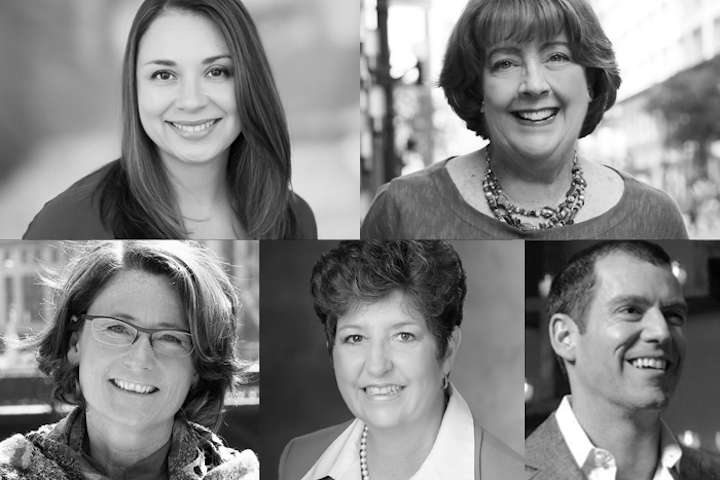 Photos: Korey Howell Photography (Kelly Peacy), David Louis Czuba (Kelley Butler), courtesy of inductees (all others)
Five veteran event professionals from Chicago with experience in the corporate, nonprofit, and association worlds were inducted into the BizBash Hall of Fame at a ceremony June 15 at One Eleven Events at Macy's. Some 300 guests celebrated Kelley Butler, Mary Ellen Caron, Tom Kehoe, Carol McGury, and Kelly Peacy. Chosen by the BizBash executive committee for their work, accomplishments, and contributions to the industry, the honorees join a distinguished group of industry professionals. The full list of BizBash Hall of Fame inductees can be found here.
Kelley Butler
Director of meetings and events, McDonald's Corporation
Butler began her career with McDonald's Corporation in the restaurants at age 16 as a crew member, swing manager, and then assistant manager. After leaving to pursue her education, she embarked on a career that saw her rise through the ranks at Hyatt Hotels, the event and entertainment production company Tamar Productions, TBA Global Entertainment. In 2004, she came full circle when she rejoined McDonald's in the corporate office as a meeting and events manager. Today, she is director of meetings and events and travel, managing a department that plans strategic programs for global meetings and trade shows ranging from 100 to 15,000 attendees. She has served as the president of International Special Events Society, the Corporate Task Force lead and Corporate Task Force Chair for PCMA, as well as one of the executive leaders for the PCMA Global Corporate Board.
Mary Ellen Caron
C.E.O, After School Matters
A former elementary school principal, Caron now serves Chicago's youth through her leadership of After School Matters. The nonprofit organization ensures that Chicago teens have access to the high-quality, out-of-school time opportunities that will prepare them for their futures. Previously Caron served as commissioner of the Chicago Department of Family and Support Services as well as a special assistant to the C.E.O. of the Chicago Board of Education, Arne Duncan, before he became U.S. Secretary of Education.
Tom Kehoe
Kehoe Designs
Kehoe launched his floral career at the age of 16 and has gone on to create event experiences for prestigious charities, high-profile fashion clients, and corporate groups. Past examples include Lollapalooza, Unicef, and the Peninsula hotel. His philosophy is to push the limits of unconventional, modern, and elegant event design, while also conveying tranquility and optimism. He also has ventured in the venue business with the launch of the Geraghty event space in 2015. Kehoe was named to BizBash's list of the most innovative event professionals in 2012.
Carol McGury
Executive vice president, event and education services, SmithBucklin
McGury joined SmithBucklin, the association management and services company, in 1988 and, during her tenure with the company, has served all three SmithBucklin industry practices (Business and Trade, Healthcare and Scientific, and Technology). She now leads the teams that provide event, education, and sales services for clients including trade and professional associations, charitable and cause-based nonprofits, corporations, and government institutes. McGury has developed broad association experience and a passion for working with volunteer-driven organizations. She serves on the PCMA Foundation Board of Trustees, Marriott Hotel Advisory Board, and Anaheim Advisory Board, and she is a member of the board of directors of INCON, an international partnership of association and event management companies.
Kelly Peacy
Founder and C.E.O., Insight Event Strategy
Before founding Insight Event Strategy in May of 2016, Peacy served for 15 years on staff at the Professional Convention Management Association where she was most recently the senior vice president of education and events. Peacy led the Convening Leaders and Education Conference programs, focusing on the latest in learning environments, engaging content and dynamic experiences for all participants. Her new firm delivers experience design strategies for business events, conferences, and conventions.
Featured Venues/Suppliers: