Getting Lit
Working hand in hand with Kanye West, Absolut Vodka created a high-energy after-party based on design elements from the Chicago native's Glow in the Dark tour.
May 29, 2008
Following Kanye West's show at the
United Center
on Friday, some 400 V.I.P.s headed over to Absolut 100's after-party at West Loop nightclub
Bon V
. Throughout the rapper's Glow in the Dark tour, West
has been collaborating
with Absolut Vodka and New York-based event producers
Strategic Group
on a series of after-concert parties (including
a stop in Washington
) inspired by his current obsession with everything neon and by Absolut 100, the company's new premium vodka, which is packaged in a sleek black bottle.
"The after-parties were a collaboration between Absolut 100 and Kanye West," said Absolut public relations manager Sarah E. Bessette. "We worked closely to determine the venues, DJs, decor, and other design elements to ensure we were re-creating the Glow in the Dark theme, hence the reason we used neon colors. Working with such a creative visionary like West sparked a lot of great ideas, including the neon/futuristic costumes the dancers wear."Outside of Bon V, a crowd quickly gathered around a purple carpet, where a black and purple step-and-repeat bearing the Absolut 100 logo greeted guests. Inside, the club's intimate raw space (exposed brick, metal railings, and bare floors) served as an ideal backdrop for a purple and green lighting scheme designed by
AG Light & Sound
. Acid green LED tubing lined the railings separating lounge seating from the bar and dance floor, while lights bathed metal screens adorned with the Absolut 100 logo. Dancers perched on low pedestals and above the banquettes wore tiny black outfits with bright slashes of neon and Absolut logos.
But the night's real focal point was the 24- by 12-foot DJ booth tricked out with computerized LED displays. "From a decor perspective, the schematic focuses around the DJ booth, which served as the centerpiece for our national events," said Bessette. (The staging traveled throughout the tour, and five cities included DJ appearances.)
Comfort-food-style fare, such as mini corn dogs, sliders, grilled cheese sandwiches, and quesadillas, circulated via black-clad servers. Signature cocktails brought around by servers included the "Absolut Future" (vodka and tonic) and the "Absolut Good Life" (vodka and cranberry)—both named for West songs. Servers also carried trays offering pairs of West's signature Venetian blind sunglasses, which disappeared quickly.
West was a conspicuous no-show, but the crowd remained undaunted, dancing and drinking until the party wrapped around 2 a.m. "By hosting the official after-parties for the Glow in the Dark tour, Absolut has an opportunity to extend our reach to West's audience in the nightclub environment," said Bessette.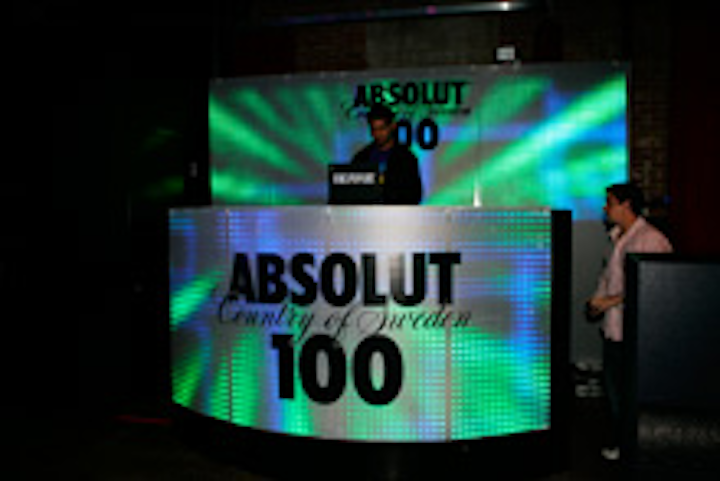 Photo: Rob Grabowski for Retna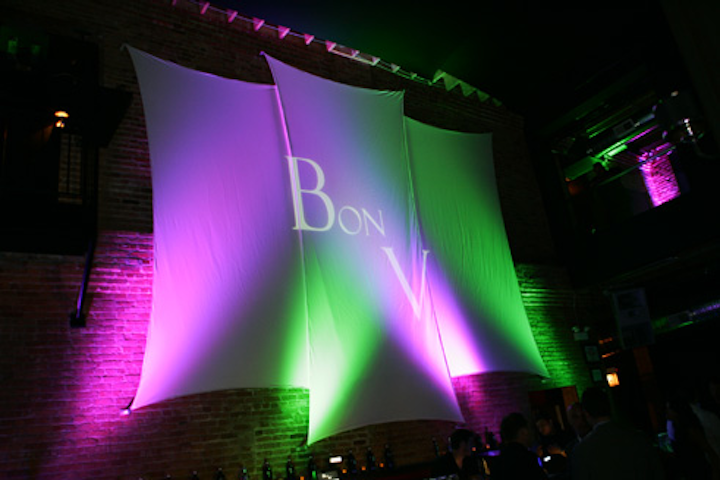 Photo: Rob Grabowski for Retna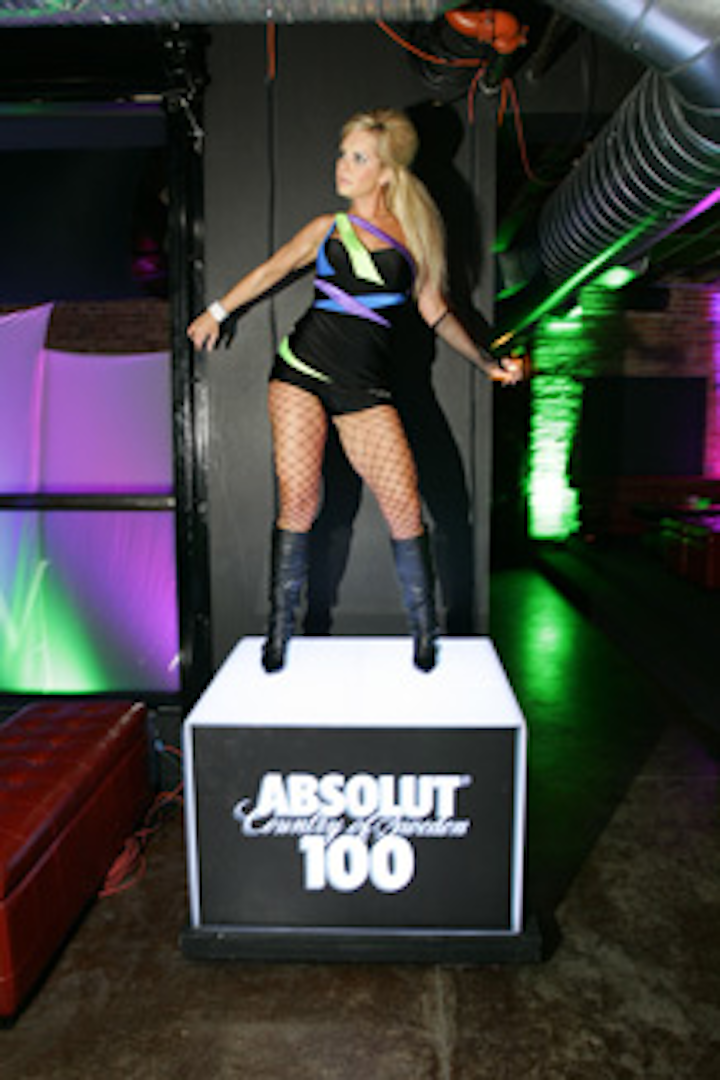 Photo: Rob Grabowski for Retna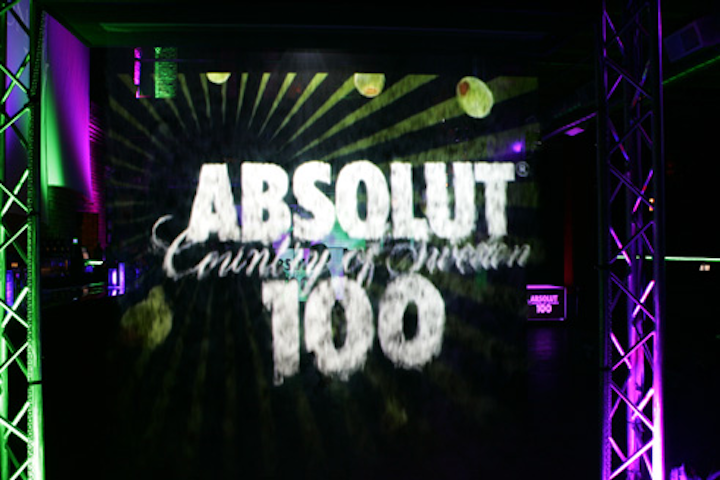 Photo: Rob Grabowski for Retna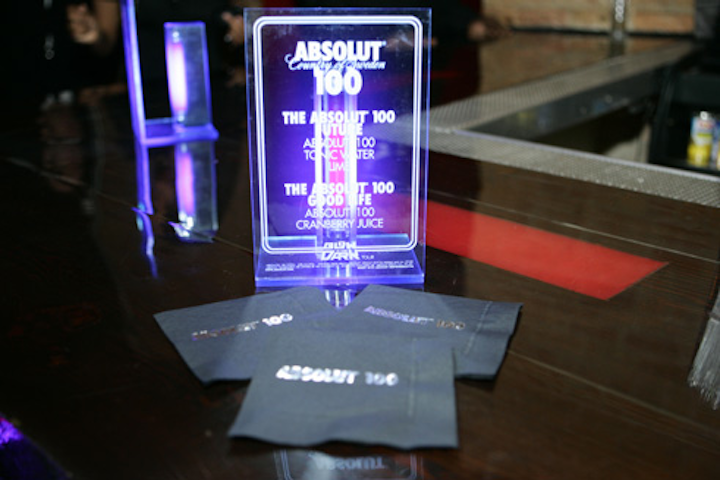 Photo: Rob Grabowski for Retna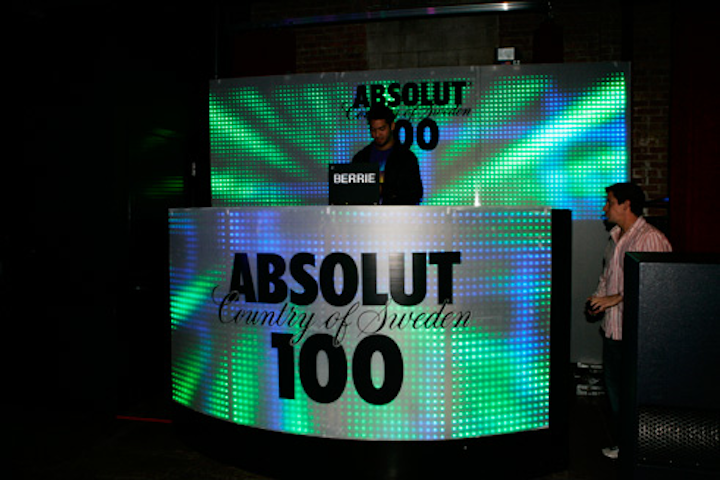 Photo: Rob Grabowski for Retna
Featured Venues/Suppliers: