Fort Lauderdale Taste Keeps Decor Cool
February 15, 2006
They go for the food. They go for the wine. They go to support
Share Our Strength
, an organization that helps to feed the hungry. But we go to the
Fort Lauderdale
Taste of the Nation
to see what cool design and decor concepts 13-year veteran event chair
Kelly Murphy
of
Panache
will come up with.
For the event at the
Broward County Convention Center
this year, Murphy described her concept as "very cool." "We mixed South Florida's elements—water, warmth, and the tropics—with brightly colored accents to create a cool and frosty, sophisticated environment," she said.
Murphy created sleek vignettes for general dining, sexy lounge space for corporate sponsors, and an elegant V.I.P. Grand Cru section—where $250 ticket holders were treated to superior ambience and service—all executed in blues, greens, and clear acrylic.
For general seating throughout the room, tables were draped in royal blue crushed satin and
paux de soie
; chairs were covered with blue or lime-green spandex and accented with blue spandex sashes. Tables were topped with clusters of white hydrangeas in small, square glass receptacles. Guests strolled past stations where nearly 60 local restaurants and caterers served food including the standout seared wahoo with cucumber seaweed salad and yuzu from
3030 Ocean
, braised short ribs from
Café Maxx
, cold potato almond soup from
Trina Restaurant
, and a gourmet version of a Philly cheesesteak from
Temptations Catering
.
The sponsor lounge offered sofa groupings from
Nuage Designs
in blue and green. Additional square tables dressed in sea-blue crushed satin were topped with white coverlets made of hundreds of stones gathered on the beach, and a 12-inch-tall wax cylinder lit by a candle. Triangular tables were covered in crushed satin in chartreuse. Chairs were dressed in blue for contrast. Murphy defined the perimeters with foliage and white lanterns, which sat on bamboo posts.
Grand Cru ticket holders dined on risers atop an acrylic floor system from
Premiere Party Rentals
that was lit from beneath in blue by
Frost Lighting
.
Philipe Starck
-inspired Louis Ghost chairs were paired with eight of
So Cool Events
' lit acrylic tables. On the acrylic tables sat an arrangement by
Festivities
of 29-ounce clear glass wineglasses and assorted geometric glass vessels, each filled with submerged cymbidium orchids and glass rocks in aqua-tinted water topped with floating candles.
—
Shari Lynn Rothstein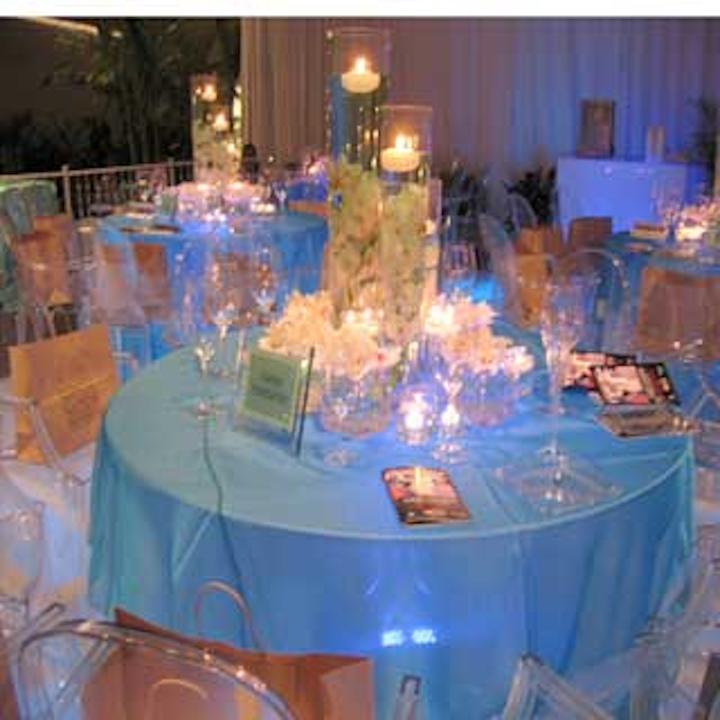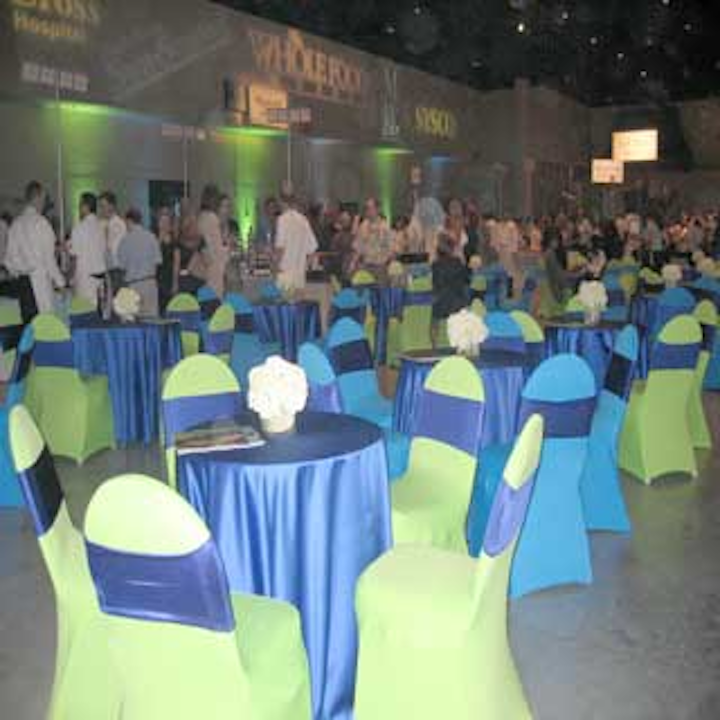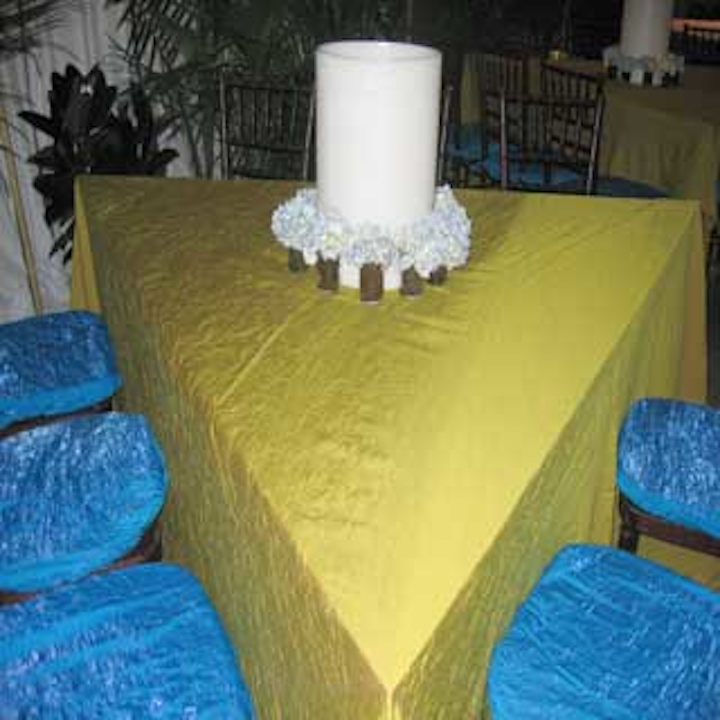 Featured Venues/Suppliers: