TIFF Preview: 2014's Biggest Parties and Brand Activations
Here's a look at what's in store for this year's 10-day Toronto International Film Festival.
August 27, 2014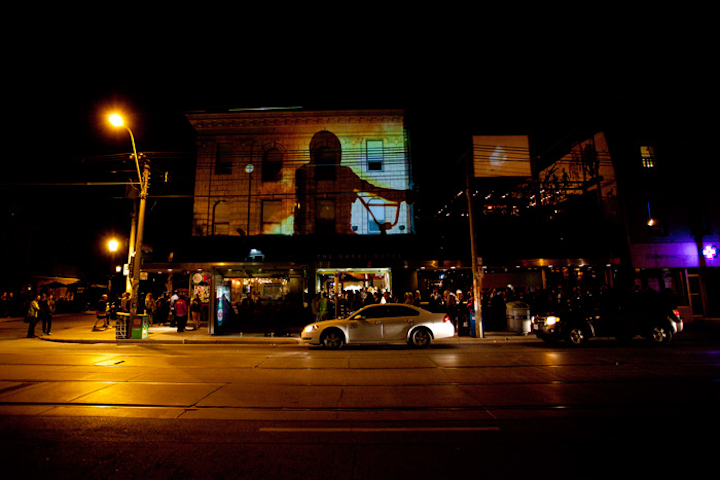 Photo: Jeremy R. Jansen
Toronto is often given the moniker "Hollywood North" due to its vibrant film industry, and since 1976, the Toronto International Film Festival has celebrated cinematic gold from across Canada and around the world. From its humble beginnings screening 127 films from 30 countries, TIFF will now feature more than 300 films from more than 60 countries at this year's festival. Running from September 4 to 14, Toronto will host actors, producers, directors, and, of course, parties. Here's a preview of some of the most noteworthy.
The TIFF Gala will kick off the festivities at the TIFF Bell Lightbox on September 3. The fund-raiser will include a cocktail reception, an onstage conversation with actor Al Pacino, and a rooftop party. Produced by E=mc2 Event Management, the event will offer catering from O&B Events; Decor & More is an in-kind partner. The Lightbox will also host a new addition to the celebrations on September 5, Bill Murray Day. Three classic Murray films (Stripes, Groundhog Day, and Ghostbusters) will be screened leading up to the evening's world premiere of his latest movie, St. Vincent. Rumor has it the comedian may show up to the post-film Q&A session.
Back for the ninth year, NKPR's IT Lounge at 312 Adelaide Street West will feature photographer Caitlin Cronenberg and will have a theme of "Era of Cool." In partnership with W magazine, Cronenberg will snap photos of guests in a portrait studio. After the event, photos of big-name lounge attendees will appear in the fashion glossy. Brands such as Tweezerman, Rudsak, Christian Rex, Safe, Dr. Ashlin Alexander, and Photostar will have activations in the lounge, and guests will sample snacks and drinks from sponsors such as Tequilla Tromba and Barilla. As part of a "pay it forward" initiative, NKPR and the IT Lounge will make a donation to Best Buddies and Artists for Peace and Justice each time a celebrity stops by the lounge.
Throughout the festival, NKPR will also oversee several charity functions and premieres. On September 7, the firm will oversee the Festival Gala in support of Artists for Peace and Justice at Casa Loma. Presented by Bovet 1822 and co-sponsored by Audi Canada, the sit-down dinner will feature celebrity guests such as Paul Haggis, founder of the organization. NKPR will also host a premiere party for the film Whiplash at the Thompson Toronto on September 8 and the Best Buddies Gala at the Carlu on September 10.
GLO Communications will celebrate its sixth annual Bask-It Style gifting lounge at the Fairmont Royal York Hotel's Royal Suite, which is where Queen Elizabeth II stays when she visits Toronto. At 3,000 square feet, the space features vintage British decor, two bedrooms, spacious living areas, two wet bars, a fireplace, and a 12-person dining table. To provide busy celebrities with a unique swag experience, the GLO team will use the space to assemble gift bags that will be delivered directly to stars' hotels. The V.I.P. swag bags will include treats from such sponsors as Browns Shoes, DK Publishing, Mary Kay, and Sharp magazine. The gift lounge will also include a Reading Room featuring book signings from best-selling authors such as Linwood Barclay and Adrienne Kress; Kobo is the title sponsor of the literary activation. Hope4Help is the charity beneficiary this year, and Bask-It Style will donate proceeds to help feed 1,000 hungry schoolchildren.
Esther Garnick PR will offer both "Survival" and "Recovery" kits at its Essentials Lounge to help media power through the 10-day film festival. For the fifth year, the invitation-only event pampers members of the press to give them a celebrity-style TIFF experience. Survival kits include goods from sponsors such as Balzac's Coffee Roasters, Calvin Klein Underwear, Crest, Rockport, and Schwarzkopf, while the Recovery kit focuses on relaxation with products from Bath & Body Works, Simon & Schuster, and Your Tea. The event will take place at the Templar Hotel.
The Drake Hotel is back for the 11th year as an official TIFF partner with 10 nights of indie musicians, video art, film screenings, and artist talks. The Drake's TIFF launch party, one of the festival's hottest tickets, will have two separate locations. The main event is Rock Steady, which will take place at the original West Queen West location and will feature performances by X Ambassadors and Brendan Philip. It also will have a free tattoo station by Speakeasy Tattoo, nail art by Pinky's Nails, and beverages by Havana Club and Labatt. Downtown, Drake One Fifty, the hotel's sister restaurant and bar, will hosts its first TIFF soiree with Party in the Core and the Grolsch Open House after-party featuring the Big Sound, a live Motown orchestra, DJ duo Famous Players, and more. Both events will last until 4 a.m. thanks to extended special-occasion liquor licenses.
New this year, King Street West from University to Peter Streets will be closed to traffic for a festival street party. Produced by Toronto Transit Commission and Toronto Entertainment District Business Improvement Area, the fair will run all day from September 4 to 7 and will turn the busy city streets into a pedestrian promenade. Attractions will include Marlo Yarlo's "Black Flags" art installation, oversize chess boards, filmmaker treasure hunts, public pianos, street artists, a light tunnel, board games from local café Snakes & Lattes, a music zone and family stage, and pop-up performances. A 10-foot recreation of HAL 9000 (a computer from 2001: A Space Odyssey) will interact with guests, snap their photos, and then send the pictures to users via email.
Audi Canada will have a major presence as a festival sponsor and will present the following films at private gala celebrations throughout the week: The Judge with Robert Downey Jr. and Billy Bob Thornton; The Good Lie starring Reese Witherspoon; This Is Where I Leave You featuring Jason Bateman, Tina Fey, and Jane Fonda; and The Theory of Everything and Pride.
Rounding out the week is 2001: A Space Odyssey—The Party by Young Lions Music Club at 99 Sudbury on September 12. Continuing the music marketing agency's tradition of Stanley Kubrick-theme parties, it will also be a celebration of the upcoming Kubrick exhibit at TIFF Bell Lightbox debuting this fall. The event will feature space-theme art and music inspired by the 1968 cult film. Pat Mahoney and Toronto's Membersonly will DJ. New pop band Paradise Animals will be performing along with actors, performers, and interactive installations by live artist group Young Offenders. Pistonhead Lager will sponsor the bar.
Featured Venues/Suppliers: