This Week In Toronto: National Ballet's Annual Fund-Raiser, Raptors Fans Win Big, Bizarre Beach Club Launches New Night Market
BizBash's new Toronto column from Calvin Barr covers the week's biggest event news.
June 12, 2019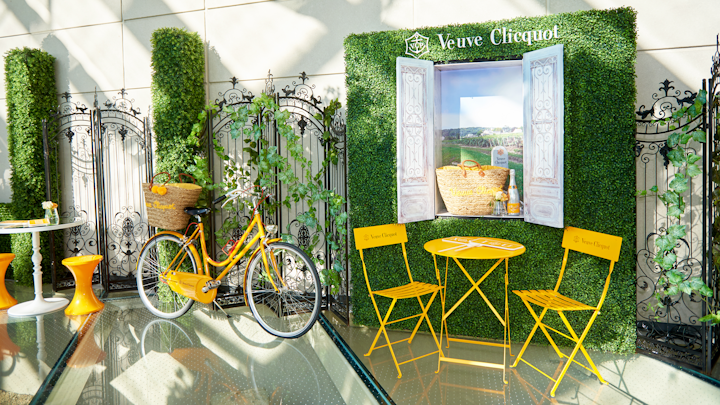 Photo: Visualbass Photography
TORONTO—Welcome to BizBash's Toronto-based column, where Calvin Barr covers the week's biggest local news. Got a tip? Get in touch!
Moves and Milestones
Westbury National appointed Jamie Richardson the vice president of sales and business development for event and show services. Departing from F.M.A.V., Richardson brings more than 20 years of strategic direction and event production experience to the new role.
Alongside Toronto's central Pride weekend festivities, Skittles Canada announced that the first Skittles Hall of Rainbows will take place on June 22. Skittles will privately host the weddings of four queer couples, which will be hosted by RuPaul's Drag Race star Shangela. As in past years during Pride month, Skittles will relinquish their brand-synonymous rainbow in support of the L.G.B.T.Q. community, with the Pride rainbow being the focus.
In Case You Missed It
The Veuve Clicquot Yelloweek tour stopped in Toronto from June 3 to 9. Events highlighted the Veuve Clicquot Rich collection, a group of flavor-infused specialty champagnes, designed for creating summer cocktails. Participating Toronto venues, including Hotel X Toronto, Cluny Bistro & Boulangerie, Baro, La Societe, and STK offered Veuve Clicquot Rich for brunch, evenings, and single-servings.
BizBash looked into how Toronto Raptors fans are cheering on the team at public viewing parties and more across the country.

News
Tonight, the National Ballet's annual fund-raising gala, Mad Hot Ballet: Desert Dream, will take place at the Four Seasons Centre for the Performing Arts. Encompassing a Moroccan and Sahara sands oasis theme, the event is expected to raise $1 million in support of one of Canada's most prominent dance institutions. The National Ballet's dancers and company are involved throughout the evening, first delivering a selection of short dance performances for all attendees, and then taking part in a V.I.P. dinner and dance on stage.
On June 6, Corby Spirit and Wine celebrated its ninth annual "Responsib'All" day of social responsibility by introducing Canada's first cross-country sustainability pop-up bar. The Toronto-based liquor marketer and distributor collaborated with Trash Tiki, an online service dedicated to helping bars minimize food waste through custom ingredients and recipes. Twenty-one bars and restaurants across Canada hosted the pop-up event, including Toronto's Drake Hotel, Mahjong, Chantecler, Miss Things, and Maple Leaf Tavern. Corby's parent company, Pernod Ricard, has committed to coinciding sustainability projects across its 18,500 global workforce.
Global News: Even though the city still mourns Monday night's razor-thin defeat for the Toronto Raptors, four super fans won big that evening. After camping out for more than two days to get into Jurassic Park, pairs from Cambridge and Stoney Creek respectively were awarded stadium tickets for being first in line, courtesy of Sobeys Canada.
Venue Buzz
The launch party for Bizarre Beach Club Night Market took place June 8. The Exhibition Place location, formerly known as Muzik, re-opened as Grand Bizarre Supper Club this past winter. Now, over 14 Saturday nights this summer, the venue's 60,000-square-foot space will offer a chic outdoor social experience, with rotations of seasonal drinks and signature dishes by prominent chefs. Patrons can exchange poker-style chips at food vendor stations, which this past weekend included the Food Dudes, Holy Chuck Burgers, and Kimono Sushi.
A Turn of Events
Signs point to Toronto's housing market taking a positive turn. According to the Toronto Real Estate Board, just under 10,000 homes were sold in the G.T.A in May 2019; a 10-percent month-to-month increase and a 20-percent year-over-year increase. May 2018 sales represented a 15-year low for the housing market and, despite this spring's rebound, sales are still below the 2007-2017 average, which stood at 10,300 homes. The full report is available here. 
Overheard
"I love the fact that we have members from opposing teams cheering on somebody when they first come to bat. It makes me feel so proud to be able to give opportunities to all these women to step up to the plate—pun intended—and try something different knowing that everybody, not just their team but the entire league, has their back."
— Hina Mirza spoke to CBC as the co-founder of Sisterhood Softball, the G.T.A.'s Muslim women's baseball league. Since it began in 2016, the league has grown to 100 members across eight teams.
On the Scene
We caught one of Luminato's light displays for its June 7 opening night. The sign is stationed at the Harbourfront Centre next to the festival's "House of Mirrors" exhibit.
What's Next
Toronto Fashion Week announced that its spring/summer presentations will run from September 3 to 5. While the full schedule won't come out until later this summer, the biggest events are expected to take place at some of Toronto's most stylish locations, including Yorkville Village, the Hazelton Hotel, and Royal Ontario Museum. Collections by prominent Canadian designers, including Christopher Bates, Hilary MacMillan, Lesley Hampton, and Narces will appear on the runway once again. Donna Bishop, host of the podcast Fashion Talks, is also arriving to hold panels on the fashion industry's role in sustainability, inclusion, and thought leadership.
On June 22, Canadian screen and song icons Dan Aykroyd, Paul Shaffer, and David Wilcox will join Toronto's Downchild Blues Band for their 50th anniversary performance at Toronto Jazz Festival 2019. The free concert will take place at 8:30 p.m. at the TD Mainstage on Bloor Street West, which will close the street for the opening weekend. In addition to 175 free concerts, jazz, soul, and gospel artists Norah Jones, Shirley Caesar, and Diana Ross are performing. Canadian hip-hop star Shad also will host and perform at the TD Mainstage on Bloor Street West stage on June 23. The festival runs in downtown Toronto from June 21 to 30.