This Week in Toronto: a Cannabis-Infused Cocktail Experience, Inside the Artist Project, a Queer Romance Marketplace
BizBash's new Toronto column from Calvin Barr covers the week's biggest event news.
February 26, 2020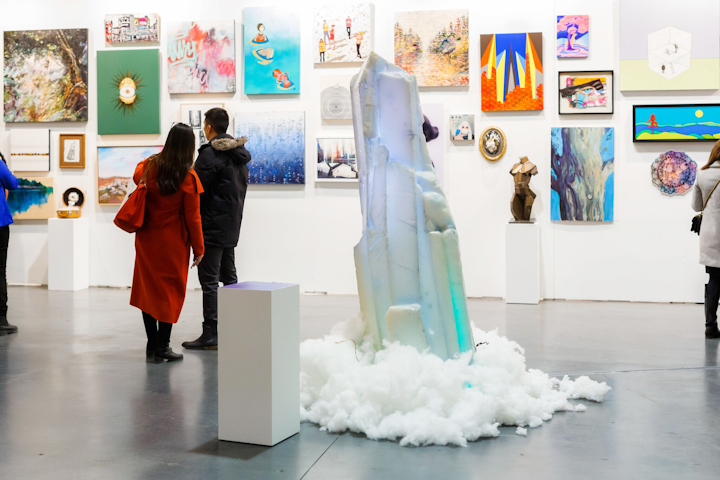 Photo: Courtesy of the Artist Project
TORONTO—Welcome to BizBash's Toronto-based column, where Calvin Barr covers the week's biggest local news. Got a tip? Get in touch!
Moves and Milestones
Coriphery Holistic Consulting Solutions recently celebrated its one-year anniversary. The agency, which focuses on full-service coaching and community engagement, was founded by Tamara Rebick.
In Case You Missed It
Despite unseasonably warm weather this weekend, more than 1,000 people took part in the "Coldest Night of Year" walk, which raises funds for hungry and homeless populations on behalf of 10 local community housing and support organizations. Alongside 136 other Canadian communities participating in the event, marchers in Toronto raised more than $450,000. 
News
Dope Cocktails—a hand-crafted, non-alcoholic, cannabis-infused cocktail party created by Drink Inc. Events and DNA Drink Solutions—launched at the Jam Factory on February 20. Mixologists offered nine different cocktail recipes, such as the "Pineapple Express" and the "Pink Panther Margarita," while providing recommendations depending on the dosage of THC that guests wanted to experience. Beverages and catering were provided by Poor Romeo, guests enjoyed a live DJ and art installations, and proceeds from the evening went to support the Centre for Addiction and Mental Health.
The Artist Project fair, which gathers more than 300 Canadian contemporary artists, ran from February 20 to 23 at the Better Living Centre in Exhibition Place. The opening-night party featured live music by Toronto artists DJ Ace Dillinger and DJ Jayemkayem, plus catering from AG Macron, Donnelly Groups, Fit OrganiX, and Gushi Foods. Presentations included an art and design trends discussion by Yorkville Village business operators, an art and digital technology panel, a community inclusivity talk led by local artists, and a comedy show by the Templeton Philharmonic (who will also perform at the Toronto Sketch Comedy Festival next month).   
Toronto-based wedding venues, planners, and suppliers across the city were honored at the 2020 Ontario Wedding Awards by Creative Oceanic at Sheraton Parkway Toronto North Hotel on February 18. Event Culture (Wedding Coordinator of the Year), Symmetry Studios (Wedding Entertainment of the Year), Beyoutiful Beginnings (Wedding Specialist Supplier of the Year), and Trade Sensation Events Inc. (Wedding Planner of the Year) were among the top winners.
Venue Buzz
The Bubble, Canada's first inflatable park experience, will open in Yorkville next month. The 10,000-square-foot park space will include giant slides, obstacle courses, bouncing zones, an arcade, an amusement park-style restaurant, and a laser tag course. Bookings for corporate, children, holiday, and special events are available.  
Turn of Events
Following last week's abrupt announcement that Clinton's—known for its comforting pub ambiance and retro dance nights—is closing after 83 years, Choir! Choir! Choir! held a fund-raiser for the venue's staff at Lee's Palace last night. The group, which tours across Canada and the United States, had gathered for practices at Clinton's for five years. 
Overheard
"We don't know when Mother Nature will give us a gift like this again. It's physically out in public for the first time. The people are so curious. They see all of these exotic cars, almost like a gallery, and then they see a pearl in the middle. So they wonder: 'What is that?' Then they approach us and we are able to educate them. For me, it's a privilege that I am able to showcase it at the auto show."
—Abraham Reyes, the owner of a record-breaking giant pearl, speaking to CBC about his decision to unveil it at the Canadian International Autoshow this year. 
On the Scene
Ontario Place's Winter Light Exhibition, which features 21 installations, will run through the end of March.
What's Next?
The inaugural "Pride Is Love'' indoor and outdoor marketplace for newly engaged or involved L.G.B.T.Q.+ romantic partners will take place at Fantasy Farms on February 29. Evening events presented by Relentless Entertainment include a wedding attire fashion show with a wide range of styles, an intimate cabaret led by Toronto drag artist Jade Elektra as Billie Holiday, and the "Love Is Love Ball" led by DJ Denise Benson. Antipasto plate dinners and bites will be provided by the venue. 
Roaring Twenties Events is hosting a "Jazz Age Brunch" at College Street's Revival on March 1. The event includes performances by Juno-nominated jazz singer Alex Pangman and vaudeville troupe Vintage Taps, as well as a best-dressed contest encouraging guests to don their best top hats, headbands, and flappers. The brunch buffet features a complimentary mimosa plus pasta, quiche, roasted vegetable creations, and assortments of cheese, fruit, and pastry plates.