This Week in Toronto: Collision Goes Online-Only, Plus International Women's Day Celebrations and Previewing Sugar Shack TO
BizBash's new Toronto column from Calvin Barr covers the week's biggest event news.
March 11, 2020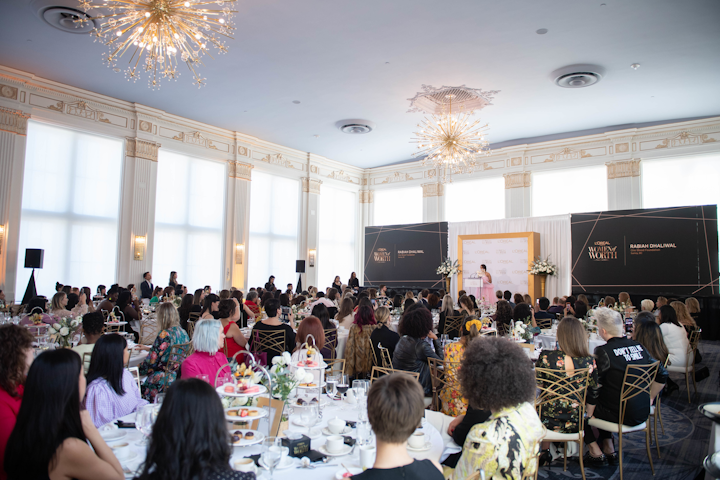 Photo: Ryan Emberley
TORONTO—Welcome to BizBash's Toronto-based column, where Calvin Barr covers the week's biggest local news. Got a tip? Get in touch!
Moves and Milestones
Paras Events celebrated its 17-year anniversary last week, after being awarded "Event Designer of the Year" and "'Best Tablescape" at the 2020 Wedding Planners Institute of Canada gala on February 29 at the Waterside Inn in Mississauga. Other local winners included Best Life Events (Best Wedding Under $50,000), Brocade Events (Most Creative Styled Shoot), and BluSoul (Wedding Entertainment of the Year).
Turn of Events
The Toronto edition of the Collision Conference, which was scheduled to bring more than 30,000 people from around the world to the Enercare Centre in June, has been reconceived as an online event due to concerns around the COVID-19 outbreak. "Collision From Home" will enable attendees to remotely chat with exhibitors, take part in workshops, and watch keynote speakers—which this year includes actor/entrepreneur Seth Rogen, Prime Minister Justin Trudeau, and singer Will.i.am. Registered attendees can also request a refund or put their ticket towards the 2021 conference.
Check out BizBash's report on how COVID-19 is affecting events around the world. 
News
Toronto took part in award ceremonies and banquets, networking events, and arts festivals taking place across the city this weekend to celebrate International Women's Day on March 8. 
At the Omni King Edward Hotel, L'Oréal Paris Canada hosted its fourth annual red carpet Women of Worth gala, honoring women dedicated to community volunteerism. This year's national honoree was Glori Meldrum, founder of Little Warriors—a charity dedicated to prevention and treatment for children affected by sexual abuse. Toronto City Hall and the Immigrant Women In Business programmed an award show, in addition to keynotes by entrepreneurs, a networking space, live music, and catering by Oliver & Bonacini. Women in Science and Engineering at the University of Toronto held a formal function featuring women engineers discussing their roles in global environmental protection at Hart House.
Meanwhile, OCAD University hosted the all-weekend "Feminist Art Fest" conference, featuring work by more than 70 artists across the country, a short film festival, and nine multidisciplinary live performances. Down the street, Artscape Sandbox held the second annual "Goddess Day Art Fest" with playwright and CBC radio contributor Diane Flacks, JUNO-nominated singer-songwriter Dinah Thorpe, and sketch comedian Monica Garrido speaking. Celebrating African women, "She Be Lady" took the stage at the Concert Hall, with Jamaican reggae singer Lila Iké, Nigerian-American R&B sister duo VanJess, and South African House musician Bucie performing. 
Restaurants and bars across the city also took part, with Graceful Networking inviting guests to Viv at the Cosmo to enjoy a three-course dinner, followed by talks from local C.E.O.s. Specialty brunch menus and complimentary mimosas were organized and provided by Escat Toronto at Yorkville's Over Easy, "Women Who Freelance" at Union Social Eatery, and "Young Women in Business" at Stackt Market. In the afternoon, the Society of Beer Drinking Ladies held a social at Granite Brewery, featuring the launch of the New England-based Valiant IPA and a raffle with proceeds going towards Sistering women's shelter. 
Venue Buzz
The landmark Gladstone Hotel has announced on Instagram that owner Christina Zeidler sold the property to Streetcar Developments and Dream Unlimited. The companies, which revamped the Broadview Hotel in 2014, have indicated that the Gladstone will undergo a remodel similar to that of its east side counterparts. "We look forward to amplifying the hotel's offerings with our refreshed vision, enhancing the current building while ensuring the property remains a staple within the community," said Streetcar Developments president Les Mallins. This month, the Gladstone offers its annual Grow Op contemporary art exhibition, which will focus on weather and climate change, plus a spring solstice show by Girl Gang Cabarets and weekly RuPaul's Drag Race Season 12 viewing nights.  
Speaking of drag shows, more than 30,000 people have signed a Change.org petition to prevent iconic Church street night spot Crews & Tangos from being turned into real estate. Last month, the Church Wellesley Neighbourhood Association announced that property owner Graywood Group is beginning a development proposal, saying the "vision for this site is to introduce a mix of uses, including retail and residential." 
Overheard
"In my head, I'm thinking, 'We can't throw this in the garbage because there are other people who could eat this food.' We are the only one that operates similar to an Uber Eats style of platform, where we pick up, and everything we collect over the course of an hour is dropped off." 
—Tony Colley speaking to CBC about starting Be One To Give, a Toronto-based social enterprise dedicated to picking up leftover food from caterers, restaurants, and event companies to be donated to local shelters. Food Dudes and Pantry have joined as donation partners. 
On the Scene
Toronto celebrated the city's 186th birthday this weekend at Nathan Phillips Square, attending the Toronto Made Market and posing for selfies with the official party mascot, Remi the Raccoon.  
What's Next?
With spring just around the corner, the Canada Blooms flowers and gardening expo runs from March 13 to 22 at the Enercare Centre. Now in its 24th year, the not-for-profit festival was originally founded by Landscape Ontario and the Garden Club of Toronto to provide education and inspiration for all-things-horticulture and fund Ontario-based community gardens projects year-round. Workshops this year are dedicated to flower arrangements, building container gardens, bee hotels, air plants, botanical art, and terrarium-making
For the fifth year, Sugar Shack TO returns to Toronto's waterfront from March 14 to 15 with maple-flavored treats and end-of-winter fun. Two sugar shacks will serve the event's signature maple taffy, in addition to maple-infused pancakes, poutine, beavertails, sugar cookies, and candy. New entertainment this year includes a lumberjack show, indigenous storytelling, and live music by the Mark LaForme Band and Great Canadian Fiddle Show.