This Week in Toronto: the Tech Industry Rallies Together, FoodBall's Fine Wine Delivery Service, Marché International Leaves Canadian Market, and More
BizBash's Toronto column from Calvin Barr covers the week's biggest event news.
April 9, 2020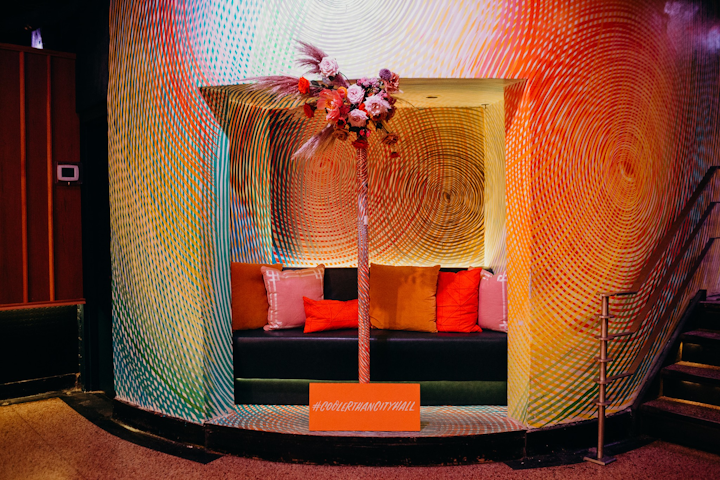 Photo: Courtesy of The Pop-Up Chapel
TORONTO—Welcome to BizBash's Toronto-based column, where Calvin Barr covers the week's biggest local news. Got a tip? Get in touch!
Moves and Milestones
Katie Wilson has joined WildBrain TV (formerly DHX Media) as vice president of channels and curation. Based in Toronto, Wilson comes from Corus Entertainment, where she was director of programming for six years.
In Case You Missed It
To support Canadian artists, Socan announced a $2 million emergency royalty advancement fund for its members. The interest-free program provides aid for songwriters and screen composers who've lost a steady income, as well as those affected by cancelled or suspended live performances or productions.
TIFF's Stay-at-Home Cinema program presented Beetlejuice on April 3. Prior to the film, which was accessible via Crave, TIFF's artistic director and co-head Cameron Bailey spoke with Toronto-born star Catherine O'Hara—as well as her husband and the film's production designer, Bo Welch—on Instagram Live. Welch, who worked on other Tim Burton movies including Edward Scissorhands and Batman Returns, first met O'Hara on the set of Beetlejuice. 
News
Tech Toronto, which provides events and insights for technology companies and their partners, hosted a webinar dubbed "Coming Together in a Time of Uncertainty" on April 6. More than 10 guest speakers, including Andrew Macdonald, Uber's senior vice president of Global Rides; Jeff Booth, founder of TopHat; and Belinda Alzner, product lead at TheScore, addressed opportunities for teams across Toronto's tech sector to collaborate during the COVID-19 outbreak. Online guest talks on maximizing technology trends for marketing, health, fundraising, and retail applications are scheduled throughout April.   
FoodBall, a culinary fundraiser for Sinai Health Foundation that debuted last year, has partnered with Liberty Entertainment Group to launch "The ABC's of Wine" delivery service. Bouquet packages include three bottles of fine wine, plus tasting notes and an original recipe to be paired with each vintage. Each collection is curated by some of Toronto's top-rated chefs and sommeliers, including Xango's Claudio Aprile, BlueBlood Steakhouse's Scott Saunderson, Don Alfonso 1890's Saverio Macri, and Cibo Wine Bar Yorkville's Claudio Tentenni. FoodBall, which raised more than $800,000 in its inaugural year, is set to take place again at Liberty Grand Entertainment Complex on October 23. 
The Pop-Up Chapel, which offers budget-friendly alternatives to renting a full wedding venue, launched a "Virtual Elopement" service aimed at couples who've had to put their ceremonies on hold. The package provides options to connect with loved ones anywhere in the world via videoconferencing, plus online portrait sessions, deliverable decor, sparkling wine, and refreshments.
Turn of Events
Swiss culinary group Marché International announced that it will be pulling out of the Canadian market and refocusing operations in Europe, according to Daily Hive. Its Toronto-based restaurants, Marché and Mövenpick Café at Brookfield Place, are set to close at the end of May after 10 years. 
Overheard
"It's a great reason to go outside and have a look at the moonrise as it comes across your local neighborhood. It'll be really quite majestic. And if you really want to get energetic and stay up after midnight, around 1, 2 o'clock in the morning, you've got the trio of planets, Mars, Saturn, and Jupiter all rising in the east."
—York University physics and astronomy professor Paul Delaney, speaking to CBC about the "super" pink moon which appeared over the G.T.A. last night.
On the Scene
Torontonians in neighborhoods across the city are taking part in cheering for healthcare professionals at 7:30 p.m., when they change shifts.
What's Next?
Despite cancelling its 2020 festival weekend last week, Pride Toronto is hosting an online community consultation via Zoom this evening. Participants are invited to submit feedback, questions, or discussion topics via Google Forms, which will be handled by a moderator. Although it remains to be seen what, if any, Pride festivities happen this June, the organization stated: "Our team is working hard to deliver Pride celebrations in new, creative, and unique ways that ensure safety and physical distancing."
Yaymaker is hosting painting classes from its "Virtual Toronto Venue" over the long weekend. Participants can bring their own art supplies, or order them online from the company's website, before joining the class online. Yaymaker, which hosts arts and crafts in 10 cities across North America, is also hosting virtual events for private parties.