Event Pros Give MTV V.M.A.s a "C+": a More "Forgettable" Award Show
Industry professionals reviewed the 2015 MTV Video Music Awards, discussing everything from Nicki Minaj and Taylor Swift's truce and Kanye West's speech to the set and lighting design and use of an outdoor stage.
August 31, 2015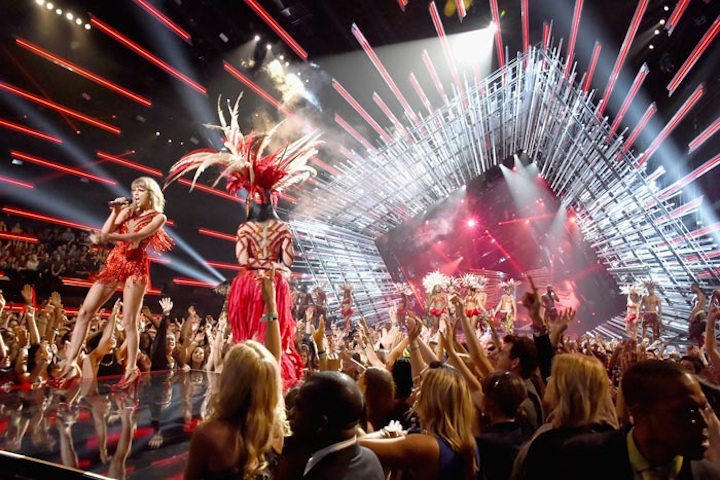 Photo: Jeff Kravitz/MTV1415/FilmMagic
The 2015 MTV Video Music Awards took over the Microsoft Theater in Los Angeles last night, and with it came an endless amount of eclectic outfits courtesy of host Miley Cyrus, a flashy opening performance by Nicki Minaj and Taylor Swift, and a speech from award-show-stealer Kanye West. Despite appreciation for the stage design and use of a second outdoor stage, event pros felt as though the show's attempts to score ratings this year came off as unoriginal. Here's what industry professionals liked about the show and what they would have improved.
Donna Iacobazzi Pecci
What I Liked: "I liked the pre-show and off-premise stages featuring the 'throwback to the '90s' design. It felt young and fun and what the V.M.A.s should be about. The main stage set was amazingly designed as well, but I would have liked to see some sort of correlation between the two. I felt like there was a definite disconnect there. Apparently Miley's costume designer felt the same. She looked out of place on that stage in most of her costume changes. The Weeknd and Tori Kelly gave great, authentic performances based on their amazing talent and not a lot of bells and whistles. I also liked the way their performances were shot."
What I Would Have Done Differently: "The surprise release of an album has already been done with perfection (thank you, Beyoncé), so doing it here seemed unoriginal, and by ending the show with it, it came off as an afterthought. As cool as the main stage was, it felt the same all night. I would have liked to see a little more variety in the lighting design during the individual performances. Also, note to Justin Bieber: Lose the aerial trick, after Pink's past performances, you just come off like Peter Pan."
Letter Grade: C-. "Where were the surprises we've come to expect from the V.M.A.s? Where were the unique artist pairings you only get to see at this show? There wasn't really anything in this show that we haven't seen before. Except of course, for Kanye preaching and Miley wearing pasties ... oh wait ..."
Pecci is the executive director of Revel Global Events, a Chicago-based event marketing and production agency that counts the University of Chicago, Teknion, and A&E networks among its clients.

Matt Stoelt
What I Liked: "Different from years past, the opening act with performances by Nicki Minaj and Taylor Swift set the tone for the show with an amazing set. Dynamic lighting design that utilized forced perspective to extend the stage into the audience with LED tubes and chrome reflectors created a sunburst effect. Changing things up from the norm with integrated audience pens that are usually enclosed on all sides by staging, producers created thrusts that extended deep into the audience. The designed echoed the LED lighting strips that transcended well beyond the proscenium, out into the theater. The center, downstage thrust that appeared on camera to be disconnected from the main stage proved to be an amazing focal point. This showcased the depth of the stage design and the dynamic angles of geometry used to create the depth of field. Another great decision by the producers for this year's show was to separate the performance stage from the award stage. This seemed to speed things up and made the show more visually diverse. Another great change to this year's show was that producers broke away from the typical utilization of several LED video walls and incorporated design, technology, and moving lights to create a unique look."
What I Would Have Done Differently: "First and foremost, the two most critical elements of any award show, lighting, and sound, once again fell very short of expectations. Producers focused on a great live experience for those in the audience leaving the rest of America watching at home with blown-out lighting scenes and an audio mix that was subpar. The majority of the performances were 70 percent screaming audience and 30 percent instrumental and vocals. It was extremely difficult to hear the talent and tracks. Another big miss by producers was the lack of key lighting for several of the acts, most notably the Weeknd, that performed almost entirely in the dark. For creating such a dynamic stage and lighting design, the lighting designer utilized mostly blue and white looks for all of the acts (with the exception of Nicki Minaj and Twenty One Pilots/A$AP Rocky).
Par for the course and as usual, there was almost no preview of the nominee videos and the graphics for the show once again were overly calculated and tried too hard to be relevant and 'creative.' The Justin Bieber performance proved to be a highlight of the show, however the costuming for Justin left a lot to be desired, with an all black outfit making zero contrast on the overly dark set. The finale flight moment, being genius in concept and design was much too short for the effort. Lastly, handing the reigns of the show to Kanye West, recipient of the Video Vanguard Award, turned out to be detrimental. What started off as straightforward apology to Taylor Swift spiraled into an 18-minute disconnected rant that interrupted the flow of the show and seemed to be a misplaced forum, rationalizing incidents from past award shows and beyond."
Letter Grade: C. "Overall, this year's V.M.A.s once again fell short with lighting and audio issues that could not be overlooked. Producers must be mindful of the challenge of creating a live show experience that is coupled with a live broadcast. This year's show was poised for an A or B, but these issues coupled with the lack of any highlights or memorable moments left us wanting more."
Stoelt is the C.E.O. and creative director of Stoelt Productions, an event, marketing, and creative firm with offices in Los Angeles, New York, and Miami. Designing and executing more than 100 events annually, Stoelt Productions has produced the Clio awards, Chrysalis Butterfly Ball, the Adweek Brand Genius Awards, and Billboard Women in Music.
Bonnie Ott
What I Liked: "I absolutely loved the entire set and lighting design. It was dramatic, multidimensional, and stunning. As a viewer, it drew you in as if you were on the stage. I'm also a fan of anything that can bring talent closer to the audience—so the stage in the center was great too. From a brand experience and programming perspective, the Downtown Stage, with multiple performances, was a nice touch—again, giving viewers and fans more 'access' to their favorite artists and allowing them to have different experiences throughout the evening is key. The Weeknd's performance was hot. The production hype mixed with his vocals and music was in my opinion, the best performance, with Tori Kelly coming in second (sorry Nicki and Taylor—not impressed!). I'm not a fan, but loved the choreography and bird's-eye views of the performance so I'll give Justin this one—the energy was a must! The network did a fantastic job of providing an immersive experience and leveraging digital platforms and influencers to connect with all types of fans on multiple channels—storytelling is one of MTV's greatest strengths, so being able to tell your story in an innovative way that connects the live experience to the 'at-home' experience is impressive."
What I Would Have Done Differently: "The show—the main story—was without a doubt, one of the most forgettable V.M.A.s. I might be old school, but where were the epic performances—both vocal and high-energy dancing? This is the Video Music Awards, where we are supposed to have unforgettable moments in live music performance and music video history that we can't stop talking about. Did I miss something? I'll keep this short: 1. Miley as the host. There's nothing new here. 2. The interstitials were too long. There may have been an opportunity to make them clever or funny if they were not so focused on Miley; perhaps more cameos and maybe less Trojan commercials 3. Bring back the artistry, the authenticity, the collaboration. That would be a celebration of music. 4. There should have been a more relevant individual present the Vanguard Award to Kanye West. Taylor Swift is great, but. 5. The iconic Moonman got a colorful makeover. It's time for a Moonwoman!"
What Felt New: "The robust digital and influencer engagement and the set design, but the set design is what excited me the most."
What Surprised Me: "I did ask myself if Nicki's beef with Miley was real. And I went as far as to Google it. So yes—a bit of a surprise.
What Felt Like a Missed Opportunity: "I was really excited to check out the 360 virtual-reality experience. The idea was fantastic. The execution, not so much. The complexity of pulling this off is extremely challenging, so kudos to the entire team because we all know how much blood, sweat, and tears can go into just a small event—much less one of this magnitude. I toggled between my mobile and desktop really wanting to get something from it, but alas the resolution can't always be the best, and after a while moving through the chaos of fans and photographers/press wasn't too exciting. I wonder if there would be a way to enhance this or create 'on-stage' moments."
Letter Grade: C-
Ott is the founder and C.E.O. of Studio B Entertainment, a consulting firm specializing in influencer and consumer brand experiences with a focus in entertainment marketing, beauty, lifestyle, hospitality and culinary.
Stephen Dahlem
What I Liked: "I really appreciated the pre-show performances and the build up of the main event, especially the Toddrick Hall nominee teasers. Once the main show began, the stage design was the big star."
What I Would Have Done Differently: "It's odd on a music show that the most talked-about moments of the night are the Nicki Minaj/Miley Cyrus tiff and Kanye West's acceptance speech. All the really interesting performances seemed to come from the Downtown outdoor stage. For me, Pharrell Williams's Downtown performance of 'Freedom' was a standout."
Letter Grade: B
Dahlem is the senior creative director of Corporate Magic, the Dallas-based event company responsible for producing high-profile projects like the 20,000-person welcome event at last year's Republican National Convention and the Dallas Cowboys Thanksgiving Day halftime show.
Josh Murray
What I Liked: "The V.M.A.s consistently set out with one purpose … to surprise and shock, hopefully via authentic moments and not scripted ones. This year they succeeded! For me the theme of the V.M.A.s came down to authenticity. The moments that shined were those of sincere artistry connecting with the crowd. And similarly, it seemed uncanny that every great moment was accompanied by simple set or lighting design. The best performances were simple and authentic in wardrobe and production. Not clouded with colors and special effects."
What Surprised Me: "Justin Bieber was faced with a 'make it or break it' performance after a year of attempting to reform his reputations. The entire look was monochromatic with his black wardrobe against white-garbed backing dancers and two-color lighting. I sincerely expected him to call it in, but perhaps Biebs has finally found his lane and survived his comeback! He put his all into that performance as if his career was riding on it, and it was.
But the big moment of the night? Kanye for president. It is completely logical that our entertainers stand to become the millennials' preferred politician. These stars could capture millions of votes in an instant. Be prepared for a shift. Kanye spoke nothing but truths in his mostly coherent rant. And he spoke of being authentic. It's this approach that has often put him in hot water within 'the biz' because it doesn't follow the rules. Regardless, Kanye did what he does best—stole the show. Kanye 2020. From a design perspective, the minimalism of the Kanye soliloquy was fantastic. Kanye in monochromatic, muted colors and the stage set amongst the crowd and against a colorless, black background with only his name in a simple sans font was impeccable. It was a true use of negative space and minimalism at its best."
Letter Grade: B+
Murray is a freelance creative director and creative strategic consultant
Julia Brown
What I Liked: "This year's V.M.A.s delivered big entertainment with a stunning futuristic set, innovative lighting and, and plenty of celebrity one-upmanship moments. I liked the producers' decision to create a second stage in the streets of downtown L.A. as it gave a completely different feel from the performances done from the indoor main stage. And while the show kept a good pace and maintained a high energy, it often sacrificed authenticity and substance in an attempt to shock viewers and keep their attention at every moment. One of these moments was when Taylor Swift presented the Video Vanguard Award to Kanye West. Despite their infamous history, it was still surprising to see Kanye push the envelope with his remarks and rambling delivery style. My favorite moments of the show were the numbers that focused more on vocals than effects like Tori Kelly's 'Should've Been Us' and Macklemore and Ryan Lewis's number at then end when they are dancing on the streets of L.A. as they make their way to the stage. The way it was shot made it feel more like they were in an actual video rather than at an award show."
What I Would Have Done Differently: "I'd love to see the show serve as a springboard for more up-and-coming artists, and provide more performances that focused on vocals rather than special effects. While I understand ratings are important, I'd love to reveal a more authentic side of the performers and their process."
Letter Grade: B
Brown is the president and founder of Miami-based Brown & Company Public Relations, with clients that include the Pérez Art Museum Miami, Ardbeg, and Novartis.
Featured Venues/Suppliers: