Watch: These Projection-Mapped Displays Served as Dinner Entertainment—and Set a Guinness World Record
A private dinner during Amway's 60th anniversary celebration featured 1,312 projection-mapped displays on tables.
September 9, 2019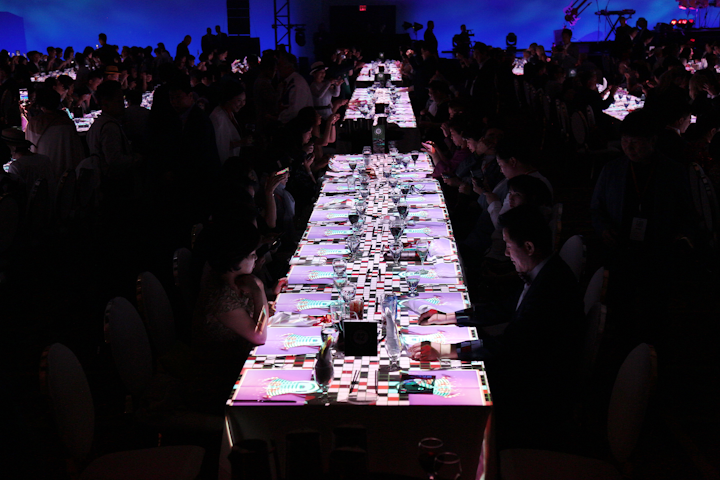 Photo: Courtesy of Amway
LAS VEGAS—Bands, comedians, or magicians might be the standard for live entertainment at corporate dinners—but employees at a recent company celebration were treated to a meal with a side of projection mapping.
For Amway's 60th anniversary celebration in Las Vegas, more than 1,300 people, all of whom were designated top Amway business owners of the multi-level marketing company, experienced projection mapping on their place settings during a private dinner at Mandalay Bay Resort & Casino. The company tapped event agency Wilson Dow and projection mapping company Skullmapping to create 1,312 audiovisual displays that each consisted of three customized stories. The event set the Guinness World Record for the "Most Projection-Mapped Displays at a Single Venue," which is the first of its kind.
Foregoing static decor or standard entertainment, Amway chose to use technology to push the company's thematic message of "future forward," offering three stories that related to the brand's history, the attendees, and the food that was served.
"We were inspired by the way a room immersed in colors, sounds, and stories can evoke feelings of excitement, wonder, and anticipation. We relied heavily on emotive sight and sound as this audience spanned 23 languages, challenging us to get creative with our engagement strategy," said Harrison McEldowney, executive creative director of Wilson Dow. "The idea of honing in the projection mapping to each table-setting brought the spirit of immersion to each attendee. The technology allowed us to customize the experience, weaving in the overarching event messaging illustrated through whimsical yet relevant stories."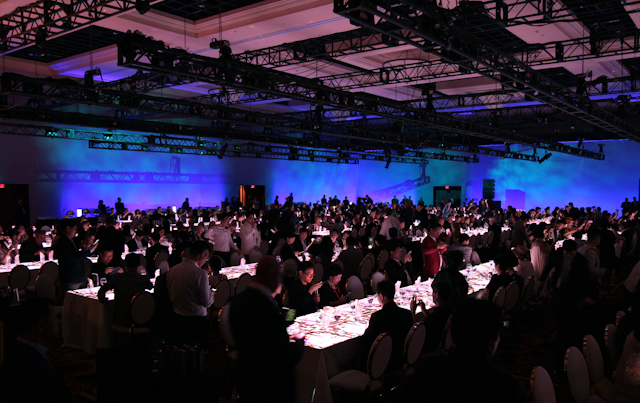 More than 1,300 employees attended the dinner, which took place in late spring at Mandalay Bay in Las Vegas.Photo: Courtesy of Amway

The first animation welcomed attendees to the event and displayed historical footage of the company, followed by Vegas-theme imagery and a message from two company executives. The second animation involved a ceremonial pin that recognized the achievements of the dinner attendees. An iron maker took viewers to a workshop and forged the commemorative pin, revealing the design for the first time; as the final product was revealed, projectors dimmed and attendees were given their pin in real-time.
The final animation was related to food served at the event. A culinary artist traveled through a chocolate river, wafer house, and peppermint fields to create a dessert that was made for the event by the venue's lead chef; servers then replaced the projection with the real dessert.
According to a Wilson Dow spokesperson, the project took more than two years to produce, from concept to execution. Set-up preparation included rigging 224 projectors and multiple day-of rehearsals with the hotel's banquet team.
Amway's weeklong celebration took place in late spring, drawing 4,462 attendees. The Guinness World Record was made official on August 26. See the projection mapping dinner in action below.