What to Expect at BizBash Live: The Expo
Registration is open for the BizBash's largest event of the year.
November 7, 2016
BizBash Live: The Expo, New York, an event designed to educate and inspire meeting and event professionals, returns for its 16th edition on November 15 at the Jacob K. Javits Convention Center. Sessions during the Event Innovation Forum, a single-track education conference, and the Workshop Series, a collection of hour-long seminars, will cover topics such as innovative conference design, luxury events, sponsorships, and best practices for social media at events. Registration for the Event Innovation Forum and the Workshop Series includes admission to the trade show floor.
BizBash will also announce the winners of the Event Style Awards following the Event Innovation Forum.
The schedule for BizBash Live: The Expo, New York, including morning and afternoon sessions, a design-focused luncheon, and post-event cocktails at One World Observatory, is below; registration is available here.
8 a.m.
Registration Opens
8:30–9:20 a.m.
Workshop Session I

Designing for Digital
Cara Kleinhaut, founder and C.E.O., AGENC (formerly Caravents)
Five Ways to Improve Your Career, Event Performance, and Personal Brand
Edward Perotti, senior director of global meetings, events, and travel, VMware
Using Technology to Set the Rhythm of Innovation
Heather Salkin, senior vice president, creative technology and integrated production, Momentum Worldwide
Kevin Gosselin, vice president, group creative director, Momentum Worldwide
Strategy First: Creative Solutions for Your Live Experiences
Jennifer Kauf, vice president of strategy, First
Michael Reese, senior vice president of creative, First
9:30–10:20 a.m.
Workshop Session II
(Sessions Repeated from Workshop Session I)
Designing for Digital
Cara Kleinhaut, founder and C.E.O., AGENC (formerly Caravents)
Five Ways to Improve Your Career, Event Performance, and Personal Brand
Edward Perotti, senior director of global meetings, events, and travel, VMware
Using Technology to Set the Rhythm of Innovation
Heather Salkin, senior vice president, creative technology and integrated production, Momentum Worldwide
Kevin Gosselin, vice president, group creative director, Momentum Worldwide
Strategy First: Creative Solutions for Your Live Experiences
Jennifer Kauf, vice president of strategy, First
Michael Reese, senior vice president of creative, First
10:15 a.m.–5 p.m.
Exhibit Floor Open
10:15 a.m.–12 p.m.
Brain Dating with E-180

10:30 a.m.
BizBash Technology Pavilion Opens

10:30 a.m.–12 p.m.
Event Innovation Forum Session I

How to Create Brand Loyalty Through the "Un-Event"
Zach Overton, vice president and general manager, Samsung 837
Using FOMO to Boost Your Event on Social Media
Candace Montgomery, senior director of event marketing, Essence Communications
Rites, Rituals, and Protocols: Secrets to Crafting Memorable Live Experiences
David Monn, C.E.O., David Monn LLC
12–12:45 p.m.
Event Innovation Forum Lunch

12–1:15 p.m.
Over-the-Top Events Luncheon

The History of Over-the-Top Events: From Gilded-Age Dinners to Today's Extravagant Experiences
Donald Albrecht, curator of architecture and design, Museum of the City of New York
Michael Cerbelli, C.E.O. and president, Cerbelli Creative
12:30–1:30 p.m.
Brain Dating with E-180

1:30–3 p.m.
Event Innovation Forum Session II

Taking Risks: Engaging Attendees Through Impactful Experiences
Will Travis, U.S. executive chairman and global head growth officer, Sid Lee
Forging Relationships: Creating Synergy Between Your Sponsors, Platforms, and Audience
Natasha Eno, vice president of events and venue partnerships, iHeartMedia

Beyond Words: The Art and Science of Extreme Live Experiences
Michael Blatter, founder and C.E.O., Mirrorball
The Evolution of Google's I/O Conference
Amanda Matuk, executive producer, I/O Developer Conference, Google
3–4 p.m.
Brain Dating with E-180

4:15–5 p.m.
Event Style Awards Announcement Ceremony

6:30–8:30 p.m.
Post Party at One World Observatory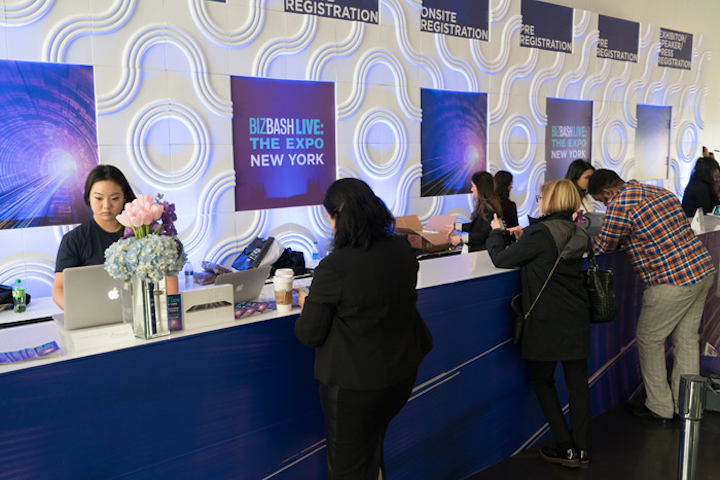 Photo: Will Star
Featured Venues/Suppliers: