Glenfiddich Toasts 125 Years With Record-Breaking Auction
March 22, 2012
In a bid to draw attention and continue to market Glenfiddich as a valuable whiskey brand, family-owned distiller William Grant & Sons made the sale of a bottle of the 55-year-old Glenfiddich Janet Sheed Roberts Reserve the centerpiece of a New York event. The gala for 150 guests took place at Liberty Island on Thursday, March 12, and kicked off the yearlong celebrations for Glenfiddich's 125th anniversary. Rather than host a seated dinner, the spirit maker opted for a reception-style affair in a heated tent overlooking the Statue of Liberty.
"The night wasn't about long speeches with people sitting quietly and listening to us. We really wanted it to be a celebration and a lot of fun," said Lindsay Prociw, the New York-based senior brand manager for Glenfiddich at William Grant & Sons. "It was just such good fortune that the Grant family was able to provide us with one of these 55-year-old Janet Sheed bottles, and that gave us a focal point." Indeed, the live auction of the collector's item was the dramatic focus of the evening, with a bidding war that finally ended with a record-breaking price of $94,000.
To bring the event back home to the anniversary and what the company considers founder William Grant's pioneering spirit, Glenfiddich partnered with SHFT Initiatives, the sustainability-focused nonprofit founded by producer Peter Glatzer and actor Adrian Grenier. Proceeds from the auction benefited the charity. "We really got into this mindset of modern-day pioneers, and what we loved about SHFT is they promote sustainability, which is important to Glenfiddich and, surprisingly, how we've operated for the last 125 years," Prociw said. "More importantly, SHFT promotes sustainability in every facet of life, supporting people and ideas about changing the culture of sustainability."
Also part of the concept was the location: The Statue of Liberty turns 125 this year as well. To add to the event's overall decor, Glenfiddich included photos from the construction of the famed monument alongside images of the company's distillery being built.
Nevertheless, the site, which can only be accessed by boat, posed some challenges for the producers. Setup started almost a week in advance, and equipment traveled to the island via barge. And as there was only one ferry to take attendees to the event, Prociw and her team made sure to emphasize the departure time on the invitation. "On the invite, it said 7 p.m. sharp and it was, 'If you miss the boat, you literally miss the boat.'" The organizers did end up holding the ferry for a guest, a bidder in the auction.
Aside from that early delay early on, the evening went smoothly, with appearances by Grenier and co-host Glenfiddich malt master Brian Kinsman, who traveled in from Scotland for the occasion. William Grant & Sons has nine further anniversary events planned for the U.S. this year, as well as more in other countries.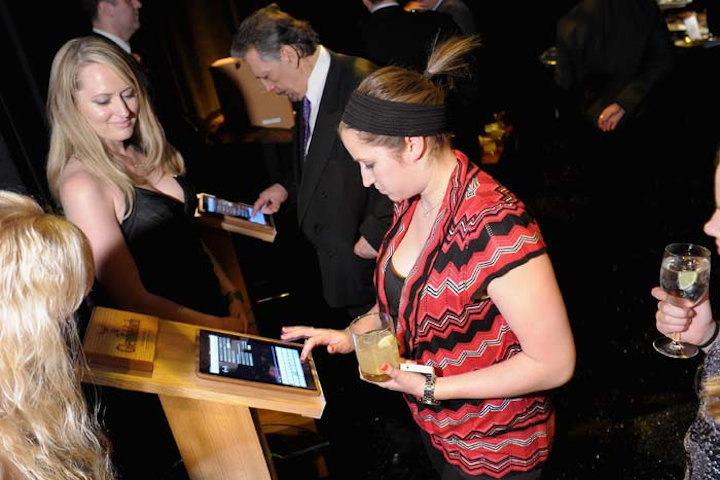 Photo: Michael Loccisano/Getty Images for Glenfiddich
Photo: Michael Loccisano/Getty Images for Glenfiddich
Featured Venues/Suppliers: