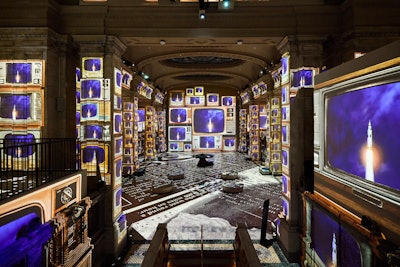 Photo: Courtesy of Hall des Lumières
We're rounding up the biggest venue news of the month—in one convenient place. Got a tip? Get in touch!
In Case You Missed It
BizBash's editorial team recently highlighted standout new spaces bookable for your next event. Check out our profiles of new venues in Atlanta, Austin, Boston, Chicago, Dallas/Fort Worth, East Canada, Houston, Las Vegas, Los Angeles, Miami/South Florida, Nashville, New York, Orlando, Philadelphia, Phoenix/Scottsdale, Portland, Ore., San Diego, San Francisco, Seattle, Washington, D.C., and West Canada—plus a slew of exciting international locations. Yes, that's over 200 new properties to rent. Whew!
We also recently rounded up 10 book-loving hotels with creative literary programs for groups, and chatted with 19th & Park's Whitney Headen about her favorite spots for entertaining clients, hosting consumer events and intimate meetings, and more.
---
Here are seven more things you should know this month...
1. The U.S. Travel Association has launched a new initiative to promote sustainable travel.
In late March, the U.S. Travel Association launched its new sustainability-focused initiative, JourneyToClean.com. The tool—which has a dedicated section for meetings and events—consists of more than 100 examples of sustainable travel practices from a diverse cross-section of more than 50 travel businesses. "The travel industry embraces sustainability initiatives and business practices because it is good for the planet, and it's good for business," said U.S. Travel Association president and CEO Geoff Freeman. "Travelers and businesses alike are demanding more sustainable options, and our industry is evolving to meet the needs of travelers now and for the future. By utilizing 'Journey to Clean,' travelers can have a better understanding of the many sustainable options across the travel ecosystem and make decisions that best align with their values."
2. A new Hyatt tool aims to simplify meeting and event planning.
Last week, Hyatt Hotels Corporation unveiled its new Event Experience Guides, an interactive, easy-to-navigate online platform designed to provide all the information a meeting planner needs in one place—including curated F&B menus, sustainability practices, wellbeing experience options, event space capacity charts and detailed floorplans, guest room type details, preferred vendor options, and more. Real-time information is available 24/7, along with guidelines and tech resources that provide answers to planners' most frequently asked questions. The guides are currently available at select U.S. properties and will roll out to more domestic and international locations in July.
3. Travelers and event guests are eager to experience culture and local history.
Here's an interesting glimpse into what event guests are looking for now: A recent travel-trends survey conducted by Marriott International in the Caribbean and Latin America found that for travelers, the most crucial factor when choosing a destination was exploring the culture and local history (86%). That option beat out gastronomy (79%), beach settings (74%), outdoor adventures (73%), and extreme adventures (39%).
4. Global business travel is expected to top $1 trillion in 2023.
Business travel is back in a major way. That's according to leaders at American Express Global Business Travel, who reportedly told investors on an earnings call last month that they expect business travel spending to grow by 24% in 2023—bringing it over one trillion dollars. It's welcome news to hotels and other venues, which had been leaning more into leisure travel in the post-pandemic world. Amex GBT added that small- and medium-size companies are leading the recovery, and that hybrid work models are generating new demand for business travel and meetings.
That's not the only newsworthy tidbit American Express GBT has shared lately. As we reported last week, the company unveiled the latest findings from its survey of finance leaders about their business travel and expenses—found that a whopping 89% of financial decision-makers trust AI technology to support travel and expense management, and that more than a third (34%) trust it to detect issues without any human intervention. Check out the full report here.
5. This new platform will level up your dinner parties—while also supporting independent restaurants.
Officially launching this month, Moveable Feast is a platform built by 12 independent restaurant partners—a group that boasts a collective five Michelin stars and 22 James Beard nominations. The goal? To offer dinner party feasts from top U.S. restaurants that guests can enjoy at home in groups of four, eight, or 12 people. The service partners with a different chef and restaurant every month to provide seasonal and sustainably grown ingredients, which are sent to customers in reusable and recyclable containers; typically, the dish just needs to be reheated and plated before serving. Moveable Feast customers can subscribe to the service on either a seasonal basis (four dinners per year) or a monthly basis (12 dinners per year) for around $96 per person. The partner restaurants then receive a percentage of sales for each meal kit delivered.
6. A California city is working to become a more autism-accessible destination.
In 2022, Visit Greater Palm Springs became a Certified Autism Center (CAC), a designation granted by the International Board of Credentialing and Continuing Education Standards; the designation is awarded to organizations that have completed autism training to better understand and welcome autistic visitors and their families. Since then, the greater Palm Springs, Calif., area has continued its inclusivity work by involving key tourism, hospitality, government, and recreation organizations—and recently announced that a number of local venues have also earned their CAC designation, including the Living Desert Zoo and Gardens and the Rancho Mirage Library & Observatory. Other venues like Children's Discovery Museum of the Desert and the JW Marriott Desert Springs Resort & Spa are currently completing their training.
7. Sustainability and hybrid work are two trends impacting hospitality design now.
An interesting read: Architecture and interior design publication Metropolis recently spoke to executives at Highgate and Hirsch Bender Associates about the future of hospitality design—and the answers offer a glimpse into recent trends in event venues. Highgate's EVP of design and construction Paul McElroy, for example, dove into the importance of sustainability, noting that he's working with hotels like Boston Park Plaza to radically reimagine its eco-friendly initiatives. Meanwhile, Kathleen Dauber, a partner at Hirsch Bender Associates, spoke about how the pandemic has led to more campus-style open layouts, open-air corridors, and guest rooms that have access to the outdoors, along with comfortable in-room work spaces for hybrid employees. Check out their full predictions here.
---
Cool New Venue Alert: