Podcast: The Difference Between Decorating and Designing, and Other Tips From David Stark (Episode 151)
New York-based event designer and producer David Stark shares his strategy for nonprofit and corporate events.
June 18, 2019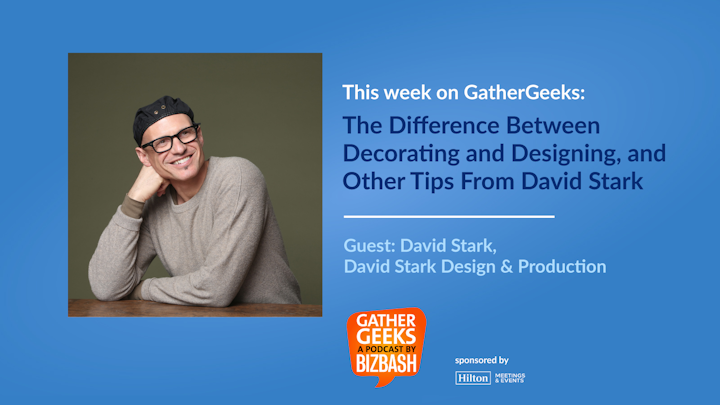 Hosts: David Adler, Beth Kormanik
Guest: David Stark
In this episode of GatherGeeks, BizBash C.E.O. David Adler and editor in chief Beth Kormanik sit down with David Stark, the creative director of New York-based David Stark Design and Production. Stark discusses how the industry has changed in the last 15 years, sharing how social media strategy should go beyond the "Instagrammable moment," the difference between decorating and designing, what his brainstorming lessons look like, how decor should set the stage for content, and more. He also takes us behind the scenes of his work for the Robin Hood Foundation, Target, and other corporate and nonprofit clients. 
Download or subscribe to the show at bizbash.com/gathergeeks. Running time: 59:07.
Show Notes
Roundtable Discussion: Why "fun" isn't the real goal of his events; the importance of really listening to clients; how he uses everyday items as decor; why he's always done fabrication in-house; how to plan an exciting financial conference; tips for working with limited budgets
Further Reading:
Do the Math: New York's Biggest Benefit Turned an Equation Into Event Design
https://bit.ly/2KKdi2M
Top 50 Event Designers 2019: David Stark
https://bit.ly/2WPyjAm
Top 40 Event Designers 2017: David Stark
https://bit.ly/2F3iSJO
Follow Stark on Instagram
instagram.com/david_stark_design
This Episode Is Sponsored By:
Hilton Meetings & Events
Planning an event and wondering how you can give your attendees the best experience possible? Take advantage of customized meetings with Hilton that make it easier than ever to incorporate health, wellness, entertainment, and waste reduction. From Yoga & Yogurt morning starts to Puppies & Ice Cream afternoon breaks, Hilton will help you build an extraordinary meeting that attendees will remember. To book your next meeting or event, go to meetings.hilton.com.