Podcast: How Nonprofit Events Can Target Specific Demographic Groups (Episode 153)
The SickKid Foundation's Erin McGuire shares how she creates and markets a broad range of events.
July 2, 2019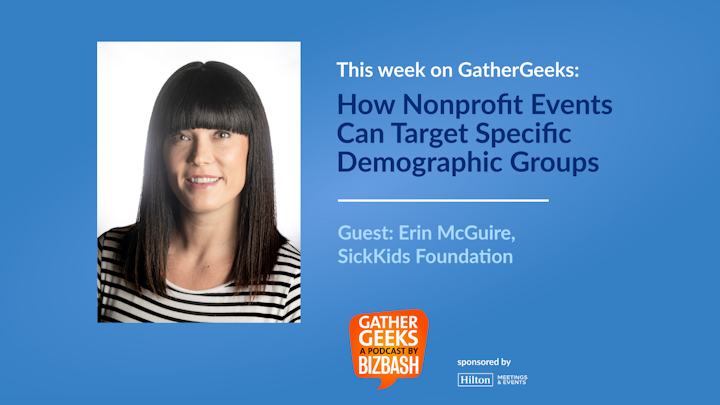 Photo: Phillip Van Nostrand
Hosts: David Adler, Beth Kormanik, Alex Carter
Guest: Erin McGuire
In the second Canadian edition of GatherGeeks' "Sparking Change" series of episodes, BizBash C.E.O. David Adler and Zkipster's Alex Carter chat with Erin McGuire, the associate director of special events at the SickKids Foundation in Toronto. She shares how a wide-ranging slate of events targets diverse donor groups, why the foundation recently rethought its messaging, how to choose and market an event strategy, and what inspires different demographics to donate. She also discusses how and why to launch a new event, ways to rethink an annual fund-raising walk, and more. 
Download or subscribe to the show at bizbash.com/gathergeeks. Running time: 38:12
Show Notes
Roundtable Discussion: why the foundation's messaging is edgier than it's ever been; what millennials want from fund-raising events; how social media impacts her events; creating a V.I.P. experience for sponsors; how she knows an event was a success
Further Reading:
14 Eye-Catching Ideas From a Morocco-Inspired Benefit https://bit.ly/2ZFmXMl
9 Fresh Ideas for a London-Theme Benefit https://bit.ly/2Rnz11L
How to Grow Sponsors at an Annual Event https://bit.ly/2xaIL5X
This Episode Is Sponsored By:
Hilton Meetings & Events
Planning an event and wondering how you can give your attendees the best experience possible? Take advantage of customized meetings with Hilton that make it easier than ever to incorporate health, wellness, entertainment, and waste reduction. From Yoga & Yogurt morning starts to Puppies & Ice Cream afternoon breaks, Hilton will help you build an extraordinary meeting that attendees will remember. To book your next meeting or event, go to meetings.hilton.com.