Podcast: Viewing Meetings and Events As a Strategic Investment (Episode 155)
Issa Jouaneh shares what he learned over a decade leading American Express Meetings & Events.
July 16, 2019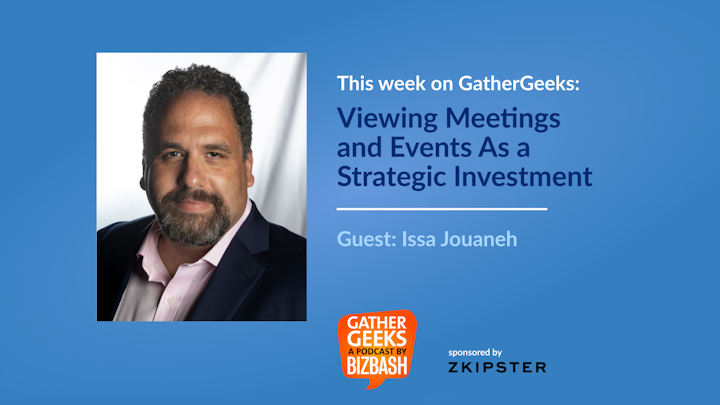 Photo: Phillip Van Nostrand
Hosts: David Adler, Beth Kormanik, Alex Carter
Guest: Issa Jouaneh
In the third Canadian edition of GatherGeeks' "Sparking Change" series of episodes, BizBash C.E.O. David Adler and Zkipster's Alex Carter chat with Issa Jouaneh, the former senior vice president of American Express Meetings & Events. He shares ways to prove the R.O.I. of meetings and live gatherings to c-suite executives, how to look at the full life cycle of events, and why event strategy is more effective when company leadership is involved. He also speaks to the biggest challenges of event technology and which new technologies are changing the game, plus why personalization is crucial, what younger generations want from events, and more. 
Download or subscribe to the show at bizbash.com/gathergeeks. Running time: 41:08
Show Notes
Roundtable Discussion: what he thinks an "experience" is, and why that term is overused; why things like technology and event headcount are less important than strategy; how to train someone to be a "collaboration artist"; why destination is crucial; what the event industry will look like in 10 years
Further Reading:
Top 10 Innovative Brands 2018: #2 American Express
https://bit.ly/2LLredf
14 Revealing Trends From the Global Meetings Forecast
https://bit.ly/30qYfiX
Follow Jouaneh on Twitter
https://twitter.com/issajouaneh
This Episode Is Sponsored By:
Zkipster
Building a memorable experience for your guests means planning every detail right. Zkipster is the guest management platform designed to help you create perfect experiences, from impressive online invitations to seamless check-in at the door. Get started at zkipster.com with a free test event.