Podcast: Higher Education's Role in the Future of Event Management & Hospitality (Episode 159)
New York University associate dean Nicolas Graf discusses why the school continues to evolve its event-related degrees and offerings.
August 13, 2019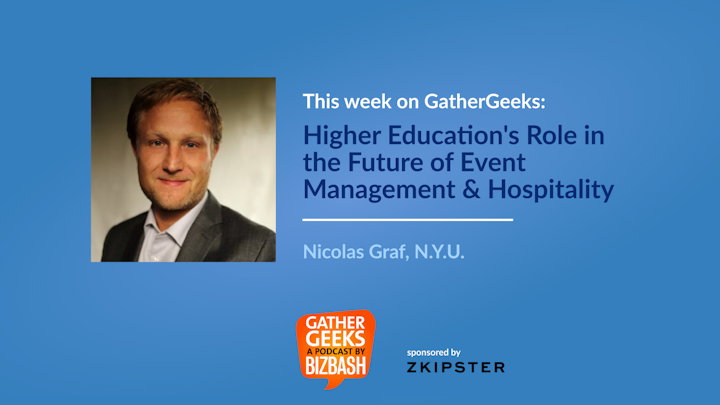 Hosts: David Adler, Beth Kormanik
Guest: Nicolas Graf
In the latest episode of the GatherGeeks podcast, BizBash C.E.O. David Adler and editor in chief Beth Kormanik sit down with Nicolas Graf, associate dean at the Jonathan M. Tisch Center of Hospitality at New York University. Graf discusses the role of higher education in the future of event management and hospitality, diving into N.Y.U.'s new initiatives to launch start-ups, a new master's program in event management, and the expansion of its signature hospitality conference. Graf also discusses how social media has changed the travel and tourism sector, the three biggest things impacting the event industry right now, and more.
Sponsored by Zkipster. Running time: 47:36
Show Notes
Roundtable Discussion: why the industry needed a graduate degree in event management; how the conference has innovated and why it's expanding to China; why sustainability and diversity are still crucial areas to study
Further Reading:
What You Need to Know About New Degrees in Event Management https://bizbash.com/13233488
Learn More About N.Y.U.'s Event Management Program sps.nyu.edu
Find Graf on LinkedIn https://www.linkedin.com/in/nicolas-graf/
This Episode Is Sponsored By:
Zkipster
Building a memorable experience for your guests means planning every detail right. Zkipster is the guest management platform designed to help you create perfect experiences, from impressive online invitations to seamless check-in at the door. Get started at zkipster.com with a free test event.