Podcast: Practical Tips for Planning Internal Employee Events (Episode 164)
Consultant Lynne Wellish discusses how the "hidden planner"—a.k.a., administrative and HR professionals—can plan effective holiday parties, board meetings, and other employee events.
September 17, 2019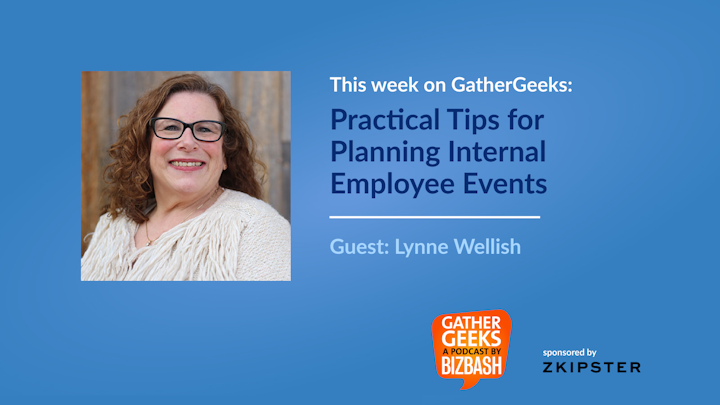 Hosts: David Adler, Beth Kormanik
Guest: Lynne Wellish
In this episode of GatherGeeks, BizBash C.E.O. David Adler and editor in chief Beth Kormanik hear from Lynne Wellish, a consultant and speaker for the hospitality industry. Wellish explains the idea of the "hidden planner"—a.k.a, administrative and HR professionals charged with producing internal company events such as holiday parties and board meetings. She shares practical tips on defining event goals, managing budgets, and dealing with C.E.O. requests; she also discusses why company holiday parties are worth the money, ways hidden planners can get the necessary event education, and strategies for creating gatherings that appeal to all employees.
Sponsored by Zkipster. Running time: 37:09.
Show Notes
Roundtable Discussion: common mistakes and pitfalls hidden planners make; the importance of knowing what your attendee wants; tips for seating arrangements and decor; how C.E.O.s can become better hosts
Further Reading:
Holiday Party Ideas 2018: 3 Non-Traditional Themes for Corporate Events https://bit.ly/2k7xZuA12
Last-Minute Ideas to Help Holiday-Party Procrastinators https://bit.ly/2jZImQW
Checklist: 9 Things to Know If You're Serving Alcohol at Events https://bit.ly/2kjVoJf
This Episode Is Sponsored By: Zkipster
Building a memorable experience for your guests means planning every detail right. Zkipster is the guest management platform designed to help you create perfect experiences, from impressive online invitations to seamless check-in at the door. Get started at zkipster.com with a free test event.