Podcast: The Importance of Embracing Local Culture, and Other Insights From a Global Event Producer (Episode 165)
MCI C.E.O. Sebastien Tondeur discusses measuring R.O.I., adapting to local customs, and other insights from producing almost 7,000 annual events around the world.
September 24, 2019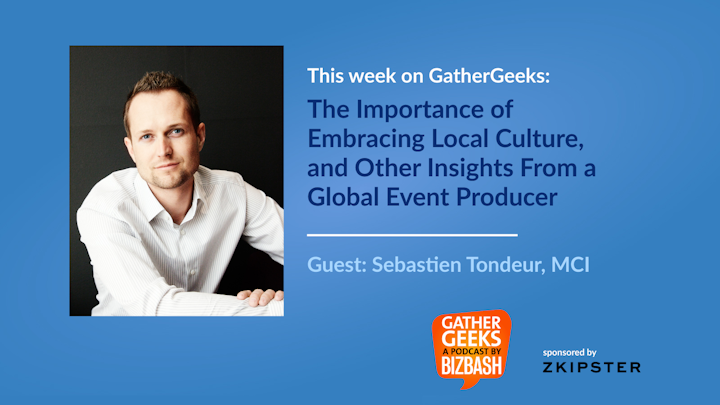 Hosts: David Adler, Beth Kormanik
Guest: Sebastien Tondeur
In this episode of GatherGeeks, BizBash C.E.O. David Adler and editor in chief Beth Kormanik hear from Sebastien Tondeur, the C.E.O. of MCI, a Geneva, Switzerland-based event agency that produces more than 6,800 projects in 31 countries around the world. He shares how the company has grown dramatically over the years, plus ways to adapt events to local cultures, why he focuses on more than just R.O.I., and trends for face-to-face gatherings around the world. He also shares his perspective on the "fourth industrial revolution" and the age of data, explaining how he uses data analytics to increase event effectiveness. 
Sponsored by Zkipster. Running time: 35:21
Show Notes
Roundtable Discussion: what attendees want from local culture; the biggest industry trends he's observing—and how they differ from country to country; the types of meetings and events people want now; how he manages MCI's 2,800 employees
Further Reading:
Podcast: A Global Perspective on How Events Can Build Community https://bit.ly/2kk1IAq
This Episode Is Sponsored By: Zkipster
Building a memorable experience for your guests means planning every detail right. Zkipster is the guest management platform designed to help you create perfect experiences, from impressive online invitations to seamless check-in at the door. Get started at zkipster.com with a free test event.