Podcast: How This Production Pro Launched His Business at Age 13 (Episode 166)
KM Productions president Kevin Mignone gives us a master class in event entrepreneurship.
October 1, 2019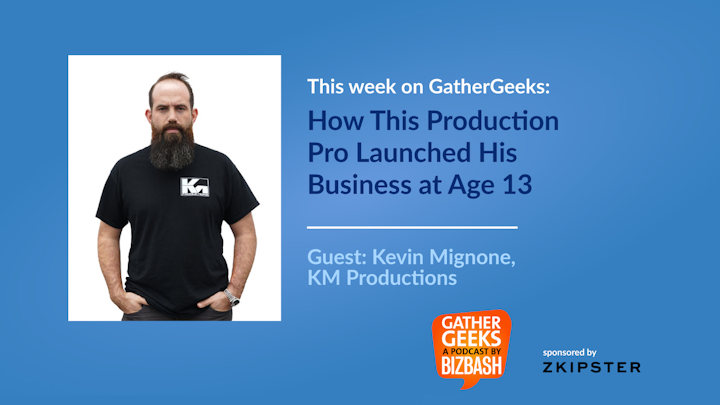 Hosts: David Adler, Beth Kormanik
Guest: Kevin Mignone
In this episode of GatherGeeks, BizBash C.E.O. David Adler and editor in chief Beth Kormanik hear from Kevin Mignone, the founder and president of KM Productions, a New York-based audiovisual production firm with clients including Vogue, Jaguar, Tinder, and the Whitney Museum of American Art. He shares how he started his business at age 13—and the lessons learned that he still uses today. He discusses what his business looks like now, how he keeps up with the newest equipment and trends, where today's event organizer should be investing their money, how social media has changed the game, and more.
Sponsored by Zkipster. Running time: 47:17
Show Notes
Roundtable Discussion: why word-of-mouth networking is crucial in the event industry; his favorite type of client; how to stay cool in the face of angry customers; what he looks for when hiring employees
This Episode Is Sponsored By: Zkipster
Building a memorable experience for your guests means planning every detail right. Zkipster is the guest management platform designed to help you create perfect experiences, from impressive online invitations to seamless check-in at the door. Get started at zkipster.com with a free test event.