Podcast: What Will the Meeting Room of the Future Look Like? (Episode 167)
IACC's Mark Cooper shares how sustainability, cybersecurity, and other concerns will affect event venues in the coming years.
October 8, 2019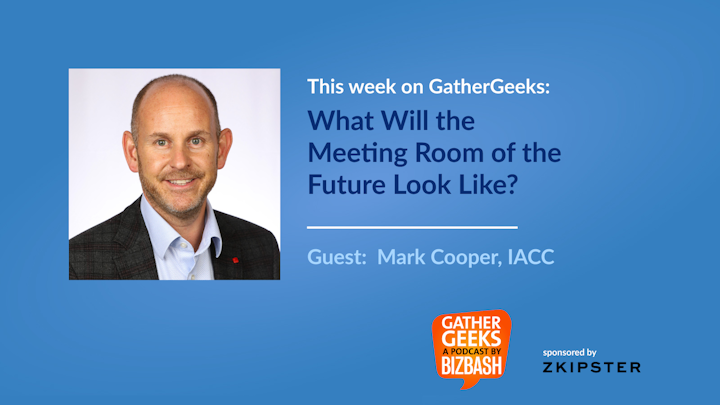 Hosts: David Adler, Beth Kormanik
Guest: Mark Cooper
In this episode of GatherGeeks, BizBash C.E.O. David Adler chats with Mark Cooper, C.E.O. of the International Association of Conference Centers (IACC), at MPI's World Education Congress. Cooper discusses what meeting planners want from venues today, which questions planners should be asking about technology and security, and how site inspections can be more effective. He also discusses best practices for food and beverage breaks, new advancements in audiovisual technology, venue pricing strategies, the festivalization of meetings, and more insights from IACC's annual Meeting Room of the Future report.
Sponsored by Zkipster. Running time: 38:01
Show Notes
Roundtable Discussion: the two things planners care about most when booking a venue; are PowerPoints over?; why lines are blurring between meetings and other types of events; how conference venues are becoming more creative
Further Reading:
Podcast: What Does Conference Center Culture Mean Today? https://bit.ly/2mVY9Si
Report: The Most Common Food Restrictions—and How to Manage Them at Meetings https://bit.ly/2nTK9ZR
This Episode Is Sponsored By: Zkipster
Building a memorable experience for your guests means planning every detail right. Zkipster is the guest management platform designed to help you create perfect experiences, from impressive online invitations to seamless check-in at the door. Get started at zkipster.com with a free test event.