Podcast: Tips for Designing an Effective Conference Experience (Episode 170)
Exponent Philanthropy's Lauren Kotkin discusses learning styles, audience engagement, and other best practices for crafting educational sessions.
October 29, 2019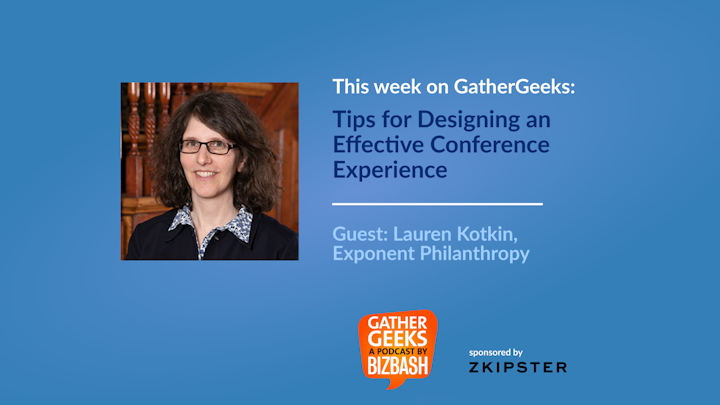 Hosts: David Adler, Beth Kormanik
Guest: Lauren Kotkin
In this episode of GatherGeeks, BizBash C.E.O. David Adler and editor in chief Beth Kormanik hear from Lauren Kotkin, director of educational programs for Exponent Philanthropy, a Washington, D.C.-based association for small foundations. She discusses the background of her own conference, and shares how different generations learn today, ways to focus content and market sessions, and tips for engaging an audience. Kotkin also talks about the importance of knowing your audience, best practices for choosing keynote speakers, how to judge R.O.I., and more.
Sponsored by Zkipster. Running time: 46:16
Show Notes
Roundtable Discussion: what is Exponent Philanthropy and how does it help nonprofit planners?; tips for naming and describing educational sessions; best practices for food and beverage at conferences; have current events affected session content?
This Episode Is Sponsored By: Zkipster
Building a memorable experience for your guests means planning every detail right. Zkipster is the guest management platform designed to help you create perfect experiences, from impressive online invitations to seamless check-in at the door. Get started at zkipster.com with a free test event.