Podcast: Coming Together for Good: How You Can Advocate for the Event Industry Right Now (Episode 194)
Representatives from Go LIVE Together and the Live Events Coalition team up to discuss government funding for the event industry.
September 1, 2020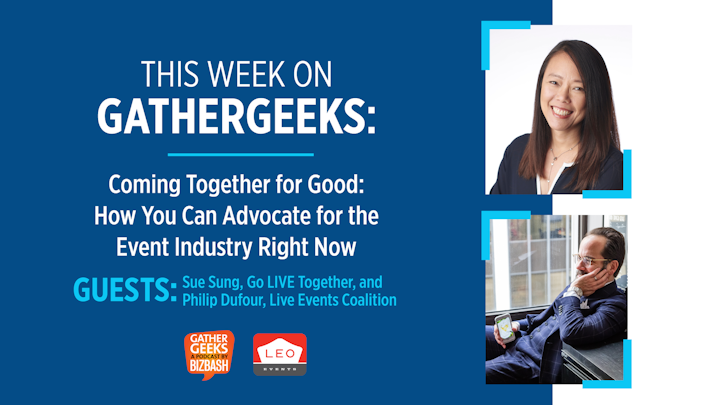 Host: David Adler
Guests: Sue Sung, Philip Dufour
In this episode of GatherGeeks, BizBash chairman and founder David Adler hosts an important conversation about the future of the event industry. Recorded last week, Adler was joined by Sue Sung, SVP of corporate strategy for The Freeman Company who is representing Go LIVE Together, and Philip Dufour, president and creative director of The Dufour Collaborative who is representing the Live Events Coalition. The group discusses how the two new coalitions are fighting for federal support for the 12 million people in the event industry's eco-system, sharing practical ways you can help right now. They also share what methods have been most effective when appealing to politicians, as well as their thoughts and predictions on the future of safety precautions at events. 
This episode is sponsored by LEO Events. Running time: 37:56.
Get Involved:
Go LIVE Together: website, Twitter, and Instagram
Live Events Coalition: website, Twitter, and Instagram
Further Reading:
Life on the Nation's Do-Not-Invite List: Why Congress Should Support the Live Events Industry
Why Were There a Bunch of Empty Tables on the National Mall?
How This Industry Coalition Is Fighting for the Future of Live Events
From the Desk of David Adler: An Important Note to Congress and Elected Officials
This Episode Is Sponsored By: LEO Events
The impact of live events is undeniable, but for now, the destination is digital. While LEO Events can plan and produce virtual events alongside any credible platform provider, the agency developed an exclusive, proprietary platform that is proven, customizable, and ready to deploy. Visit LEOevents.com today to discover LEO's virtual capabilities and read case studies from recent programs.