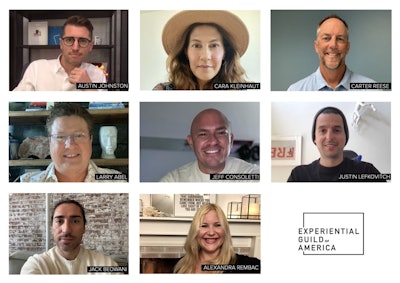 Photo: Courtesy of Experiential Guild of America
The COVID-19 pandemic has led to collaboration like never before, particularly in the event industry where competitors have been coming together to share resources and offer a support system. Case in point? The newly formed Experiential Guild of America (EGA), a national coalition focused on leading experiential marketing forward by establishing industry-wide best practices and providing leadership, peer support and more.
It was founded by eight of the experiential industry's most notable names: Alexandra Rembac, principal and creative director of Sterling Engagements; Austin Johnston, CEO and founder of AKJOHNSTON Group; Cara Kleinhaut, founder and CEO of AGENC Experiential & Digital Marketing; Carter Reese, co-founder and president of Hatch.IM; Jack Bedwani, founding partner of the projects*; Jeff Consoletti, founder and principal of JJLA; Justin Lefkovitch, founder and CEO of Mirrored Media; and Larry Abel, CEO of Abel + McCallister + Abel.
BizBash caught up with several of the guild's founding members to learn how they came together, why collaboration between competitors is crucial right now, their biggest hopes for the experiential industry and how you can help further their mission.
What exactly is the Experiential Guild of America, and how did you all end up coming together?
Jack Bedwani: "The Experiential Guild of America is a not-for-profit organization created by founders and leaders to advance and promote the experiential marketing industry by connecting, uniting, organizing and inspiring those who are in the arena."
Cara Kleinhaut: "The EGA was born out of the pandemic. A number of us experiential agency owners got together as we saw our entire industry get canceled before our eyes in March of 2020. We realized at that moment how much we had in common—way more than our differences—and how much we can benefit and our industry can benefit from regularly speaking to each other, comparing notes and having a true peer group. We found we had so many of the same concerns and experiences, and wanted to find a way through this current crisis, and champion experiential as the industry we all love and have made our careers in, as we move forward."
Jeff Consoletti: "It actually was shortly after a call that [BizBash chairman and founder] David Adler spearheaded, where agency leaders from around the country were chatting directly about the immediate effects the pandemic was having on all of us and ways we could emerge from this. ... Shortly after that call, several of us found ourselves chatting regularly via Slack and began setting up meetings. It was helpful to lean on the experiences of other industry colleagues and hear how they were maneuvering their businesses in similar ways to my own. Our group found value in these conversations and the resources we could provide one another, and thought that forming an organization dedicated to our industry could further connect, enhance and develop us for further industry-wide growth."
What are your main goals with the guild?

Justin Lefkovitch: "The establishment of a centralized and organized guild that represents the advancement of the experiential marketing industry. We are a collective of passionate agencies focused on establishing experiential marketing as a standalone pillar within the marketing and advertising field. The guild benefits its members with collaboration, community and networking, and benefits the industry at large by fostering new talent and providing resources to empower agencies of all sizes."
Larry Abel: "One of the main goals is to establish experiential marketing as a 'standalone' specialty that bridges the gap between public relations and marketing—to establish experiential as one of the key resources necessary for any brand to achieve success."
Kleinhaut: "All industries have guilds, and experiential still being relatively young, we felt that now, as we climb out of the pandemic, is the best time to reestablish the way forward and be a positive force in our industry."
Consoletti: "Moreover, I think we collectively want to foster young talent interested in events and experiential, and start to provide cross-agency strategies to empower creative thinkers opportunities to cultivate a future in the live events industry."
Alexandra Rembac: "Our goals are continuously growing, and the thought leadership and executive development we've even been able to gain alone with our founding board has been absolutely incredible. As the EGA grows, I'm confident the benefits for members will grow—together we will blaze a path that completely redefines the game between competitors and results in newfound community, innovation and unique experiences."
Why do you think this type of collaboration between competitors is important right now?
Consoletti: "I've always had the opinion that in a normal year, there is plenty of work for all of us. I want to see an industry that is filled with opportunities and brings out the unique strengths and niche that each of our agencies has. I've enjoyed such a benefit from having conversations with colleagues I've long admired. It's been refreshing to compare notes on creative strategies, or to pick their brains on an activation they implemented that inspired my own work. I think we have much to learn from one another—and while certainly there will be a time we might be up for the same job, there is something special in knowing that, if I don't win it, a colleague that shares the same passion, mindset and desire to produce exceptional experiences has."
Kleinhaut: "We are stronger together. Period. We understand each other's unique position as founders and owners, and share many of the same experiences, pain points and issues. We all benefit from speaking with one another, as being a founder, very often we find ourselves in the position of 'figuring it out as we go' or constantly coming across new situations. Having respected colleagues share how they crossed certain milestones or handled a situation makes us all better."
Abel: "There is no guidebook to starting or creating an experiential agency; it's born out of the individual creativity and vision of the owner, that is then embraced by the client and results in an amazing, all-encompassing experience. Coming together in adverse circumstances with like-minded peers who really understood what you were facing, fearing and how you were attempting to survive was a great therapy session. ... As the world opens back up and live events come to the forefront, many in our peer group are rebuilding and this type of support, leadership and collaboration will be important not only for our individual companies and clients, but for our entire experiential industry as a whole."
Rembac: "I've always tried to practice and inspire my team to live and understand community over competition. I think our sum will always be greater together aligned, and through this unique time, the floodgates have been opened. What an amazing experience to have this special bond where we can support one another, rely on each other, and ultimately better our industry and each other as we do it."
What's your No. 1 hope for the experiential industry as we think about emerging from the pandemic?
Kleinhaut: "That we not only come back stronger but smarter, with a coalition of respected leaders in the industry to put best practices forward, to further enhance and champion the lane of experiential marketing."
Consoletti: "We have an opportunity as an industry to set the standard in delivering safe experiences back to the public, and our continued communication and organization can be an incredibly valuable asset toward getting there."
Abel: "I believe that as the world reemerges after this year of relative solitude, there will be a desire like never before to immerse yourself in experiences not things, meaningful connections not casual relationships, authenticity not superficiality. This is where the power of experiential marketing will be in more demand than ever. We will be challenged to creatively create like never before for a more critical and thoughtful audience than we have ever seen. My hope is that we are ready for the challenge and will lead the way."
Bedwani: "My number-one hope is that everyone in the experiential and events industry got busy and used this downtime as an opportunity to refine and evolve what IRL events and tactile experiences will look like in this new chapter. We are not 'returning to normal'—instead, we are in a different place and our practice must prioritize sustainability, collaboration and consciousness around gathering because these are going to be important priorities for our clients and our guests. We need to show the world events can be inclusive, exciting and eco-friendly—not the wild extravagance of a bygone era."
The EGA has recently been hosting Clubhouse chats on a variety of topics. Are there any other events or discussions in the works?
Bedwani: "A key tenet of the guild is unvarnished, real talk between peers. We will continue to unpack current affairs in our industry through Clubhouse chats [called EGA Recess], and tuning in is a great way for those that have a vested interest in the experiential field to be privy to some insightful industry discussions—without necessarily having to join the guild. As another touchpoint for those who are interested in EGA membership but aren't sure yet if it's right for them, we also host private Zoom conversations [called EGA Engage] every few weeks, where EGA founders and member applicants deep dive into issues that are keeping us up at night."
Kleinhaut: "As soon as we can, we will be hosting in-person panels and cocktail gatherings."
How can others in the experiential space get involved?
Kleinhaut: "We want and need a diverse membership. Whether you own an agency, work there, are on the client side or are just looking to start a career in experiential, the EGA is a great place to connect with peers, have direct access to those established in the business who can give very practical advice, and help build the roadmap of best practices as we re-emerge stronger and more refined as an industry."
Bedwani: "Membership in the guild is currently open to experienced leaders in the experiential arena. As a starting point, we're now welcoming applications from founders, CEOs , senior agency leads and roles such as head of events or experiential on the client side. To apply for membership, you can email us at [email protected] to request an application. Our next phase will also include senior freelancers and independent contractors such as producers, lighting designers, technical directors, set designers and similar specialists."
Rembac: "We encourage you to connect with us. Get to know who we are, what we are doing and how we can together elevate experiential as events return. I welcome you to find the EGA on social, slide into any of our DMs with questions, join us for our monthly chats and visit the website to learn more. There you will find a wealth of information and details as well as a link to our membership application. We are just getting started, and we want nothing more than for all in the experiential space to join us as we do it."