Podcast: Drinks With a DJ: A Conversation About Audio, Lighting, and More (Episode 139)
Florida-based DJ Jacob Towe talks event lighting, how to create "wow" moments, what colors should be avoided, why lighting and audio should be planned simultaneously, and more.
March 19, 2019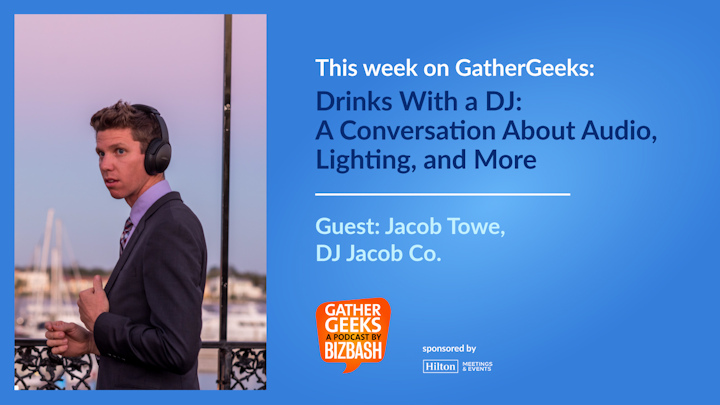 Photo: Courtesy of DJ Jacob Co.
Hosts: David Adler, Beth Kormanik
Guest: Jacob Towe
In this episode of GatherGeeks, David Adler, C.E.O. of BizBash, and Beth Kormanik, editor in chief of BizBash, hear from Jacob Towe, a DJ and lighting designer based in Jacksonville, Florida. He discusses the power of lighting to evoke emotions and why it should be constantly changing throughout the night, plus how to make lighting look good in photos and tips for creating "wow" moments. He shares why lighting and audio should be planned simultaneously, what color should absolutely be avoided, proper placement for a DJ booth, and more.
Sponsored by Hilton Meetings & Events.
Running time 43:27.
Show Notes
Roundtable Discussion: the power of first impressions—and last impressions; how technology has dramatically changed the lighting industry; why he rigs all lighting from the ground; how cannabis has affected the wedding industry 
Further Reading:
Checklist: 8 Questions to Ask Your Lighting Vendor
https://bit.ly/2VVk4oq
Follow Towe on Instagram
https://www.instagram.com/djjacobco/
This Episode Is Sponsored By:
Hilton Meetings & Events
Planning an event and wondering how you can give your attendees the best experience possible? Take advantage of customized meetings with Hilton that make it easier than ever to incorporate health, wellness, entertainment, and waste reduction. From Yoga & Yogurt morning starts to Puppies & Ice Cream afternoon breaks, Hilton will help you build an extraordinary meeting that attendees will remember. To book your next meeting or event, go to meetings.hilton.com.