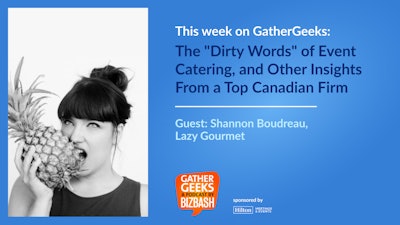 Photo: Courtesy of Shannon Boudreau
Hosts: David Adler, Beth Kormanik
Guest: Shannon Boudreau
In this episode of GatherGeeks, David Adler, C.E.O. of BizBash, and Beth Kormanik, editor in chief of BizBash, hear from Shannon Boudreau, director of sales and events for Vancouver-based catering firm the Lazy Gourmet. She discusses what the company's approach, how it evolved into a full-service event firm, why the food industry should focus on the basics, the "dirty words" of event catering, and more. She also describes the coolest, most out-of-the-box catering items the team has created, and where they find inspiration.
Sponsored by Hilton Meetings & Events.
Running time 43:26.
Roundtable Discussion: how Lazy Gourmet got its name; the plusses and minuses of Instagram at events; how to break the fourth wall with attendees; how fashion can inspire food presentation; how the Canadian catering industry differs from the U.S.; creative cocktail ideas
Further Reading
This Episode Is Sponsored By...
Hilton Meetings & Events
Planning an event and wondering how you can give your attendees the best experience possible? Take advantage of customized meetings with Hilton that make it easier than ever to incorporate health, wellness, entertainment, and waste reduction. From Yoga & Yogurt morning starts to Puppies & Ice Cream afternoon breaks, Hilton will help you build an extraordinary meeting that attendees will remember. To book your next meeting or event, go to meetings.hilton.com.