Podcast: How to Negotiate Better Event Contracts (Episode 140)
Heather Reid of Planner Protect shares the red flags to look for in event contracts.
March 26, 2019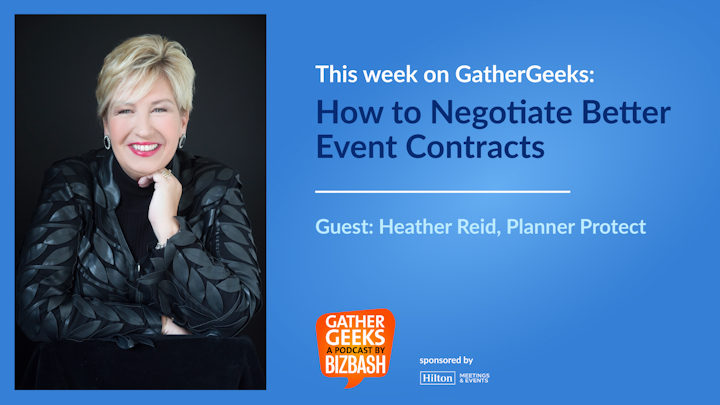 Photo: Courtesy of Heather Reid
Hosts: David Adler, Beth Kormanik
Guest: Heather Reid
In this episode of GatherGeeks, David Adler, C.E.O. of BizBash, and Beth Kormanik, editor in chief of BizBash, hear from Heather Reid, the founder and C.E.O. of Planner Protect, an Ontario-based company that offers consulting on event contracts. She discusses how careful reading of contracts can save event hosts and venues more than $25,000 per event, sharing the key words and phrases to watch for in a contract, ways to negotiate important changes, and how these same tips can apply to all aspects of the event industry. Reid also notes the difference between contracts in Canada and the U.S., how a good contract should please both parties, and more. 
Sponsored by Hilton Meetings & Events. Running time 36:22.
Show Notes
Roundtable Discussion: how contracts differ in the U.S. and Canada; the crucial difference between the words "revenue" and "profit"; why so many planners don't even look at their contracts; the danger of the phrase "the venue has the right to..." 
Further Reading:
Contracts Checklist: 5 Essential Details Event Professionals Should Never Forget
https://bit.ly/2OftbOi
Follow Reid on Twitter
https://twitter.com/plannerreid
This Episode Is Sponsored By:
Hilton Meetings & Events
Planning an event and wondering how you can give your attendees the best experience possible? Take advantage of customized meetings with Hilton that make it easier than ever to incorporate health, wellness, entertainment, and waste reduction. From Yoga & Yogurt morning starts to Puppies & Ice Cream afternoon breaks, Hilton will help you build an extraordinary meeting that attendees will remember. To book your next meeting or event, go to meetings.hilton.com.