BizBash to Induct Chicago-Area Event Professionals Into Hall of Fame
The honorees, along with two rising stars, have decades of experience working in associations, incentives, meetings, hospitality, corporate events, rentals, and more.
September 10, 2018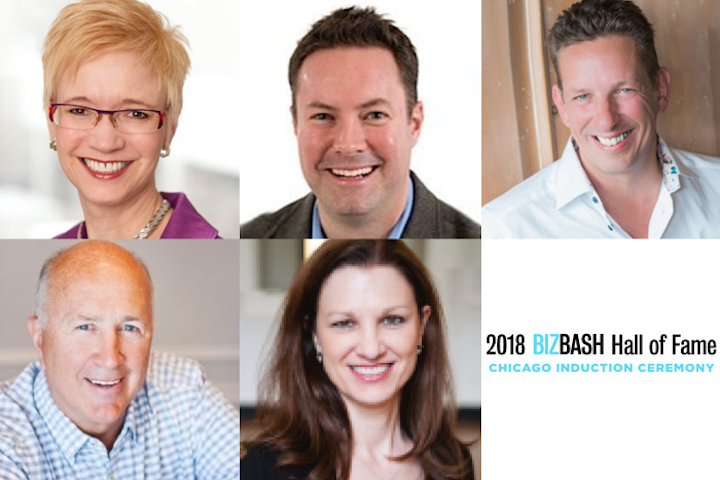 Photos: Courtesy of Honorees
Five veteran event professionals from Chicago along with two rising stars in the industry will be inducted into the BizBash Hall of Fame at a ceremony September 12 at the Field Museum.
Chosen by the BizBash executive committee for their work, accomplishments, and contributions to the industry, the honorees are: Dan Brice, vice president of brand experience at United Entertainment Group, a Daniel J. Edelman Company; Katie Callahan-Giobbi, chief operating officer at Association Forum; Alexander deHilster, event design manager at Meetings & Incentives Worldwide; Jim Horan, C.E.O. of Blue Plate; and Barbara Siska, director of the Office of University Events and Ceremonies at the University of Chicago and president of ILEA Chicago.
The rising star honorees are Ryan Campbell, account executive at AFR Furniture Rental, and Luciana Clark, business development manager at Total Event Resources.
The honorees join a distinguished group of industry professionals from across North America. The full list of BizBash Hall of Fame inductees can be found here.
Dan Brice
Vice president brand experience, United Entertainment Group, a Daniel J. Edelman Company
Brice cut his teeth in the sponsorship department at the Mayor's Office of Special Events, planning and producing the City of Chicago's biggest events such as Blues Fest, Taste of Chicago, and the Air & Water Show. At Marketing Werks, his first foray into event marketing, he traveled cross-country in iconic promotional vehicles such as the Hershey's Kissmobile and Planters Mr. Peanut Hot Rod, serving as a spokesperson and tour manager. Over 15 years, Brice rose from brand ambassador to senior vice president of client service, managing a $20 million book of business across a diverse portfolio of brands such as the Hershey Company, JPMorgan Chase, Bridgestone, Blue Cross, Air National Guard, and General Motors. When Marketing Werks was sold to Crossmark, he joined Chicago-based AgencyEA, where he served as vice president of production, overseeing a team of 20 in-house producers responsible for planning and executing B-to-B and B-to-C events for Hilton, GE, ComEd, Target, and Under Armour. Moving on to Chicago-based All Terrain, Brice served as senior vice president of business development and marketing, acquiring new clients Beam Suntory, the Venetian/Sands Corporation, EcoTools, Char-Broil Grills, and National CineMedia. Now at United Entertainment Group, he lends his expertise to bring forth innovative and breakthrough experiential for clients such as Taco Bell, KFC, and PwC. He recently joined Loyola University Chicago's School of Communication as an adjunct professor of special events planning.
Katie Callahan-Giobbi
Chief operating officer, Association Forum
With more than 30 years experience, Callahan-Giobbi has held roles that have taken her from Chicago to Los Angeles, to New York, Dallas and back to Chicago. At Association Forum, Callahan-Giobbi is responsible for all business development initiatives, including the strategic partnership program, advertising and exhibit sales, marketing/communications, and operations. Before joining Association Forum, Callahan-Giobbi was executive vice president at Minding Your Business, a strategic agency that consulted with organizations and destinations helping them navigate change and develop strategies that drive business results. She was on the senior management team at Meeting Professionals International and previously with LA INC (currently LA Tourism). She also has more than 20 years of hotel experience including W Hotels in New York, Century Plaza Hotel & Spa/St. Regis, Fairmont Hotels, and at independent brands. She is a lifelong student of the tourism, meetings, and nonprofit sectors and keeps her finger on the pulse of trends and issues that impact associations, corporations, and DMOs. She frequently speaks at industry events and is called upon to comment on trends facing the industry.
Alexander deHilster
Event design manager, Meetings and Incentives Worldwide
Originally specializing in the medical industry, deHilster has overseen the planning and execution of both corporate and private events globally over his 25-year career. Now, as event design manager at Meetings and Incentives Worldwide, he is dedicated to events that are as unique and out-of-the-ordinary as they are fanciful, as effective as they are visually stunning. He believes that each program should be an experience for the attendees. Prior to joining Meetings and Incentives Worldwide, deHilster was an executive event producer with Event Architects. He also was the principal of ADH Meetings & Events for six years. His personal skills were honed on the road while planning and conducting major three-week motor coach tours throughout the United States and Canada. DeHilster has mastered an understanding of space—and its potential—a skill he uses daily in the creation of detailed 3-D floor plans. DeHilster was born in the Netherlands and speaks fluent English, German, and French as well as his native Dutch and conversational Spanish, which have helped him coordinate events and meetings, both domestic and internationally. In 2012, he was inducted into the Hall of Fame as the Best Meeting Professional by Illinois Meeting & Events magazine. He is an avid philanthropist and serves on the board of the Friendship Botanic Gardens and hosts fund-raisers at his home in Chicago. He also is an ambassador for Center on Halsted, one of the largest L.G.B.T.Q. centers in the country.
Jim Horan
C.E.O., Blue Plate
Born and raised in the near northwest suburbs of Chicago, Horan attended Fenwick High School in Oak Park and graduated from St. Mary's College of Minnesota with a bachelor's degree in psychology. He earned a master's degree in clinical social work from the University of Illinois. Horan believes that the training he received during that time continues to be valuable in his work today. In 1983, Horan founded Blue Plate, and over the next three decades worked to build the company into one of the most well-respected, independent catering companies in Chicago and nationwide. Blue Plate has one of the most extensive venue listings within the Chicago area and employs more than 150 full-time employees and some 600 part-time team members. He recently led Blue Plate in building its new home and headquarters, Larkin Hall, an 80,000-square-foot facility in Chicago's West Loop. In 1995, the Chicago Symphony Orchestra was looking for a partner to develop a multi-faceted food service program in its new building, the Symphony Center. Horan worked with the CSO Association to develop hospitality services for patrons of the center, which included not only concessions and catering services, but also a private dining club and Tesori Trattoria & Bar, an Italian-inspired restaurant. In 2003, Horan further developed his leadership and business expertise as one of the founding partners of Park Grill Food Services, located in Millennium Park. He remains actively involved in each of these business ventures as a managing partner. Horan is active with a number of charities in Chicago and is a member of the Catholic Charities Board of Advisors, the National Restaurant Association, the Illinois Restaurant Association, West Loop Gate Association, the Grant Park Conservancy, and the Chicago Convention and Tourism Bureau.
Barbara Siska
Director, Office of University Events and Ceremonies, University of Chicago
While in high school, Siska read an article featuring the Chicago caterer George Jewell, and after learning about the excitement and opportunities of the catering world and beyond, she aspired to join the event industry. After obtaining a degree in Food Service Management, Siska worked for Sodexo at both the John G. Shedd Aquarium and Museum of Science and Industry in their restaurants and catering selling and producing corporate, nonprofit, and social events. After a combined nine years, Siska was recruited to join the Peggy Notebaert Nature Museum to spearhead its new event program. At the Nature Museum, Siska devised a top-to-bottom sales team and revenue program. By expanding her network of industry contacts via active engagement with Meeting Professionals International and Choose Chicago, exposure to and revenue for the museum increased. Siska then went to Berkshire Hathaway-owned Pampered Chef as its U.S. meetings manager. She planned and executed more than 12 meetings a year, including a national conference for nearly 10,000 attendees, as well as a leadership conference for 3,000. She traveled the U.S. extensively, executing meetings and scouting future locations. In 2007, Siska became the director of corporate events at the Chicago History Museum. She oversaw facility rental sales and execution of more than 100 corporate, nonprofit, and social events each year, along with planning and executing a diverse array of museum-sponsored events and galas and managing the museum's café and beverage operations. Under her leadership, the museum received The Knot's Best Of award for five years, was honored in The Knot Hall of Fame, won the Illinois Meetings and Events 'Best Historic Venue' for two years, and was nominated for the Catering Executives Club Industry Excellence Award for Best Off Premise Venue. In 2011, Siska was nominated for BizBash's Best Venue Manager award. In 2015, Siska accepted a director role in the Office of University Events and Ceremonies at the University of Chicago. She serves as the lead event planner for all Office of the President, Office of the Provost, and other campus partner events. She manages a team of seven that collectively orchestrates and executes more than 100 University events and conferences each year, including the annual convocation ceremonies, which welcome more than 19,000 guests to campus each June. In 2013, Siska joined ILEA, the International Live Events Association. She will lead the ILEA board through 2019 as president and has served as president-elect; vice president of programs; co-chair of the NICE Awards; and event chair for the Day of Education in 2014 and 2015. Siska earned her Certified Special Event Professional designation in April 2018.
Rising Stars
Ryan Campbell
Account executive, AFR Furniture Rental
Ryan Campbell is an account executive with AFR Furniture Rental for the Chicago and Milwaukee Territories. Campbell has been with AFR for five years, originally opening these markets for AFR. He has had the opportunity to manage these territories as a small business within a business and built lasting relationships and partnerships. Campbell is a two-term member of the Board of Directors for both MPI Chicago Area Chapter and ILEA Chicago, where he was recognized as ILEA Rising Star in 2015. Prior to AFR, Campbell was a corporate and association meeting planner for organizations including the American Bar Association; Wm. Wrigley, Jr., a subsidiary of Mars Inc.; and Mars Incorporated. Campbell is a graduate of James Madison University with a Bachelors of Business and concentration in Hospitality and Tourism Management. Outside of the industry, Campbell resides in Edgewater, Chicago, with his husband, Brock, and two miniature rescue dachshunds, Maddie and Picalo.
Luciana Clark
Business development manager, Total Event Resources
Luciana Clark is a sales and marketing strategist who works in the live event industry. As the business development manager at Total Event Resources, a full-service creative marketing, live event, and brand experience agency, Clark has the best of both worlds. She combines her passion for events and sales as she cultivates relationships within the corporate, association, and nonprofit sectors, helping them to achieve their goals through the implementation of strategy and the design thinking process. Clark believes in mentorship and giving back to the industry, and is serving her third term on the Board of Directors for Meeting Professionals International Chicago Area Chapter. She was recognized for her dedication, leadership, and accomplishments within the chapter with the Chapter Leader of the Year award for 2017-2018. Clark's career has taken her from McCormick Place to various hotels in the Chicagoland area, and now Total Event Resources. She continues to pursue her dreams and aspirations, and ventured out into the world of entrepreneurship with a new business venture, XL Transportation, a lifestyle brand and luxury transportation company in Chicago.
Featured Venues/Suppliers: