At T-Mobile Viewing Party, Ludacris Entertains 10,000 Miami Heat Fans  Outside AmericanAirlines Arena
June 1, 2011
More than 10,000 Miami Heat fans showed up outside AmericanAirlines Arena Thursday night for a free viewing party for game five of the N.B.A. Eastern Conference Finals. The party came together in just two weeks. Working with the Miami Downtown Development Authority and sponsor T-Mobile, the team hosted its first fan festival outside the arena—dubbed the White Hot Road Rally—in part to showcase the building's 3,400-square-foot LED screen, known as MiamiMediaMesh. Prior to the game, which was played in Chicago, rapper Ludacris put on a 40-minute show for fans on a stage set up just for the event.
"This started in a meeting in a conference room in April. We wanted to do something on a big scale. We knew we had two incredibly strong teams in Chicago and Miami, so the likelihood of going to a game five was pretty good. But certainly we could not have scripted it the way it turned out, with a come-from-behind win," said T-Mobile's senior manager of sponsorships, Meredith Starkey. "We position ourselves as the cool, fun, daring brand in the wireless space, and this was a great opportunity to partner with the Heat in celebration of the N.B.A. playoffs and give a memorable experience to the fans while promoting our latest product out in the marketplace."
The Heat's Dwyane Wade has had a relationship with T-Mobile for the past six years, and this year the company is the official wireless partner for the team. Working with PMK-BNC, T-Mobile lined up Ludacris as the main entertainment and created a special viewing area for about 1,000 of its customers at the base of the steps leading up to the arena. In the four days leading up to the event, owners of T-Mobile Sidekick products could go to a Miami area store to receive two tickets to the V.I.P. area of the festival, which was filled with lounge furniture from Room Service and offered free food and beverage from the Heat's partners, Levy Restaurants and Miller Lite.
Throughout the broadcast of the game on TNT, the announcers showed live cut-ins of the fans watching the game outside the Miami arena. "It elevated this event to give it national exposure," said Starkey. The T-Mobile logo in bright magenta and white also blanketed the event, showing up around the giant LED screen, on barricades used for crowd control, and even wrapped around the trunks of several tall palm trees.
On the street in front of the arena, 19 food trucks served fans throughout the evening. Organizers worked with the development authority to secure road closures and alert local residents about the viewing party.
Photo: Courtesy of David Alvarez/Miami Heat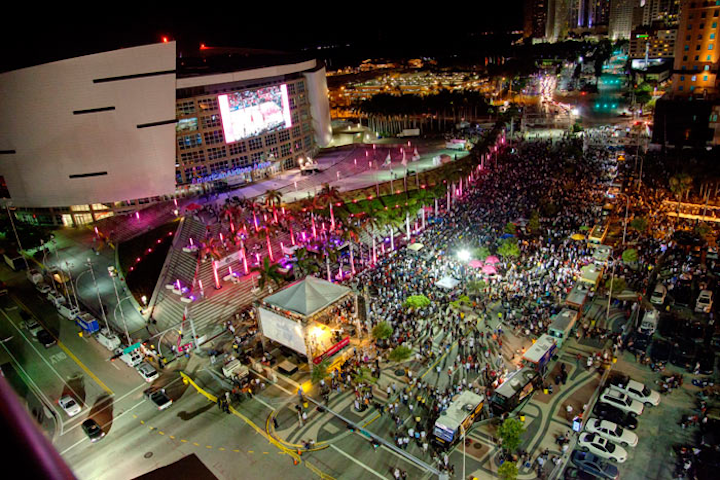 Photo: Courtesy of David Alvarez/Miami  Heat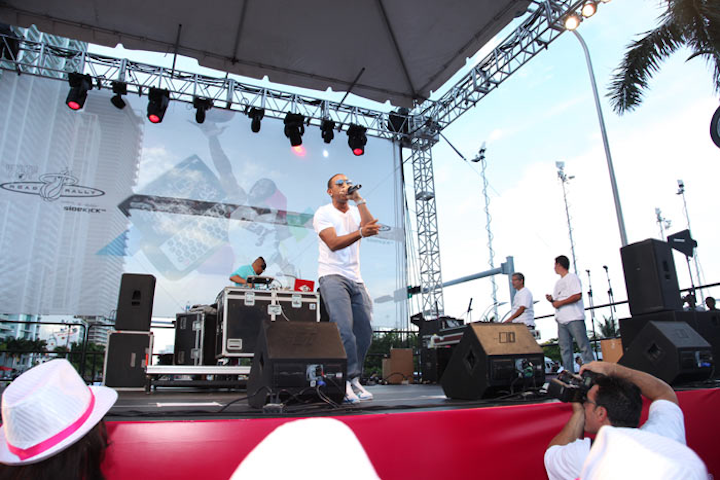 Photo: Courtesy of David Alvarez/Miami Heat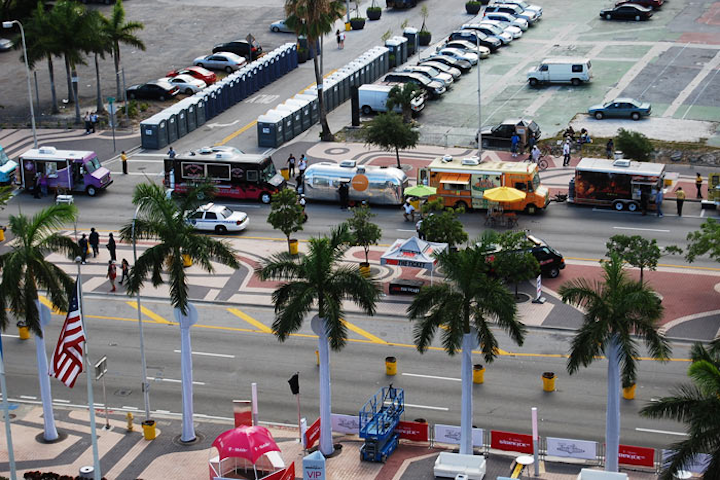 Photo: Courtesy of David Alvarez/Miami Heat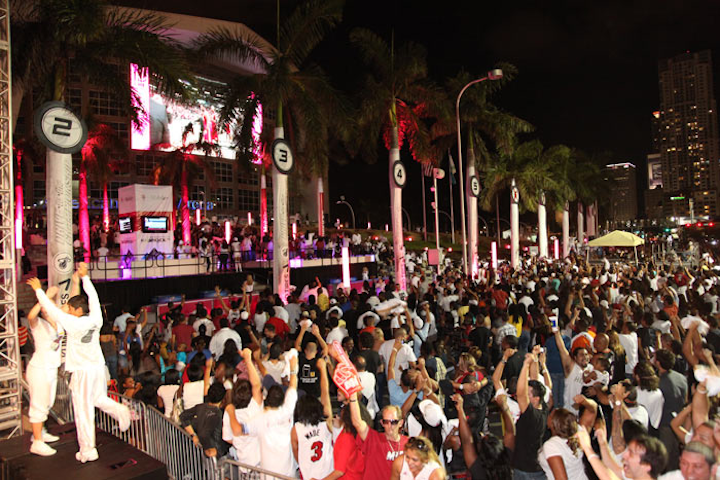 Photo: Courtesy of David Alvarez/Miami Heat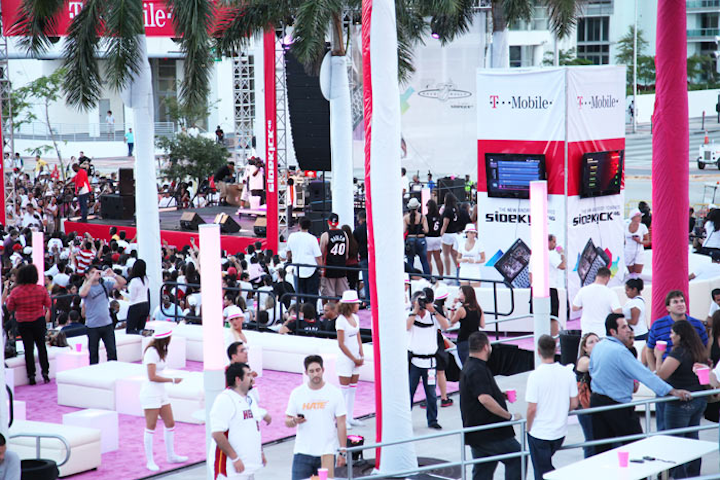 Photo: Courtesy of David Alvarez/Miami  Heat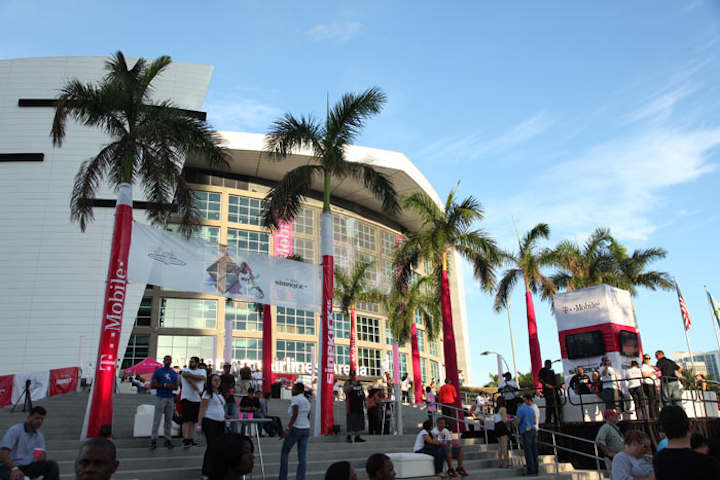 Photo: Courtesy of David Alvarez/Miami Heat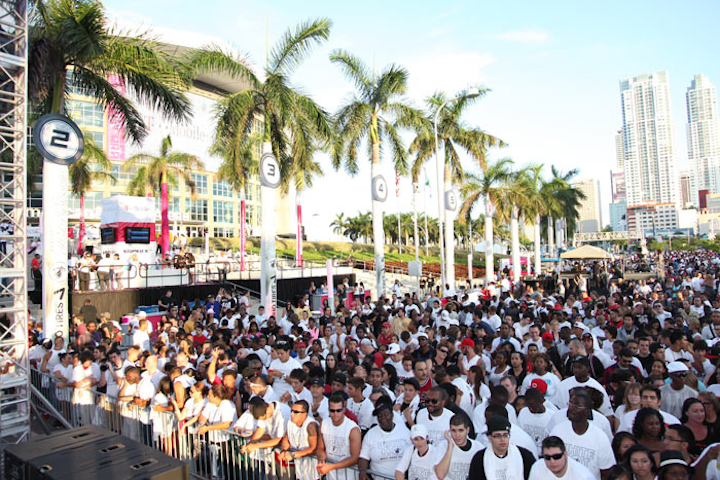 Photo: Courtesy of David Alvarez/Miami  Heat
Featured Venues/Suppliers: