Super Bowl Preview: What to Expect at the Biggest Parties and Activations
ESPN, Playboy, and Bud Light are among the hosts of events surrounding Super Bowl XLVIII in the New York/New Jersey area.
January 22, 2014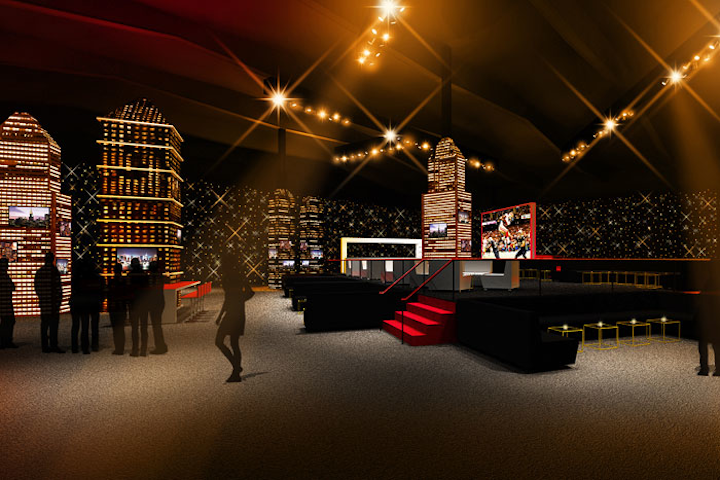 Rendering: Event Eleven Design for ESPN
With Super Bowl XLVIII kicking off on one of the world's largest stages—greater New York—the pressure is on for brands to deliver memorable events. This year will see more multiday events as well as live streams and other social media components that will extend football's biggest championship to a global audience. Here's a peek at the most noteworthy events planned.
The Bud Light Hotel returns for its fifth year, produced again by Fusion Marketing, and football fans saw a preview when Anheuser-Busch advertised it during commercials that aired during the football playoffs. The 300,000-square-foot activation includes components for lodging, hospitality, and entertainment with events spread over a four-venue complex: the actual Bud Light Hotel—a rebranded Norwegian cruise ship docked on the Hudson River—the tented Bud Light Hotel Lounge, a concert venue located across the West Side Highway, and the Intrepid Sea, Air & Space Museum. The idea is to create something of "significance and certain presence to make sure they didn't get lost in the shuffle," says Fusion's Pat Book.
"A lot of other large companies are bringing in clients and want to entertain them, but when you take them to a noisy environment—parties, different dinners—there's a lot of clutter and competing businesses trying to talk to these guys," he says. "We thought, let's own the space and an environment to create a true space for the entire weekend, not just a one-off event."
As many as 4,000 guests are expected to stay on the ship, and everything from the 15 on-board restaurants to the nightclubs and lounges will be programmed, Book says. The marquee nightly events include concerts from the Roots, Imagine Dragons, and Foo Fighters as well as a game-day tailgate and concert co-sponsored by Pepsi.
Despite rumors that it was skipping this year's game, Playboy will host its annual party at the Bud Light Lounge. Rapper Nelly will perform with beats from Miami's DJ Irie. The decor will celebrate the magazine's 60th anniversary, with guests entering through a façade designed like the original Playboy Club London on Park Lane and an interior mirroring today's Playboy Club London. Sponsor activations include a build out based on the TV show Bates Motel with a guest check-in area with hotel desks and keys hanging behind them; a V.I.P. area set up like the inside of a hotel room using beds from the show; and four windows with plasma-screen TVs that will show custom content when viewed through special glasses. At the center of the room, an ice bar with communal wood tables and fur blankets will evoke the TV show Vikings. The Visionary Group is producing the event.
ESPN is hosting its 10th annual Super Bowl party at Pier 36, which will have a music theme to coincide with ESPN The Magazine's music issue. Robin Thicke and Kendrick Lamar will perform, and those without a ticket can get a glimpse of the action and chat with attendees on a microsite, espntheparty.com.
Event Eleven is producing the event, which will have "New York State of Mind" theme decor with bright lights, skyscrapers, and a starry skyline. Engine Shop is handling the activations from sponsors such as Armitron Watches, Axe, Carhartt, Charmin, Coke Zero, Coors Light, Diageo, Dunkin' Donuts, Mercedes-Benz, Met-Rx, and Pringles. Guests will be able to board a replica of the Vikings ship from the History Channel's Vikings.
DirecTV is bringing back two of its marquee events: the Celebrity Beach Bowl flag football game and Super Saturday Night, a concert with Jay Z. The broadcaster will set up its 80,000-square-foot tent—dubbed SuperFan Stadium—at the Hudson River Park's Pier 40. CL22 is producing the evening event, which will have an "Old New York" theme, with Murphy Productions and the Hand Company.
In two other music-dominated events, VH1 is staging a concert in each of New York's five boroughs as well as New Jersey in a tour called the Super Bowl Blitz. Several other networks are contributing to the Time Warner Cable Studios pop-up at Highline Stages, which will have activations as well as nightly concerts. Time Warner Cable will live stream red carpet activity on its Facebook page.
New to this year's Super Bowl is the Fifty Yard Lounge, a massive hospitality complex that will take over four restaurants along a stretch of One Penn Plaza, a convenient location next to Penn Station, Madison Square Garden, and the Super Bowl Boulevard fanfest. Celebrity chefs, former football players, and local musicians will all be part of the daily programming. It's also where the New York Jets will set up "Jets House," an area where the club will entertain season-ticket holders, clients, and others. The idea comes from the Connect Group's Lonny Sweet, who leveraged his experience representing both chefs and athletes to create a new concept.
Sweet envisions it as "an homage to New York City" through food and music and expects about 1,200 people a day to pass through the lounge. The build out will make the stretch seem like one cohesive venue, with guest able to easily travel throughout the 15,000-square-foot space. Ticket holders will have access to the entire space. Engine Shop is producing the activation, with Brand Synergy Group programming the music. Mary Giuliani Catering & Events is managing the food.
Another food concept, Forty Ate, is a pop-up steak house from Danny Meyer's Union Square Events and the N.F.L. Taking over a restaurant and bar at the Renaissance New York Times Square Hotel, the concept will feature N.F.L. memorabilia from the Pro Football Hall of Fame and a full set of 47 Super Bowl rings.
Maxim is expanding its annual party to a two-night affair at Espace. Presented by Talent Resources Sports, the event will feature performances from Sebastian Ingrosso from Swedish House Mafia on Friday and Kendrick Lamar on Saturday. And a bevy of supermodels—Brooklyn Decker, Bar Refaeli, Adriana Lima, and Alessandra Ambrosio—will host the 11th annual Leather & Laces party presented by Axxis Sports & Entertainment, which takes place over two nights at the Liberty Theater.
Featured Venues/Suppliers: