Event Pros Share 7 Things You Need to Know Now
At the Event Innovation Forum, speakers gave essential advice on how to entice sponsors, the best ways to market your event, and creating a plan A, B, and C in case of disaster.
October 30, 2014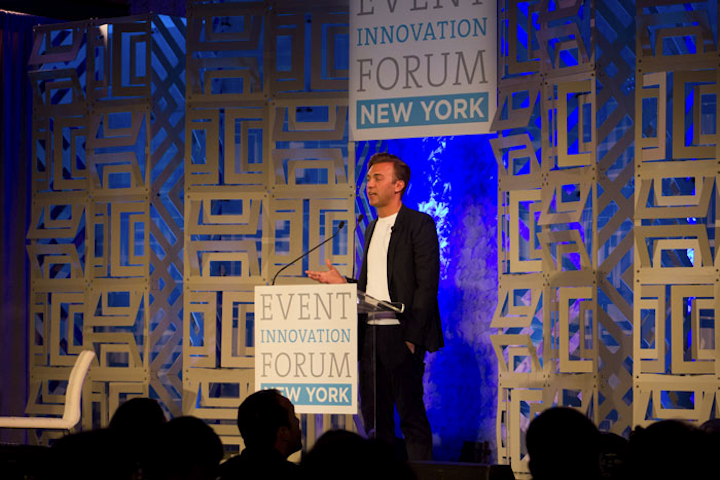 Photo: Cornelia Stiles/BizBash
Some of the most creative minds in events shared their tips for success—and avoiding disaster—during the Event Innovation Forum at BizBash Live: The Expo New York, held Tuesday at the Jacob K. Javits Convention Center.
The two sessions of the forum covered a lot of ground, but here are some key takeaways.
1. How does your event look on Instagram?
In today's social-media-obsessed world, every event attendee has the potential to tell a brand's story. "As designers, it's what's on the outside that counts. Every touch point and detail should speak to the brand's identity," said Nicky Balestrieri, managing creative director of BMF Media. A veteran of Paper magazine, Balestrieri recommended that event designers should think like editors and look at events as communication tools. "Everything starts with a story, and from there we generate our design," said Balestrieri, whose clients have included Cointreau, Lanvin, and Toyota. "The goal of all of this process is to make our events not just memorable but also media-able."
The nonprofit Charity:Water found an instantly recognizable symbol in its bright yellow jerry cans. The plastic jug has turned it into an icon, photographing it in such diverse settings as in front of the Eiffel Tower and with skateboarding legend Tony Hawk jumping over it. It has appeared in a display in Saks Fifth Avenue windows and in Times Square. "We consider ourselves storytellers at Charity:Water," said Lauren Kane, the organization's special events project manager.
2. If you're not measuring data, you're missing out.
Target Corporation made 2014 the "year of the measurement," said Dan Griffis, Target's vice president of experiential marketing and alliances. "What you measure improves and what you don't degrades," he said, noting the company looked at how events drove sales, deepened engagement, and drove brand affinity.
Angela Giacchetti, New York City metro marketing manager at Eventbrite, said planners need to have statistics to show, for instance, which social channels are the most effective at driving ticket sales. You might think business events would be best marketed on LinkedIn, but Facebook might actually be a stronger vehicle. Most tickets are sold when the event is announced and then in the final week leading up to the event. Trackable promo codes, gifts such as a speaker's book, and other incentives can encourage ticket sales in that lull, she said. "You want to make sure you have a clear timeline for building buzz and driving page views," she said.
3. Rethink your sponsorship strategy.
Instead of offering sponsors a logo placement on a step-and-repeat or an invitation, get creative. Lance Broumand, C.E.O. of UrbanDaddy, said planners will be more successful selling partnerships by rethinking how they integrate sponsors into events. One way to do that is to redefine how you measure the return in the familiar measure of return on investment, or R.O.I. Instead of focusing on the traditional metrics of revenue, leads generated, or press mentions, consider how events might create content or capture data. Or define your own metrics, like the "FOMO index" (for "fear of missing out") that UrbanDaddy created to calculate the conversion rate of people who sent an R.S.V.P. and actually attended. "Don't get bogged down in thinking about R.O.I. in traditional or straightforward terms. Creative R.O.I. sells," Broumand said. "What's the 'R' that you do best? What's the 'R' that the event does best? You need to find the sponsor that cares about that 'R' the way you do. You need to sell that 'R.'"
4. Use event technology for social engineering.
On of the pillars behind the C2 Montréal conference is connection, and organizers don't leave that to chance. Before the event, the 600 attendees can set up profile pages on a custom social network called the Hub where they can not only list their business interests but also their hobbies. They can schedule meetings, and the system will suggest sessions to attend. Another technological innovation is the ultra high-frequency R.F.I.D. badges that attendees wear. Planners can direct staff to crowded areas, or even have their concierges remind attendees if they are late to a meeting. "We know where everybody is and all the dimensions of the conference," said Will Travis, U.S.A. founder and group business development head at Sid Lee, the creative agency behind the conference. "We know what our audience is doing instead of guessing."
5. Plan for the worst.
At some point every event planner will have to deal with a crisis—big or small. Frank Supovitz's crisis was broadcast to a global audience, when, as head of events and entertainment for the N.F.L., there was a blackout at Super Bowl XLVII in New Orleans. When disaster strikes, don't panic or blame anyone—instead assess the situation and be a leader, said Supovitz, now president and C.E.O., Fast Traffic Events & Entertainment. For major events, Supovitz recommended a rehearsal to go over the logistics. At a tabletop simulation 10 days before that Super Bowl, a facilitator disrupted the exercise with "monkey wrenches" that the team then had to deal with. The simulation built communications and trust that allowed them to work smoothly when the blackout happened. "No one gets away from this life or this career unscathed," Supovitz said. "You have to make sure you know what dominoes are going to fall."
6. People crave events, even in a digital world.
While people spend much of their time online, it's offline communities formed at events that they are seeking out more and more, said Ryan Begelman, C.E.O. of Bisnow Media. But not everyone is stepping up to that challenge. "We're blowing it in the events industry at times and are missing these opportunities," he said. Successful events are becoming part of people's identities, he said, pointing to Burning Man, Comic-Con, and TED. Event planners can extrapolate from these by doing things such as creating ambiance through music and unexpected staging, like holding events in the round or offering beanbag seating. The overall idea, he said, is to not bore your attendees. "We need to make our events shorter, pithier, faster-paced. Let's not fight A.D.D.; let's make our events snappier. We're producing events like its 2001 and it's 2014."
7. Know when events aren't the best marketing strategy
Target doesn't always choose events as its go-to marketing channel, Griffis said, and part of his job is to be selective about when to deploy them. "Having the power to say no is incredibly important. Where I see other companies trip up is they're so eager to do something … that they don't tell a clear story." When you do plan an event, he noted, don't play it safe—make it memorable. "I want to create events and experiences that the C-level executives at Target get sweaty palms for and get nervous about," Griffis said. "If you truly are worried whether it's going to work or not, those are some of the best events."
Featured Venues/Suppliers: